News/Media

*If a menu item has a submenu clicking once will expand the menu clicking twice will open the page.

Study & Practice

*If a menu item has a submenu clicking once will expand the menu clicking twice will open the page.

Projects

*If a menu item has a submenu clicking once will expand the menu clicking twice will open the page.

FPMT

Basically, the human mind is mostly unconscious, ignorant, and gets so preoccupied with new experiences, that it forgets the old ones. Review the past month: exactly what happened, precisely what feelings did you have, every day? You can't remember, can you? But if you practice this slowly, slowly, continuously checking within your mind, eventually, you'll be able to remember more and more of your previous experiences.

Lama Thubten Yeshe

*If a menu item has a submenu clicking once will expand the menu clicking twice will open the page.

Shop

The Foundation Store is FPMT's online shop and features a vast selection of Buddhist study and practice materials written or recommended by our lineage gurus. These items include homestudy programs, prayers and practices in PDF or eBook format, materials for children, and other resources to support practitioners.

Items displayed in the shop are made available for Dharma practice and educational purposes, and never for the purpose of profiting from their sale. Please read FPMT Foundation Store Policy Regarding Dharma Items for more information.
Tibet Health Services Project
Bringing Essential Medical Attention to Tibetans
Amdo Eye Hospital • Hospitals in Tibet • Eye Clinics • Charter • Photos • Donate Now
Through offering support to initiatives such as The Amdo Eye Hospital, Outreach Microsurgery Eye Clinics in Remote Areas, and other hospitals in Tibet, the Tibet Health Services Project is dedicated to providing needed and quality health services in Tibet and to the Tibetan community in India, especially to those with underprivileged backgrounds.
If for one patient you take seven steps to help them, it is the same as circumambulating all the buddhas. If you give medicine one time to one patient, it is the same as having made charity to all sentient beings. When you fulfill the wishes of one patient, it is equal to having made offerings to all the worthwhile objects … Giving medicine or any comfort that you can to a patient, that is the best offering to numberless bodhisattvas and buddhas. It is what makes them so happy.
---
Rejoice! Funding Accomplished!
The Amdo Eye Hospital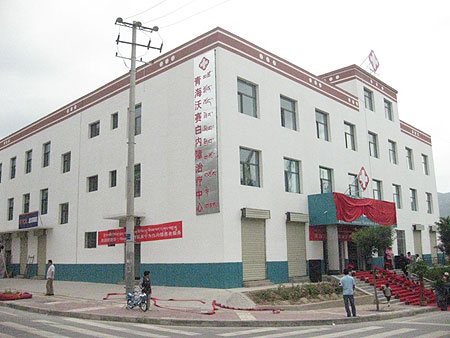 After more than six years of development, FPMT was extremely pleased to announce the opening of the Amdo Eye Hospital, in Xining, the capital of Amdo, Tibet in July of 2010. This hospital is dedicated to providing continuous, sustainable and quality eye care to all and in particular those from underprivileged backgrounds. The hospital will also be offering smaller outreach microsurgery eye clinics in remote areas.
For six years, FPMT worked to raise the US$605,970 needed to fund the building of this impressive hospital. 
In 2012 more than 779 surgeries were offered by the Amdo Eye Hospital.
---
Current Fundraising Priorities
New Hospital in Tibet
A new hospital is being built in a remote and poor area of Tibet. This village currently has no medical facilities. When Lama Zopa Rinpoche heard that many villagers die on the road traveling long distances to receive medical attention he committed to building a hospital in this area. Rinpoche commented, "The situation is really desperate, so many people die before being able to reach a hospital. I really want to build a hospital closer to the village. It would be so good to be able to build a nice hospital in this area. Please if you would be very, very, kind and help in any way you can – before we die and it is not sure when we will die, it can happen very soon, any day – if you can help this if would be so good for so many people."
The Tibetan Health Services Project has already offered US$80,000 for the land needed. The land is in the process of being procured and plans are underway for the 35 bed hospital to be built. A local doctor will be managing and overseeing this important and beneficial project.
An estimated US$700,000 is needed to actualize this project.
Lama Zopa Rinpoche has explained further his plans for this area, "Later I am also thinking to build a nunnery in the actual village as the young girls there suffer so much, and many die when they are very young. I think it would help them to have a nunnery with a very good Geshe who has studied well Buddhist philosophy, whose mind is well subdued, and who can teach them the lam-rim – the gradual path to enlightenment, and can take care of them and teach them to practice the lam-rim. That would be so good."
---
Outreach Microsurgery Eye Clinics in Remote Areas (Eye Camps)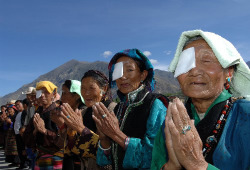 The Amdo Eye Hospital is currently in the process of obtaining permits to begin offering eye camps, mobile surgery units that can travel to remote areas and treat many people at once. Through these eye camps, a team can turn a schoolhouse or other building into a functioning medical facility where eye surgery can be performed with comparable standards found in the developed world, in modern facilities.
Each eye camp  costs approximately US$40,000. An entire team is required to fly to the particular camp where they typically perform 500-700 surgeries.
FPMT is committed to fund ongoing eye camps in remote and poor areas in Tibet, and hopefully in other countries, under the direction and guidance of Dr. Ruit.
---
How Can I Make a Donation?
To make a tax-deductible donation:
Or simply send your check in US dollars payable to FPMT Inc. and write "Amdo Eye Hospital" on the memo line.
FPMT Inc.
1632 SE 11th Avenue
Portland, OR 97214-4702
USA
The Amdo Eye Hospital is a project of FPMT Inc. and is administered by FPMT International Office located in Portland, Oregon, United States. All donations made to this fund are tax-deductible within the United States in accordance with IRS Code article 501(c)(3) to the extent allowed by law.
For more information please contact: Charitable Projects Coordinator.
If you want to be loved, love others first.
Lama Zopa Rinpoche