News/Media

*If a menu item has a submenu clicking once will expand the menu clicking twice will open the page.

Study & Practice

*If a menu item has a submenu clicking once will expand the menu clicking twice will open the page.

Projects

*If a menu item has a submenu clicking once will expand the menu clicking twice will open the page.

FPMT

Death could come any minute so transform your life into Dharma.

Lama Zopa Rinpoche

*If a menu item has a submenu clicking once will expand the menu clicking twice will open the page.

Shop

The Foundation Store is FPMT's online shop and features a vast selection of Buddhist study and practice materials written or recommended by our lineage gurus. These items include homestudy programs, prayers and practices in PDF or eBook format, materials for children, and other resources to support practitioners.

Items displayed in the shop are made available for Dharma practice and educational purposes, and never for the purpose of profiting from their sale. Please read FPMT Foundation Store Policy Regarding Dharma Items for more information.
The next year should see some more improvements in infrastructure with the installation of solar lights, a must for the area, as there is no electricity supply. A solar company in Kathmandu kindly offered to help with the manufacture and installation of the solar lights for the monastery and nunnery by next year.
A hydroelectric scheme based on the river flowing through the valley could supply the whole valley with electricity and help with irrigation of the fields.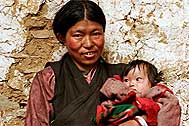 During a recent health survey it was found that many women die quite young because of lack of maternal health care; children die from simple childhood diseases, accidents that elsewhere can be treated easily tend to cripple people for life. Many people are blind due to have cataracts and eye infections. Next year we will provide training in allopathic medicine to the traditional Tibetan doctors and organize regular health camps for special problems.
A hostel is needed near the nunnery to allow the children from other villages to attend school. The school and the hostel will continue to be under the care of the nuns of Rachen Nunnery.
An old people's home needs to be set up to take care of those with no family to care for them
Many needs, many plans – with all of us helping it will become a reality for the people of Tsum valley.
All the monks and nuns at Tsum and all of us involved in the project thank you from our hearts for your kindness and generosity. Without your help this would not have been possible.
We request you with folded hands to continue supporting our work, and save this special Dharma Jewel from extinction.
How Can I Make a Donation?
Any amount of donation is welcome. To make a donation simply send your check in US dollars to FPMT Inc. and write Tsum on the check or provide your credit card details and mail to:
FPMT Inc.

1632 SE 11th Avenue

Portland, OR 97214-4702 USA

Click here to Donate On-Line

Your donation will go towards supporting the following activities

Building new rooms for the sangha at Rachen Nunnery and Mu Gompa
Providing the daily food for all sangha
Developing infrastructure (water supply and sanitation for nunnery and monastery)
Developing educational facilities – teachers wages, education material
Providing continued health care and affordable medicines for everybody
FPMT has established Tsum (TSUM) as a designated purpose fund, which with the support of generous benefactors, supports the work of FPMT's affiliate, Tsum (TSUM). All donations made to the fund are tax-deductible to the extent allowed by law.
Our grabbing ego made this body manifest, come out. However, instead of looking at it negatively, we should regard it as precious. We know that our body is complicated, but from the Dharma point of view, instead of putting ourselves down with self-pity, we should appreciate and take advantage of it. We should use it in a good way.
Lama Thubten Yeshe