News/Media

*If a menu item has a submenu clicking once will expand the menu clicking twice will open the page.

Study & Practice

*If a menu item has a submenu clicking once will expand the menu clicking twice will open the page.

Projects

*If a menu item has a submenu clicking once will expand the menu clicking twice will open the page.

FPMT

The sun of real happiness shines in your life when you start to cherish others.

Lama Zopa Rinpoche

*If a menu item has a submenu clicking once will expand the menu clicking twice will open the page.

Shop

The Foundation Store is FPMT's online shop and features a vast selection of Buddhist study and practice materials written or recommended by our lineage gurus. These items include homestudy programs, prayers and practices in PDF or eBook format, materials for children, and other resources to support practitioners.

Items displayed in the shop are made available for Dharma practice and educational purposes, and never for the purpose of profiting from their sale. Please read FPMT Foundation Store Policy Regarding Dharma Items for more information.
Alabanza para Rimpoche por parte de Su Santidad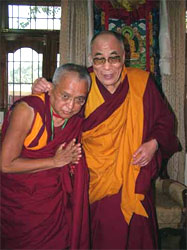 Queridos amigos,

 

Con mucha alegría comparto con ustedes las hermosas palabras que Su Santidad el Dalai Lama dijo acerca de Rimpoché y la FPMT, al terminar las enseñanzas que Su Santidad dio en Sarnath, India, del 19 al 22 de diciembre, las cuales fueron organizadas en conjunto con la FPMT.

 

Que disfruten de la foto que tomó el Ven. Roger Kunsang durante la audiencia que tuvo Rimpoché con Su Santidad.
Su Santidad el Dalai Lama dijo unas palabras después de que Lama Zopa Rimpoché leyera unas alabanzas describiendo las acciones de Su Santidad, desde su renacimiento, hasta el presente, y solicitó a Su Santidad que tuviera una larga vida y continuara con sus actividades.

"Aquí Rimpoché ha ofrecido algunas palabras de alabanzas y súplicas, siete páginas en total. Aunque una de ellas viene en blanco ( risas). Debido a que no logré entender todo lo que Rimpoché dijo, le solicité que las trajera aquí con la idea de leerlas después.

Rimpoché es alguien que sinceramente sigue mi guía, de manera expansiva y confiando al cien por ciento en ella. Tiene una fe inamovible y un samaya puro; no solamente tiene un samaya puro y fe, sino que cualquier instrucción que le doy a Zopa Rimpoché, tiene la capacidad de lograrla. Por lo tanto, cualquier dedicación que Lama Zopa Rimpoché haga, yo también pido por que se lleven a cabo con éxito y los invito a que ustedes hagan lo mismo. Entre los participantes, hay muchas personas laicas y ordenadas, de distintas razas, todos reunidos aquí. Todos somos iguales en el sentido de que estamos inspirados por las bondadosas enseñanzas del Buda y compartimos el deseo de querer practicarlas lo más que podamos. Con estos pensamientos, estamos aquí reunidos el día de hoy. Estoy seguro de que con la fuerza de la fe y la confianza, si hacemos oraciones, habrá beneficios.

Las enseñanzas del Buda están ahora pasando del siglo XX al siglo XXI. Y a nivel general, las enseñanzas del Buda, es especial la tradición de los grandes panditas de Nalanda, tal y como la preservaron los habitantes de la Tierra de las Nieves, están siendo conocidas por otros a lo largo del mundo. En este punto, se está reconociendo cada vez más que esta es una tradición única debido a que aporta muchos beneficios y a que está basada en el razonamiento.

En estos momentos, no tengo la habilidad de poder hacer mucho, pero debido a que soy un simple monje que sigue las enseñanzas del Buda, siempre intento generar la motivación de poder ser del mayor beneficio a otros, mientras exista el espacio. Particularmente, debido a que muchas personas confían en mi, mientras más viva, más podré ser de beneficio en un sentido práctico, por lo tanto es por eso que hago oraciones para poder vivir una larga vida.

 

Debido a que Rimpoché hizo oraciones de dedicación, yo también hago oraciones para que estas se cumplan y los invito a que hagan lo mismo. Es muy importante que todos actuemos con sinceridad, sin ser deshonestos y con una gran visión, poniendo el mayor esfuerzo y determinación posibles, no solo repitiendo simples palabras y actuando solamente cuando es conveniente. Mientras que nuestras actividades sean de beneficio para otros, debemos poner esfuerzo en ellas.

 

Debido a que Rimpoché ha agregados muchas palabras, necesito leer esto con libertad – ya que no hay forma de que lo pueda leer de inmediato. Así que voy a leerlo con tranquilidad Rimpoché ( se torna hacia Rimpoché y se ríe).

Quisiera agradecer a todas las personas que trabajan en la organización de Rimpoché. De hecho tendremos una reunión breve más tarde, pero todos ustedes han estado trabajando muy duro hasta el día de hoy. Y me gustaría pedirles que continúen haciéndolo. Rimpoché trabaja con tal determinación y una gran sinceridad en servicio de las enseñanzas del Buda y de todos los seres, así que es importante que todos combinemos nuestros esfuerzos. Por ahora no tengo algo más en especial que agregar."

Trascrito y editado por Ven. Thubten Labdron.
Every second of this human life gives us the freedom to choose between hell and enlightenment, samsara and liberation.
Lama Zopa Rinpoche