Lama Zopa Rinpoche's Schedule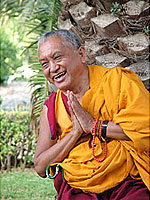 Rinpoche's schedule includes teaching at the following FPMT centers, projects or services. As soon as other events are scheduled, we will update this page. We advise you to subscribe to FPMT News for updates, as Rinpoche's schedule is subject to change –

If you would like additional information: Please check with event hosts.

Recordings of these teachings:
As part of our Rinpoche Available Now (RAN) project we aim to provide live webcasts of Lama Zopa Rinpoche's teachings whenever possible. On our livestream page you can watch live webcasts, see the schedule for future webcasts, and watch archived events. Higher quality recordings of previous teachings – including previously live-streamed teachings – are made available via Teachings of Lama Zopa Rinpoche as soon as possible after the events.
       = Initiation             = Retreat
Australia:

March 31 – May 12  Continuation of the Bodhicaryavatara and Rinjung Gyatsa Retreat, The Great Stupa of Universal Compassion, Bendigo
                  Read the background about this retreat.

May 20 Blessing of new center building, Buddha House, Adelaide
May 25 Teaching on the Eight Verses of Thought Transformation, Chag Tong Chen Tong, Hobart
May 26 – 27 Great Chenrezig Initiation, Chag Tong Chen Tong, Hobart

June 1  Teaching on thought transformation, Chenrezig Institute, Eudlo
June 2 – 4  Most Secret Hayagriva initiation, Chenrezig Institute, Eudlo


USA
August 11 Transmission of the Prajnaparamita, Maitripa College, OR, USA
August 12 Medicine Buddha jenang
August 17 Teaching on the Seven Point Mind Training, Kurukulla Center, MA, USA
August 18 Teaching continues, and Red Tara initiation
August 19 Teaching continues, and Vajrasattva initiation
Amitabha Buddhist Center, Singapore

September 13 Offering the gold crown to Chenrezig
September 15 – 16  Lama Chöpa commentary
September 19 Teachings on Mind Training
September 22 – 23 Lama Chöpa commentary continues
September 26 Amitabha Pure Land long life initiation
September 29  Lama Chöpa commentary continues


October 19 – 21 Teaching about thought transformation, Nagarjuna Center, Madrid, Spain 
October 26 – 28 White Umbrella (Dukkar) Initiation, Nagarjuna Center, Madrid, Spain

November – December (dates tba) Teaching during the one month lamrim course, Kopan Monastery, Nepal
May 10 – approximately June 7 2019  Vajra Yogini Retreat, including Heruka and Vajrayogini initiations, Institut Vajrayogini, France


2020
August 23 – September 20 2020  Light of the Path Retreat, Kadampa Center, North Carolina, USA
Contact Info
1632 SE 11th Avenue
Portland, OR 97214-4702 USA
Tel (503) 808-1588 | Fax (503) 232-0557
About FPMT
FPMT is an organization devoted to the transmission of the Mahayana Buddhist tradition and values worldwide through teaching, meditation and community service.
more...
About Buddhism
If you're new to Buddhism, please read our
Buddhism FAQ
. A place to learn about Buddhism in general, FPMT, and our Discovering Buddhism at Home series.