News / Media

*If a menu item has a submenu clicking once will expand the menu clicking twice will open the page.

Education

*If a menu item has a submenu clicking once will expand the menu clicking twice will open the page.

Projects

*If a menu item has a submenu clicking once will expand the menu clicking twice will open the page.

FPMT

We hear religious people talk a lot about morality. What is morality? Morality is the wisdom that understands the nature of the mind. The mind that understands its own nature automatically becomes moral, or positive; and the actions motivated by such a mind also become positive. That's what we call morality. The basic nature of the narrow mind is ignorance; therefore the narrow mind is negative.

Lama Thubten Yeshe

*If a menu item has a submenu clicking once will expand the menu clicking twice will open the page.

Shop

The Foundation Store is FPMT's online shop and features a vast selection of Buddhist study and practice materials written or recommended by our lineage gurus. These items include homestudy programs, prayers and practices in PDF or eBook format, materials for children, and other resources to support practitioners.

Items displayed in the shop are made available for Dharma practice and educational purposes, and never for the purpose of profiting from their sale. Please read FPMT Foundation Store Policy Regarding Dharma Items for more information.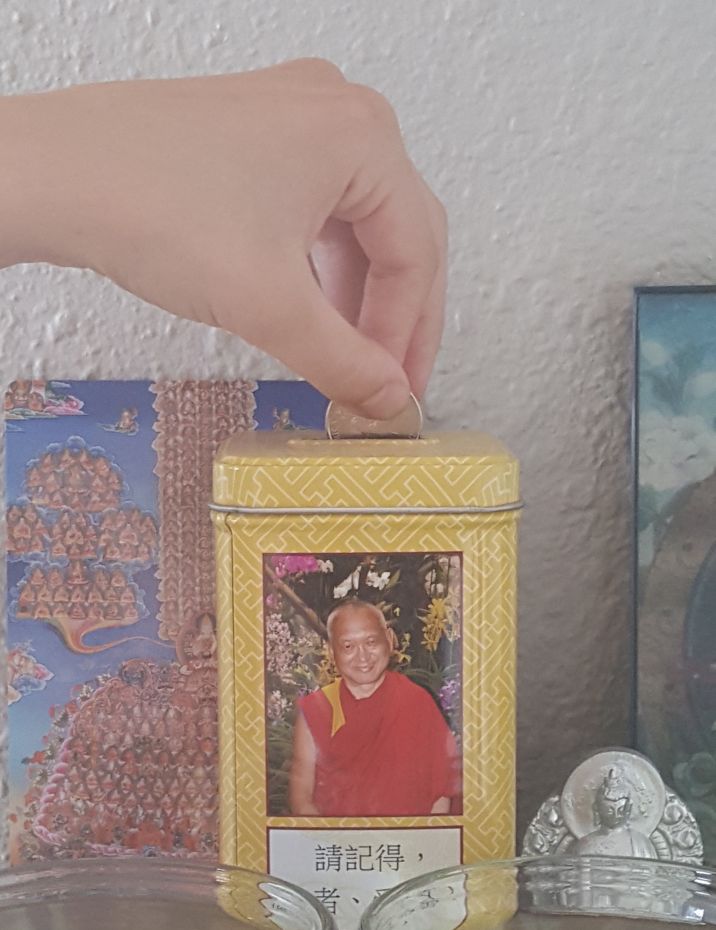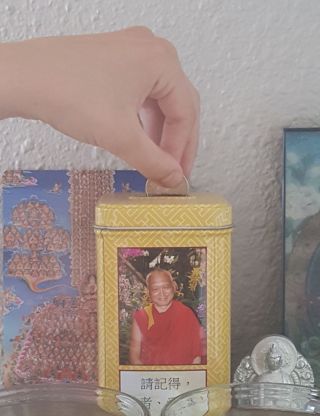 In May, the International Merit Box Project disbursed sixteen new grants for Dharma projects and activities in six countries, totaling US$37,455 for the year. This was the fifteenth cycle of annual of Merit Box grants. Since the Project was created in 2001, there have been 248 grants—totaling US$1,014,785—awarded!

Individuals and FPMT communities all over the world make offerings into their "Merit Box" throughout the year. During collection season, students and communities turn in their accumulated offerings. These offerings are then pooled together and distributed as grants to a variety of projects and services that are working to fulfill the FPMT mission.

A broad range of activities and communities in a number of countries have benefited from Merit Box grants. Book publishing, building holy objects and retreat cabins, repairing practice facilities, aiding social services, helping practitioners do retreat, and digital Dharma initiatives are just some of the activities that have been supported by the International Merit Box Project over the years. On many occasions these grants have made the difference between whether small Dharma communities find the necessary funding to complete their projects or not.
Listed below are the projects that received a Merit Box grant in 2017:
FPMT Education Services (USA) – Master's Program Study Manual
FPMT Hispana (Spain) – Master's Program translation support
Le Editions Mahayana (France) – Publication of Bodhisattva Attitude in French
International Mahayana Institute (France) – Support for IMI Sangha attending retreats with Lama Zopa Rinpoche
Jamyang Buddhist Centre (UK) – Repaying the Kindness Project
Kadampa Center (USA) – Media support for Light of the Path
Kunsang Yeshe Centre (Australia) – Yellow Tara statue
Kurukulla Center (USA) – Repairs and Restoration of Building Exterior Project
Land of Calm Abiding (USA) – Propane for staff housing
Lama Yeshe Wisdom Archive (USA) – Big Love biography
Mahamudra Centre (Australia) – Foundation Service Seminar airfare for facilitators
MAITRI Charitable Trust (India) – Care of Animal Beings Project   
Maitripa College (USA) – Library and/or education initiatives
Milarepa Center (USA) – Renovations and repair projects
Centro La Sabiduría de Nagarjuna (Spain) – New center project
Tara Home (USA) – End of life services


---
The new cycle of accumulation has begun already for 2018. If you would like start accumulating offerings with your own Merit Box practice, you can order a free Merit Box for your home or office altar on the Foundation Store website.
You don't need to obsess over the attainment of future realizations. As long as you act in the present with as much understanding as you possibly can, you'll realize everlasting peace in no time at all.
Lama Zopa Rinpoche