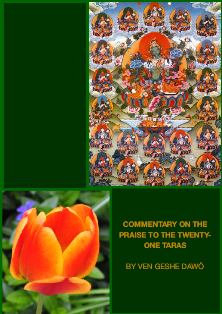 FPMT Education Services is happy to offer a free commentary on the Praise to the Twenty-One Taras by Ven. Geshe Dawö.
This commentary was based on the commentary by Ngulchu Dhamabadhra called the A Bouquet of Utpala Flowers Captivating Minds, and other sources.

It was later supplemented with passages from the First Dalai Lama's commentary on the Twenty-one Taras, called Precious Garland, as well as some additional quotes from Ngulchu's commentary.
You may download the eBook version from the FPMT Foundation Store.