News/Media

*If a menu item has a submenu clicking once will expand the menu clicking twice will open the page.

Study & Practice

*If a menu item has a submenu clicking once will expand the menu clicking twice will open the page.

Projects

*If a menu item has a submenu clicking once will expand the menu clicking twice will open the page.

FPMT

If your daily life is tremendously involved in emotions, you are completely driven by them and psychologically tired. In other words, our physical emotions get too involved and we don't understand the functioning of our six sense consciousnesses.

Lama Thubten Yeshe

*If a menu item has a submenu clicking once will expand the menu clicking twice will open the page.

Shop

The Foundation Store is FPMT's online shop and features a vast selection of Buddhist study and practice materials written or recommended by our lineage gurus. These items include homestudy programs, prayers and practices in PDF or eBook format, materials for children, and other resources to support practitioners.

Items displayed in the shop are made available for Dharma practice and educational purposes, and never for the purpose of profiting from their sale. Please read FPMT Foundation Store Policy Regarding Dharma Items for more information.
FPMT Education Services would like to remind you that we have several new and updated practice materials that are essential resources for FPMT students. 
FPMT Retreat Prayer Book
The FPMT Retreat Prayer Book was originally compiled in 2008 in preparation for the first Light of the Path Retreat and has become a critical resource for those attending longer teaching events and retreats with Lama Zopa Rinpoche. Many students have also found it to be very useful when attending other teaching events, going on pilgrimage, and for their own personal daily practices and retreats. The collection is made up of various FPMT prayers and practices. 
A recently updated and revised version of this prayer book is now available. 
The Method to Transform a Suffering Life into Happiness 
Included in the revised FPMT Retreat Prayer Book was an update to The Method to Transform a Suffering Life into Happiness (Including Enlightenment), a practice on which Lama Zopa Rinpoche has put a great deal of emphasis as essential for all FPMT students.
In this practice, Rinpoche has carefully compiled, and in many cases provided translation for, the prayers, practices, and meditations needed to start one's day or activities with a perfect Dharma intention and bodhichitta motivation. While mornings are an ideal time to set up one's aspirations for the day, students are encouraged to engage in this practice whenever one is able.
This practice is available for free as a downloadable PDF or ebook from the FPMT Foundation Store.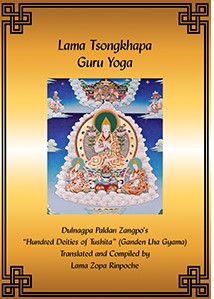 Lama Tsongkhapa Guru Yoga
Lama Tsongkhapa Guru Yoga is a particularly powerful practice for receiving the blessings of one's personal teacher and developing the realization of guru devotion.
Also known as the Hundred Deities of Tushita (Ganden Lha Gyama), it is a seven-limb practice related to Lama Tsongkhapa, a great Tibetan scholar, saint, and yogi of the 14th century. To supplement and complete this short text, Lama Zopa Rinpoche has added a preliminary practice of the "Four Immeasurable Thoughts," the lam-rim prayer "Foundation of All Good Qualities" by Lama Tsongkhapa, and two visualizations to do while reciting the "Five-Line Migtsema Prayer to Lama Tsongkhapa," one for purifying negative karmas and one for achieving seven special types of wisdom. The appendices consist of short teachings by Lama Zopa Rinpoche on how to do extensive meditations on making offerings, confessing, and rejoicing.
This is a suitable practice text for the preliminary practice of collecting 100,000 recitations of the Migtsema prayer.
Ngulchu Dharmabhadra's Thirty-Five Buddhas Practice
Ngulchu Dharmabhadra's The Flowing Water of the Ganga: A Thorough Praise of the Thirty-Five Sugatas is a versified homage to the Thirty-Five Confession Buddhas that has been expanded by Lama Zopa Rinpoche to include the recitation of the names of the Medicine Buddhas, as well as the confession prayer from the "Bodhisattva's Confession of Moral Downfalls" (also known as the "Confession of Downfalls to the Thirty-Five Buddhas").
Several authentic lineages for visualizing the Thirty-Five Confession Buddhas exist within the Gelug tradition. These include: a system stemming from Nagarjuna and Taranatha; a system stemming from Lama Tsongkhapa; and a system taught by teachers such as Sakya Pandita and explained by Pabongka Dechen Nyingpo in Liberation in the Palm of Your Hand. This latter system of visualization as taught by Pabongka, which is based on the five types (or families) of buddhas, is the commonly practiced version in the FPMT.
The Flowing Water of the Ganga, on the other hand, describes these buddhas according to Nagarjuna's tradition of visualization. The text also describes the color of the buddhas, their hand implements, the pure lands in which the buddhas reside, as well as the specific negative karmas that the recitation of their names purify.
This valuable practice is available as a free downloadable PDF. 
Through comprehensive study programs, practice materials, training seminars, and scholarships, FPMT Education nourishes the development of compassion, wisdom, kindness, and true happiness in individuals of all ages.
The whole thing, so many practices, all come down to live the daily life with bodhicitta motivation to put all the effort in that whatever you do. This way your life doesn't get wasted and it becomes full of joy and happiness, with no regrets later, especially when you die and you can die with a smile outside and a smile in the heart.
Lama Zopa Rinpoche