Eating is something we must do every day and offering our daily meals is an excellent way to practice generosity and create merit as we nourish our own bodies.
FPMT Education Services has create a Food Offering Practice book which includes an extensive food offering practice, general food offering prayers, and the yogas of eating food according to Hinayana (and for Sangha), Mahayana Sutra and Mahayana Tantra.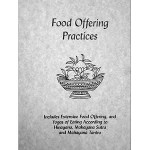 This book is available in hard copy and eBook formats.
You can help offer three meals a day to the 2,500 monks of Sera Je Monastery by contributing any amount to the Sera Je Food Fund.