News/Media

*If a menu item has a submenu clicking once will expand the menu clicking twice will open the page.

Study & Practice

*If a menu item has a submenu clicking once will expand the menu clicking twice will open the page.

Projects

*If a menu item has a submenu clicking once will expand the menu clicking twice will open the page.

FPMT

Like molding dough in your hand, you can definitely turn your mind whichever way you want.

Lama Zopa Rinpoche

*If a menu item has a submenu clicking once will expand the menu clicking twice will open the page.

Shop

The Foundation Store is FPMT's online shop and features a vast selection of Buddhist study and practice materials written or recommended by our lineage gurus. These items include homestudy programs, prayers and practices in PDF or eBook format, materials for children, and other resources to support practitioners.

Items displayed in the shop are made available for Dharma practice and educational purposes, and never for the purpose of profiting from their sale. Please read FPMT Foundation Store Policy Regarding Dharma Items for more information.
The FPMT Online Learning Center (OLC) is providing access to FPMT Education programs for an incredible amount of people. The OLC recently passed 20,000 total registered users and gets over 4,000 visitors per month! Discovering Buddhism Module 2: How to Meditate alone has 4,400 students enrolled.  
The OLC hosts most of the learning programs developed by FPMT Education Services. OLC's programs encompass the study of Buddhist fundamentals through more advanced philosophical topics in a very interactive learning format.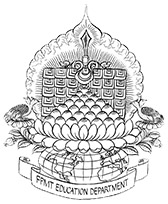 Programs of Discovering Buddhism, Living in the Path, Basic Program and other courses and commentaries are available in their complete forms as online courses in English, with a number of courses in French and Spanish.  
The OLC has been especially valuable for those who are not close to an FPMT center or for those who are connected to a center but can't make their schedule fit with their center's programs. It also gives the opportunity to take courses that local FPMT centers don't regularly offer.
Jason, an OLC student in the United States comments, "I feel so fortunate to have found FPMT – this forum allows me to feel part of a spiritual community in a way I have not experienced before. It is tremendously comforting and reassuring to read the correspondence, and be able to dialogue with kind and wise people. For nearly a year I have been concerned with how to make my quest for personal growth a less solitary one. This works well for me." 
Online learning can be a refuge for students who feel that just reading on their own isn't enough for them and want the extra structure, motivation and support that comes with being in a class. It's also attractive for those having a hard time knowing where to start within Buddhism's vast amount of teachings.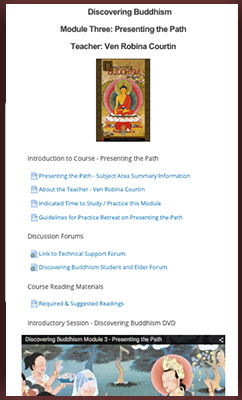 The Online Learning Center allows users the freedom to take courses at their own pace and on their own schedule while giving the added structure of homework and reading assignments, study guides, online discussion forums, activities and exams to help learning go much deeper.
"When I first started trying to get a sense of Buddhism I read widely and in a way that, looking back, was really very scattered. After a time, and even studying with Tibetan teachers in India, I longed for a systematic approach that would begin at the beginning and fill in the foundational details that I knew I was missing. Discovering Buddhism is where I found them," shares Tim, an OLC user in Japan.
There is a selection of free courses offered through the Friends of FPMT program and complete access to all courses is given to Dharma Supporters and Patron Friends of FPMT. The Friends program serves as a key source of funding for the Foundation while providing supporters with lots of education materials and connection to the global FPMT family. You can learn more about the Friends of FPMT program here.
Individual courses in the OLC can also be purchased through the Foundation Store. IMI Sangha are provided free access to all courses and scholarships are available to students who need financial assistance.  
Through comprehensive study programs, practice materials, training seminars, and scholarships, FPMT Education nourishes the development of compassion, wisdom, kindness, and true happiness in individuals of all ages.
Every second of this human life is more precious than skies of wish-granting jewels.
Lama Zopa Rinpoche