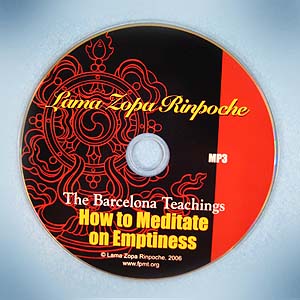 FPMT Education Services recently made the MP3 CD How to Meditate on Emptiness: The Barcelona Teacahings available by donation to the general public. 
This set of talks from September 2005 is particularly valuable as Lama Zopa Rinpoche gave extraordinary teachings on emptiness and how to meditate on emptiness. Rinpoche defines the "I," and addresses issues of the false "I" and our fear of losing the "I." Emptiness is explained relating to external objects and when practicing guru yoga. Also, a detailed explanation is given for how to meditate on the emptiness of the "I," the emptiness of others, and the emptiness of time.
Rinpoche concludes with teachings on refuge, and provides commentary and recitation of several sutras, including four chapters of the Sutra of Golden Light.
---
This and many other Dharma materials are available by donation through the Foundation Store.
Through comprehensive study programs, practice materials, training seminars, and scholarships, FPMT Education nourishes the development of compassion, wisdom, kindness, and true happiness in individuals of all ages.