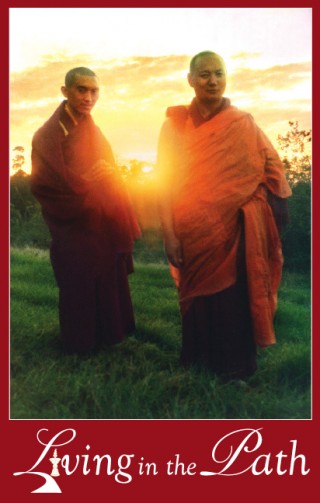 In this revised module of Living in the Path, "The Secret of the Mind," Lama Zopa Rinpoche gives an extensive teaching on karma and the mind based on two verses from the Dhammapada (The Collection of Sayings), each of which begin with the line "Phenomena are created by the mind."
Rinpoche explains that the philosophy of phenomena being created by the mind is unique to Buddhism, and that what this means is that every experience of suffering and happiness is the result of our own actions, or karma, which in turn come from our mind. "The secret of the mind" means the same as "Phenomena are created by the mind." Rinpoche tells us that as long as we don't know this important point, we won't understand that abandoning suffering and achieving happiness have to come from our mind. On the other hand, when we do come to understand this, we will see that the experience of happiness and suffering is in our hands.
The materials for this module of Living in the Path are drawn from teachings given by Lama Zopa Rinpoche at Light of the Path 2010. The transcripts have been divided into ten short readings that are complimented by four short video excerpts of the teachings. An introductory video, "Mind: The Creator," with Ven. Robina Courtin provides an engaging and informative overview of the subject of karma and the mind. To help students gain a deeper understanding and experience of the teachings, each reading begins with several questions that help to draw out the main points and encourage an active involvement with the teaching. In addition, the readings are supplemented with guidelines for meditating on the teaching, keeping it present throughout the day with a mindfulness practice, and offering service to others. Students who complete all the required readings, meditations, mindfulness and service practices are awarded a Certificate of Achievement. 
For an overview of this module, see "Mind: The Creator," with Ven. Robina Courtin:
https://youtu.be/YL_2yXFv-Mk
For the full module, see Living in the Path, "The Secret of the Mind." The enrollment key to access this module is available as a benefit of becoming a Friend of FPMT at the Dharma Supporter level or higher. Alternatively, it can be purchased in the Foundation Store.