News/Media

*If a menu item has a submenu clicking once will expand the menu clicking twice will open the page.

Study & Practice

*If a menu item has a submenu clicking once will expand the menu clicking twice will open the page.

Projects

*If a menu item has a submenu clicking once will expand the menu clicking twice will open the page.

FPMT

Buddhism is not at all a tactful religion, always trying to avoid giving offense. Buddhism addresses precisely what you are and what your mind is doing in the here and now. That's what makes it so interesting.

Lama Thubten Yeshe

*If a menu item has a submenu clicking once will expand the menu clicking twice will open the page.

Shop

The Foundation Store is FPMT's online shop and features a vast selection of Buddhist study and practice materials written or recommended by our lineage gurus. These items include homestudy programs, prayers and practices in PDF or eBook format, materials for children, and other resources to support practitioners.

Items displayed in the shop are made available for Dharma practice and educational purposes, and never for the purpose of profiting from their sale. Please read FPMT Foundation Store Policy Regarding Dharma Items for more information.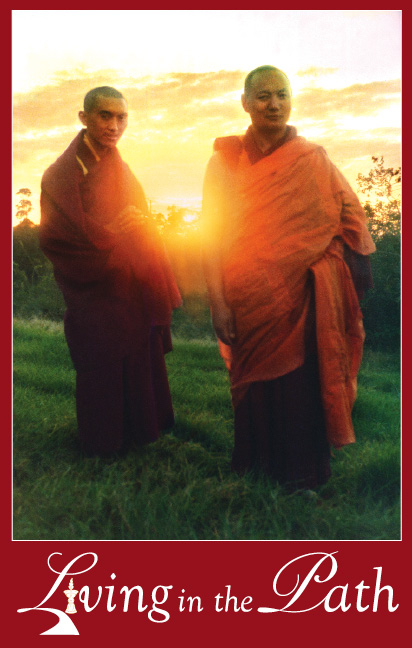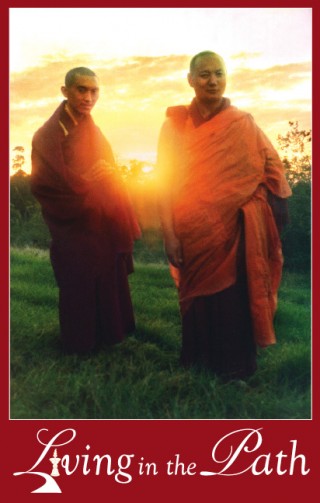 Living in the Path is unique among FPMT education programs in that it is taught exclusively by Lama Zopa Rinpoche. The online version of this program is currently undergoing extensive revision to divide it into "digestible bite-sized chunks" and make it easier to access the materials. New modules are also being developed based on Lama Zopa Rinpoche's more recent teachings. 
Currently, Living in the Path features standalone modules organized within the following topics:
 Heart Advice: Essential advice for practicing Dharma in daily life
Practice Instructions: Why and how to do certain prayers and practices 
Realizing the Lam-Rim: Teachings on the lam-rim topics and explanations of lam-rim texts 
All modules consist of video excerpts and lightly edited transcripts of teachings by Lama Zopa Rinpoche together with many additional resources.
Modules included in "Realizing the Lam-rim" also provide guidelines for study and meditation, as well as for mindfulness and service practices, all of which are based on quotations drawn from Rinpoche's teachings. 
New modules include:
Advice for Realizing the Lam-rim
In this set of short videos drawn from teachings given in Bendigo, Australia in 2014, Lama Zopa Rinpoche provides step-by-step instructions on how to gain the realizations of the lam-rim: 1) study a lam-rim text thoroughly, 2) meditate to get the effortful experience, 3) meditate to get the effortless experience, 4) meditate until the realization is stable. A short guide provides a clear summary of Rinpoche's teaching. 
Offering Food and Drink
At a picnic in Denmark in July 2015, Lama Zopa Rinpoche led one of his trademark extensive food offering practices with a motivation based on the three principal aspects of the path and offerings to the buddhas visualized in the four directions. Learn how to transform the actions of eating and drinking into an opportunity to create the causes for enlightenment. 
This is Going to Happen to You
This teaching is based on Pabongka Rinpoche's Heart Spoon: Encouragement Through Recollecting Impermanence, perhaps one of the most graphic and heart-wrenching poems on death ever written. Guidelines for meditation and mindfulness practices encourage you to keep these teachings present throughout the day so as to continually remember: "This is going to happen to me." 
These three modules of Living in the Path and many others are offered free of charge. 
---
We invite you to visit Living in the Path on the FPMT Online Learning Center and do what you always intended to do: study, reflect, and meditate on Lama Zopa Rinpoche's unique way of presenting the Buddhadharma.
You don't need to obsess over the attainment of future realizations. As long as you act in the present with as much understanding as you possibly can, you'll realize everlasting peace in no time at all.
Lama Thubten Yeshe