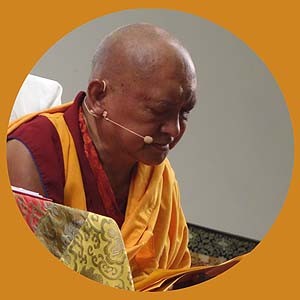 In this free collection of studio recordings, Lama Zopa Rinpoche chants several deities' mantras at different speeds, allowing students to become familiar with Rinpoche's pronunciation and also Rinpoche's preferred tunes. 
This collection of MP3 recordings include:
Green Tara mantra 
Maitreya mantras 
Chenrezig's MANI mantra fast and slow 
Manjushri mantra with and without the mala recitation of DHIs at the end
Medicine Buddha long and short mantras 
Shakyamuni Buddha mantra fast and slow 
Total length of collection: 12 minutes 45 seconds.
Volume 2 of Lama Zopa Rinpoche's Mantra Recitations is currently underway so please stay tuned for an announcement of this next installment in the series.
Through comprehensive study programs, practice materials, training seminars, and scholarships, FPMT Education nourishes the development of compassion, wisdom, kindness, and true happiness in individuals of all ages.