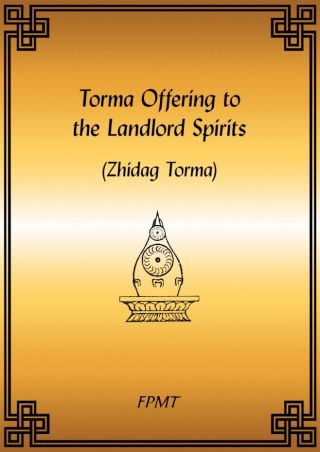 The Torma Offering to the Landlord Spirits (Zigdag Torma) is a common ritual, often done in the context of other more extensive practices such as self-generation sadhanas, burning offerings, land consecrations, and Dharma protector pujas.
The torma offering placates the many spirits who live and own the land around us and beyond, requesting them to create favorable conditions for our practice and activities. Although the practice may be recited by anyone, a tantric initiation into any of the four classes of tantra is required to do the practice in full as the offering can only be blessed on the basis of having self-generated as a deity.

---
Find Torma Offering to the Landlord Spirits (Zigdag Torma) and other practices by donation in the Foundation Store:
https://shop.fpmt.org/Torma-Offering-to-the-Landlord-Spirits-Zhidag-Torma-PDF_p_3164.html
Through comprehensive study programs, practice materials, and training seminars, FPMT Education nourishes the development of compassion, wisdom, kindness, and true happiness in individuals of all ages.
Contact Info
1632 SE 11th Avenue
Portland, OR 97214-4702 USA
Tel (503) 808-1588 | Fax (503) 232-0557
About FPMT
FPMT is an organization devoted to the transmission of the Mahayana Buddhist tradition and values worldwide through teaching, meditation and community service.
more...
About Buddhism
If you're new to Buddhism, please read our
Buddhism FAQ
. A place to learn about Buddhism in general, FPMT, and our Discovering Buddhism at Home series.