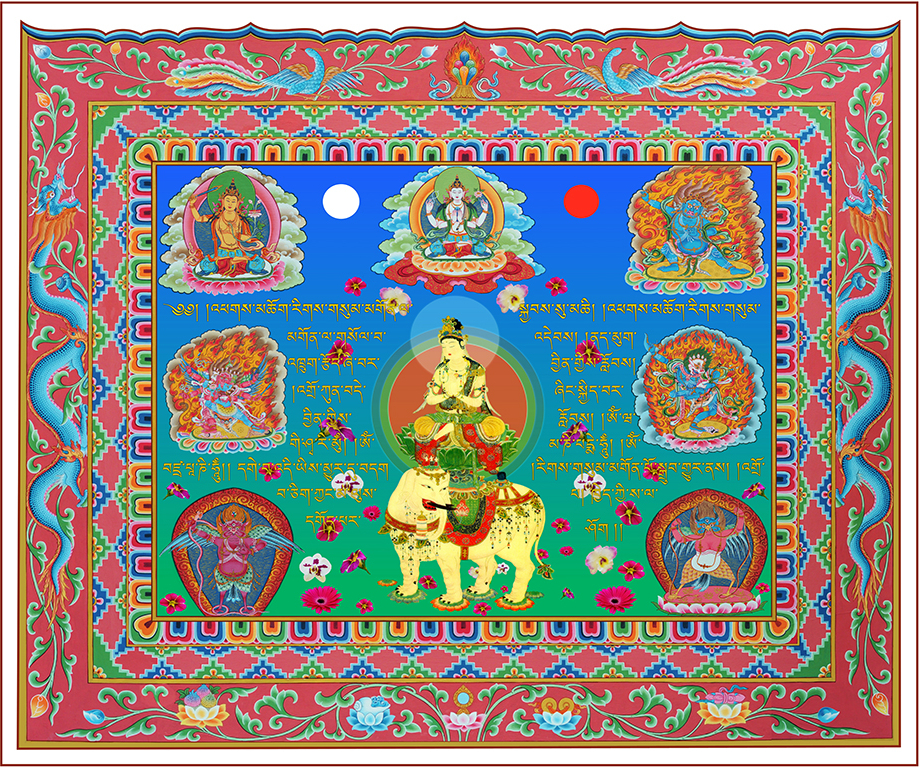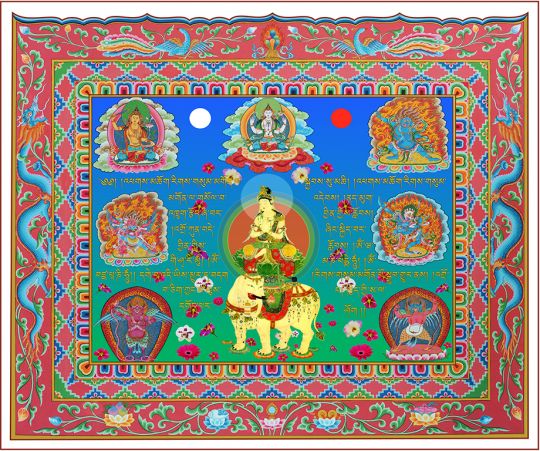 Lama Zopa Rinpoche recently updated the design of a Samantabhadra protection card for one's wall. FPMT Education Services is pleased to make this protection card available as a printable PDF. 
Rinpoche advises, "By displaying this card, all the outer and inner evil enemies (living beings or bad feng shui) are stopped. It was said by Vajradharma, who is the all knowing one, that this instruction can stop any kind of harm, including the nine harms. By displaying this protection in the house, activities that take place in the house and have no meaning will become meaningful and virtue will be created. In this way, having this protection in the home becomes good feng shui, a way of creating an auspicious environment." 
This protection comes from the great lama Thugyen Chokyi Nyima. According to Rinpoche, "It eliminates bad things, creates outer and inner success, and can also prevent all the bad extremes of the earth." 
Regarding the artwork, Rinpoche explains, "The main deity is the Bodhisattva Samantabhadra, white in color, riding an elephant, his two hands carrying a container filled with piles of jewels. Above are the three types of deities: Chenrezig, Vajrapani, and Manjushri. On one side is Hayagriva and on the other is Lion-Faced Dakini. Below are the two kinds of garudas: Multi-Colored Garuda and Black Garuda." 
The FPMT Foundation Store carries many items for one's protection and the protection of others. 
---
Through comprehensive study programs, practice materials, training seminars, and scholarships, FPMT Education nourishes the development of compassion, wisdom, kindness, and true happiness in individuals of all ages.