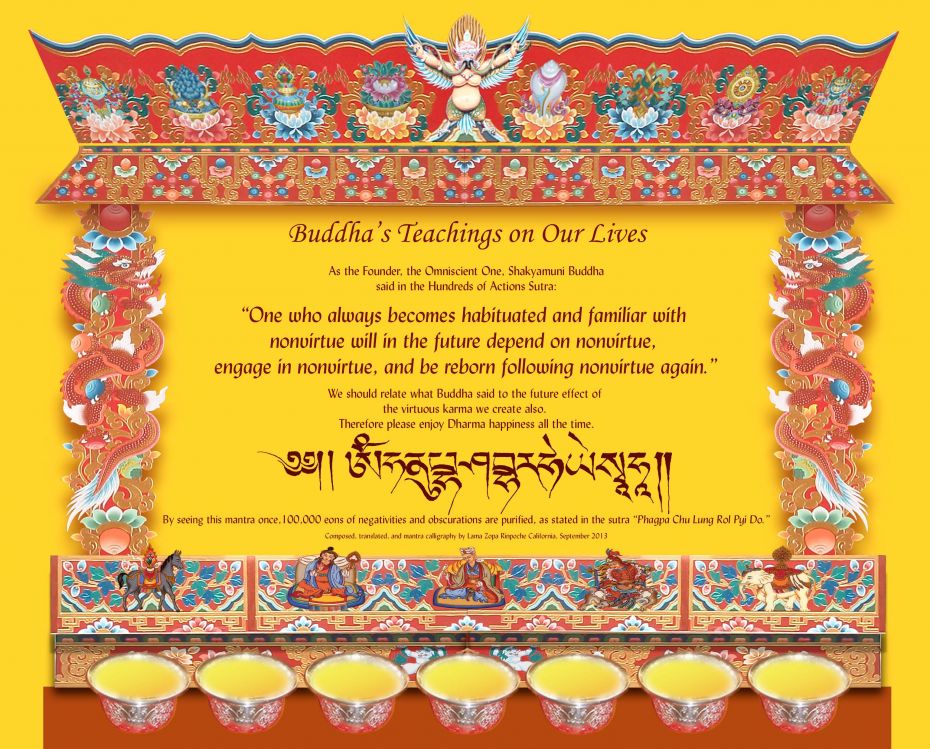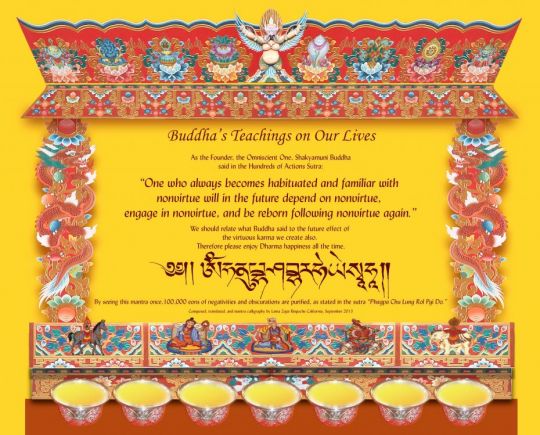 Lama Zopa Rinpoche composed, translated, and drew the mantra calligraphy on the Buddha's Teachings on Our Lives card as a reminder about the central role karma plays in our lives and experience.
The card reads: "As the Founder, the Omniscient One, Shakyamuni Buddha said in the Hundreds of Actions Sutra: 'One who always becomes habituated and familiar with nonvirtue will in the future depend on nonvirtue, engage in nonvirtue, and be reborn following nonvirtue again.' We should relate what Buddha said to the future effect of the virtuous karma we create also. Therefore please enjoy Dharma happiness all the time."
The mantra at the bottom of the card comes from the sutra Phagpa Chulung Rolpai Do, and which just by seeing, purifies 100,000 eons of negative karma and obscurations. At the specific request of Lama Zopa Rinpoche, Lhadri Gelek Sherpa designed the card's frame using Rinpoche's altar at Kopan Monastery in Nepal.
---
Find the Buddha's Teachings on Our Lives card by donation in the Foundation Store:
https://shop.fpmt.org/Buddhas-Teachings-on-Our-Lives-Card_p_1942.html

Through comprehensive study programs, practice materials, and training seminars, FPMT Education nourishes the development of compassion, wisdom, kindness, and true happiness in individuals of all ages.