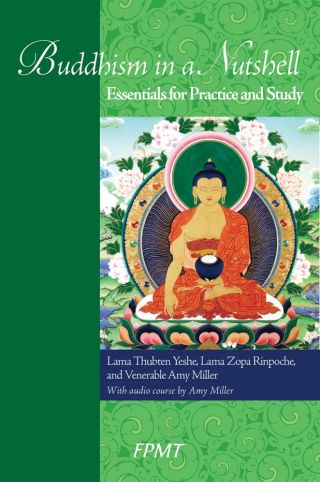 The book Buddhism in a Nutshell: Essentials for Practice and Study combines short teachings of the precious gurus Lama Thubten Yeshe and Lama Zopa Rinpoche with short teachings by the much-loved American nun, Ven. Amy Miller. It comes with an MP3 CD containing eleven hours of clear and accessible teachings and guided meditations by Ven. Amy Miller intended for beginners who would like a structured approach to learning about Buddhism in the Tibetan tradition.
The teachings by Lama Thubten Yeshe and Lama Zopa Rinpoche contained in the book consist of well-chosen essential teachings on the lamrim subjects and are supplemented by Ven. Amy's teachings on the same topics. The recordings of Ven. Amy's teachings cover the life of Shakyamuni Buddha, the four noble truths, and the stages of the path to enlightenment (lamrim) based on the short text Foundation of All Good Qualities by Lama Tsongkhapa. Together they provide a wonderful and comprehensive overview of Buddhism as taught and practiced in the Tibetan Mahayana tradition of Lama Tsongkhapa. The teachings are supplemented by recordings of five guided meditations as well as instructions for meditations on the lamrim topics found in the book itself.
---
Find Buddhism in a Nutshell: Essentials for Practice and Study in the Foundation Store:
https://shop.fpmt.org/Buddhism-in-a-Nutshell-_p_866.html
Buddhism in a Nutshell is also available as an introductory course through the Online Learning Center:
https://onlinelearning.fpmt.org/course/view.php?id=21
Through comprehensive study programs, practice materials, and training seminars, FPMT Education nourishes the development of compassion, wisdom, kindness, and true happiness in individuals of all ages.