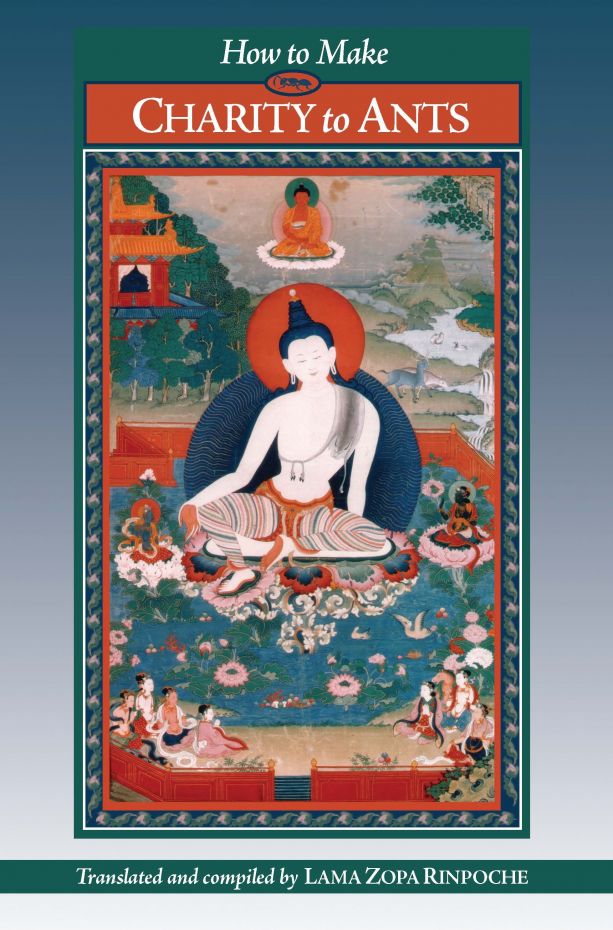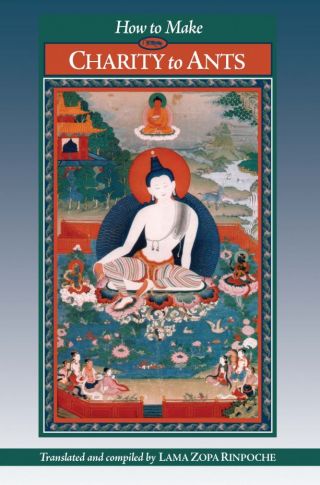 How to Make Charity to Ants was compiled by Lama Zopa Rinpoche and is inspired by a text written by Ngulchu Dharmabhadra, a well-known yogi and lineage lama. Using food, visualization, blessed substances, and mantras, students can free ants from the lower realms and plant the seeds of enlightenment in their mind streams.
"I go for walks for my diabetes; His Holiness the Dalai Lama has told me to do so," Lama Zopa Rinpoche shares. "Twice, during my walks up a mountain at the Washington retreat place, I saw two nests of ants covered by short dry grass; they were next to a rock, and there were one or two ants outside the nests. Now it is winter, so there will be snow for a long time, and the grass helps protect the ants from the rain and snow. Amazing! Even the ants know that the grass prevents the water from leaking inside; they made it this way. Human beings use grass on the roofs of their huts; I was very surprised that ants could think of that too, their bodies being so tiny."
But Rinpoche reminds students, "The ants cannot practice lamrim; there is no way for them to learn. You can explain to them for 1 billion eons day and night without break for even a second that the cause of happiness is virtue, but there is no way they can learn." By relying on this short practice, students can benefit ants despite the limitations of the ant mind.

---
How to Make Charity to Ants is available by donation through the Foundation Store:
https://shop.fpmt.org/Charity-to-Ants_p_1430.html
Read more on FPMT.org about how Lama Zopa Rinpoche has cared for ants in the past:
https://fpmt.org/tag/ants/
Through comprehensive study programs, practice materials, and training seminars, FPMT Education nourishes the development of compassion, wisdom, kindness, and true happiness in individuals of all ages.