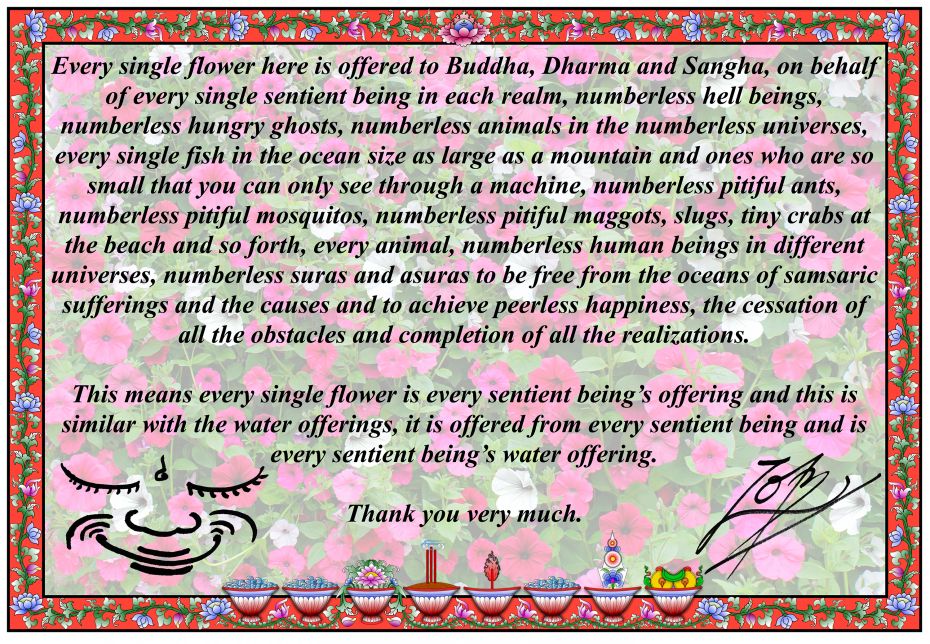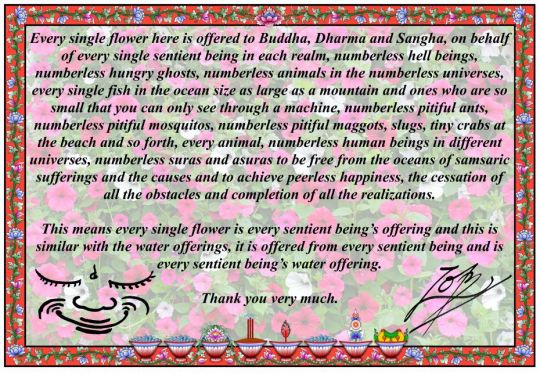 Lama Zopa Rinpoche created the Flower Offering Card as a welcoming and explanatory sign for anyone visiting the gardens of his house in Aptos, California, United States. Rinpoche said that any student is welcome to use the same sign in front of their own offerings.
The card reads:
Every single flower here is offered to Buddha, Dharma and Sangha, on behalf of every single sentient being in each realm, numberless hell beings, numberless hungry ghosts, numberless animals in the numberless universes, every single fish in the ocean size as large as a mountain and ones who are so small that you can only see through a machine, numberless pitiful ants, numberless pitiful mosquitos, numberless pitiful maggots, slugs, tiny crabs at the beach and so forth, every animal, numberless human beings in different universes, numberless suras and asuras to be free from the oceans of samsaric sufferings and the causes and to achieve peerless happiness, the cessation of all the obstacles and completion of all the realizations.
This means every single flower is every sentient being's offering and this is similar with the water offerings, it is offered from every sentient being and is every sentient being's water offering.
Thank you very much.
---
Find the Flower Offering Card in the Foundation Store:
https://shop.fpmt.org/Flower-Offering-Card_p_2532.html
Through comprehensive study programs, practice materials, and training seminars, FPMT Education nourishes the development of compassion, wisdom, kindness, and true happiness in individuals of all ages.