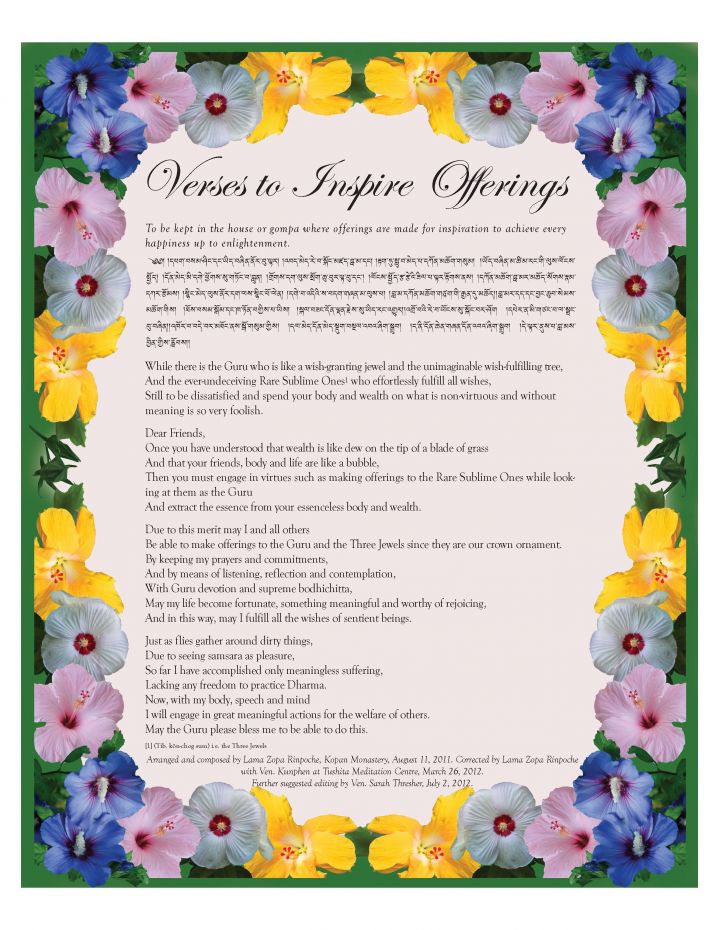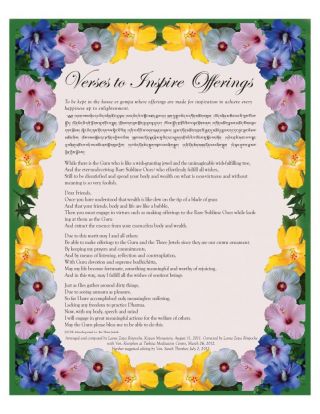 Composed and arranged by Lama Zopa Rinpoche at Kopan Monastery, Verses to Inspire Offerings is a frameable one-page offering prayer card that Lama Zopa Rinpoche suggests can be displayed in one's gompa or home.
It reads in English and Tibetan:
While there is the Guru who is like a wish-granting jewel and the unimaginable wish-fulfilling tree,
And the ever-undeceiving Rare Sublime Ones who effortlessly fulfill all wishes,
Still to be dissatisfied and spend your body and wealth on what is non-virtuous and without meaning is so very foolish.
Dear Friends,
Once you have understood that wealth is like dew on the tip of a blade of grass
And that your friends, body and life are like a bubble,
Then you must engage in virtues such as making offerings to the Rare Sublime Ones while looking at them as the Guru
And extract the essence from your essenceless body and wealth.
Due to this merit may I and all others
Be able to make offerings to the Guru and the Three Jewels since they are our crown ornament.
By keeping my prayers and commitments,
And by means of listening, reflection and contemplation,
With Guru devotion and supreme bodhichitta,
May my life become fortunate, something meaningful and worthy of rejoicing,
And in this way, may I fulfill all the wishes of sentient beings.
Just as flies gather around dirty things,
Due to seeing samsara as pleasure,
So far I have accomplished only meaningless suffering,
Lacking any freedom to practice Dharma.
Now, with my body, speech and mind
I will engage in great meaningful actions for the welfare of others.
May the Guru please bless me to be able to do this.
---
Find the Verses to Inspire Offerings card by donation in the Foundation Store
https://shop.fpmt.org/Verses-to-Inspire-Offerings-Card-English-and-Tibetan_p_1737.html
Through comprehensive study programs, practice materials, and training seminars, FPMT Education nourishes the development of compassion, wisdom, kindness, and true happiness in individuals of all ages.