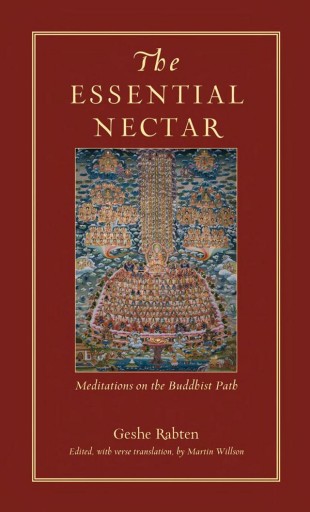 Wisdom Publications is happy to make available, after many years out of print, The Essential Nectar, translated by Martin Willson.  The root text, by Yeshe Tsondru, is one of the 18 great Lam-rim texts.  This book contains the root text and a commentary by Geshe Rabten, one of Lama Zopa Rinpoche's gurus.
Lama Zopa Rinpoche recommends The Essential Nectar to be used in one's daily Lam-rim meditation cycle. Rinpoche has offered advice about setting up a daily practice utilizing this text.
Exploring crucial points on the path to enlightenment, "Stages of the Path" literature continues to hold its place as one of the great treasures of Buddhist thought. In this volume, Geshe Rabten presents a structured explanation of the popular and practical text, The Essential Nectar of Holy Doctrine, by the eighteenth-century scholar Yeshe Tsöndrü. Geshe Rabten's teachings reveal how we may see life's great value and, by taking up the profound practice described herein, make the most of its abundant opportunity.
The FPMT Foundation Store is delighted to carry this most precious book.