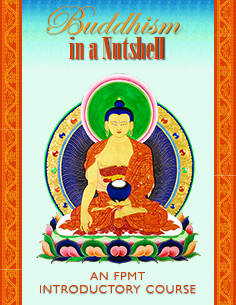 Two introductory online FPMT education courses—Buddhist Meditation 101 and Buddhism in a Nutshell—have recently been revised and are now available to new students as well as to all current and past online course participants. The courses are taught by FPMT registered teachers Ven. Connie Miller and Ven. Amy Miller, respectively.

These online course materials are now available to be listened to or read directly online—whether on a smartphone, tablet, or computer—in addition to still being available as downloadable MP3 and PDF bundles.
Materials in Buddhist Meditation 101 have been reorganized to make them easier to navigate. Students begin the course with the session outline to get an overview of the topics and meditations covered in the session. Later, they can listen to the audio recordings or read the transcript of the teachings; listen to or read guided meditations; make some notes at the end of each meditation session in their meditation journal; and then contemplate the teachings more deeply by thinking about the questions found in the points for reflection. Students who wish to do so can share their comments on the points for reflection with a course elder and can also discuss their thoughts with other students on a discussion forum.

Buddhism in a Nutshell has also similarly been restructured. In addition, the teachings and guided meditations are also accompanied by readings and meditations from the book Buddhism in a Nutshell: Essentials for Practice and Study. This book, which includes many wonderful teachings by Lama Zopa Rinpoche and Lama Thubten Yeshe, is available to all course participants.
---
Find more information about Buddhist Meditation 101 and Buddhism in a Nutshell in the Foundation Store:
https://shop.fpmt.org/Buddhist-Meditation-101-Online_p_2332.html
https://shop.fpmt.org/Buddhism-in-a-Nutshell-Online_p_2596.html
FPMT centers, projects, and services are encouraged to host these two introductory courses using these online course materials. For more information about how this might work for your group, please contact the Foundational Program Coordinator at fpc@fpmt.org.
Through comprehensive study programs, practice materials, and training seminars, FPMT Education nourishes the development of compassion, wisdom, kindness, and true happiness in individuals of all ages.