News/Media

*If a menu item has a submenu clicking once will expand the menu clicking twice will open the page.

Study & Practice

*If a menu item has a submenu clicking once will expand the menu clicking twice will open the page.

Projects

*If a menu item has a submenu clicking once will expand the menu clicking twice will open the page.

FPMT

Our desires are not limited to the things we can see, hear, smell, taste, and touch. Our mind runs after ideas as greedily as our tongue hungers for tastes.

Lama Thubten Yeshe

*If a menu item has a submenu clicking once will expand the menu clicking twice will open the page.

Shop

The Foundation Store is FPMT's online shop and features a vast selection of Buddhist study and practice materials written or recommended by our lineage gurus. These items include homestudy programs, prayers and practices in PDF or eBook format, materials for children, and other resources to support practitioners.

Items displayed in the shop are made available for Dharma practice and educational purposes, and never for the purpose of profiting from their sale. Please read FPMT Foundation Store Policy Regarding Dharma Items for more information.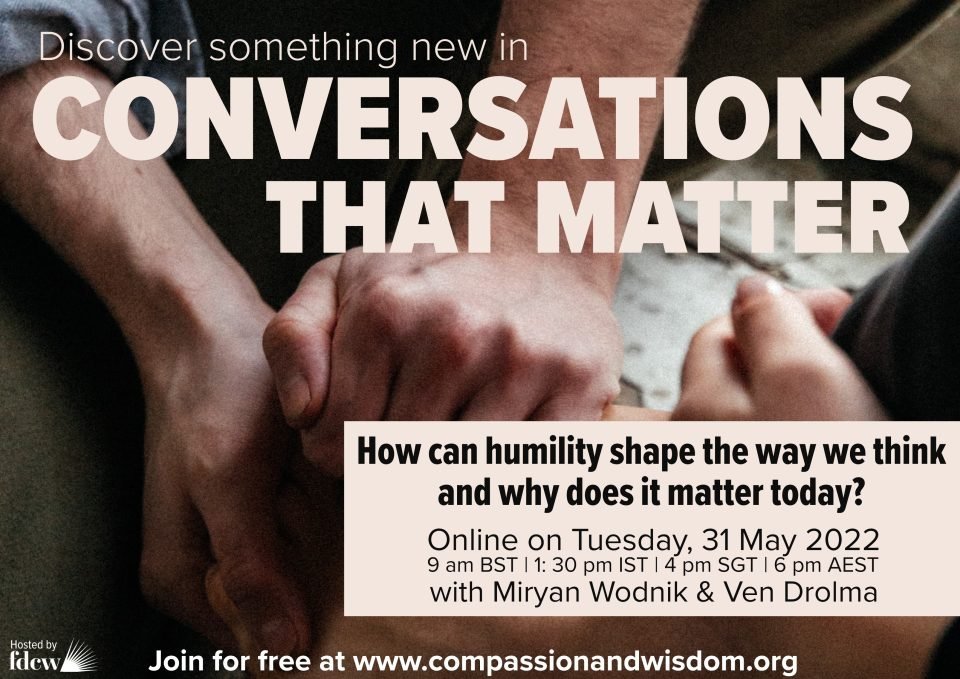 Foundation for Developing Compassion and Wisdom (FDCW), an international FPMT project, had a lively year in 2021, as shared in their recently released Annual Review 2021. And the project continues to build and expand on their beneficial and uplifting work in 2022. FDCW's programs are based on Universal Education for Compassion and Wisdom (UECW), which is one of FPMT's Five Pillars of Service. UECW is a secular system of inner learning that cultivates and explores universal values. FDCW shared the following update of some key activities of 2021 and new offerings for 2022:
The highlight of 2021 was without doubt the Compassion and Wisdom in Action Conference, which followed in the footsteps of the previous year's Big Love Festival. Seventeen speakers—including FDCW's Honorary President Lama Zopa Rinpoche, Tenzin Ösel Hita, and Ven. Robina Courtin—shared their wisdom in engaging sessions under the four conference themes: values, mind, healing, and engaged action. Hundreds of participants joined the talks in the spirit of compassion, connection, community, and caring, and made the conference an unforgettable event.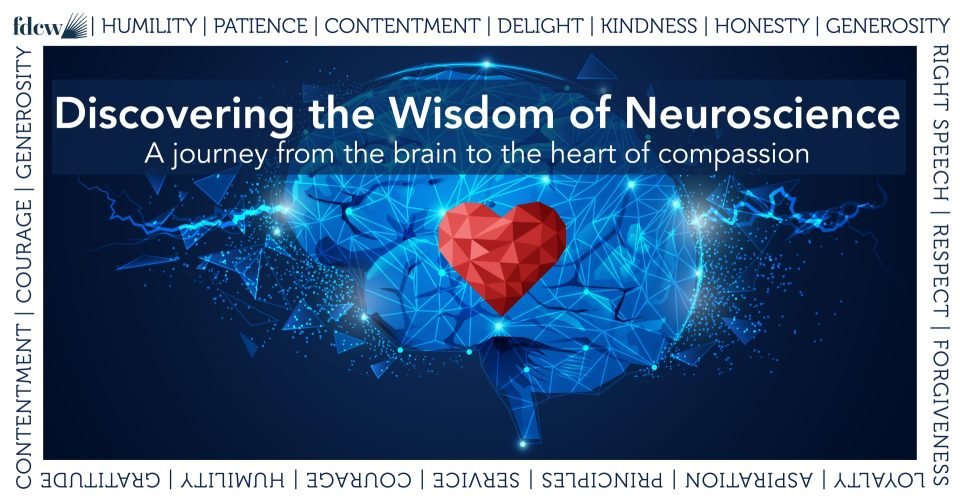 The year 2021 also saw the launch of the popular new course Discovering the Wisdom of Neuroscience. Nearly 100 participants, with facilitator Ceci Buzon, have been taking an exciting and insightful journey from head to heart, informed by modern science and ancient wisdom. FDCW continues to have a strong emphasis on supporting their facilitators and in the past year offered developed forums on topics such as trauma-informed facilitation and safeguarding, as well as facilitation training in Unlocking Your Potential, 16 Guidelines Level 1, and 16 Guidelines Level 2.
The essence of all these activities is best summarized with a quote from a course participant who wrote, "The gentleness that threads through all of FDCW courses is what I love most."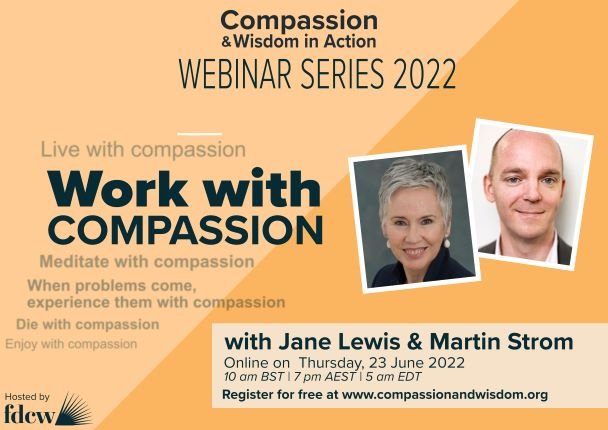 Looking ahead, FDCW is turning their attention toward the inspiration given by Lama Zopa Rinpoche's work of encouraging people around the world to bring compassion into every aspect of their lives. The new six-part Compassion & Wisdom in Action Webinar Series started with an energetic session by Ven. Robina Courtin on "When Problems Come, Experience Them with Compassion," followed by "Live with Compassion," a conversation about self-compassion, guilt, and shame between Ven. Tenzin Chogkyi and Dr. Joey Weber. The webinar series will continue on June 23, 2022, with Jane Lewis and Martin Strom sharing their ideas on weaving compassion into our working life. Registrations for upcoming sessions, as well as recordings of the previous webinars, can be found on FDCW's Compassion and Wisdom in Action Webinar Series 2022 webpage.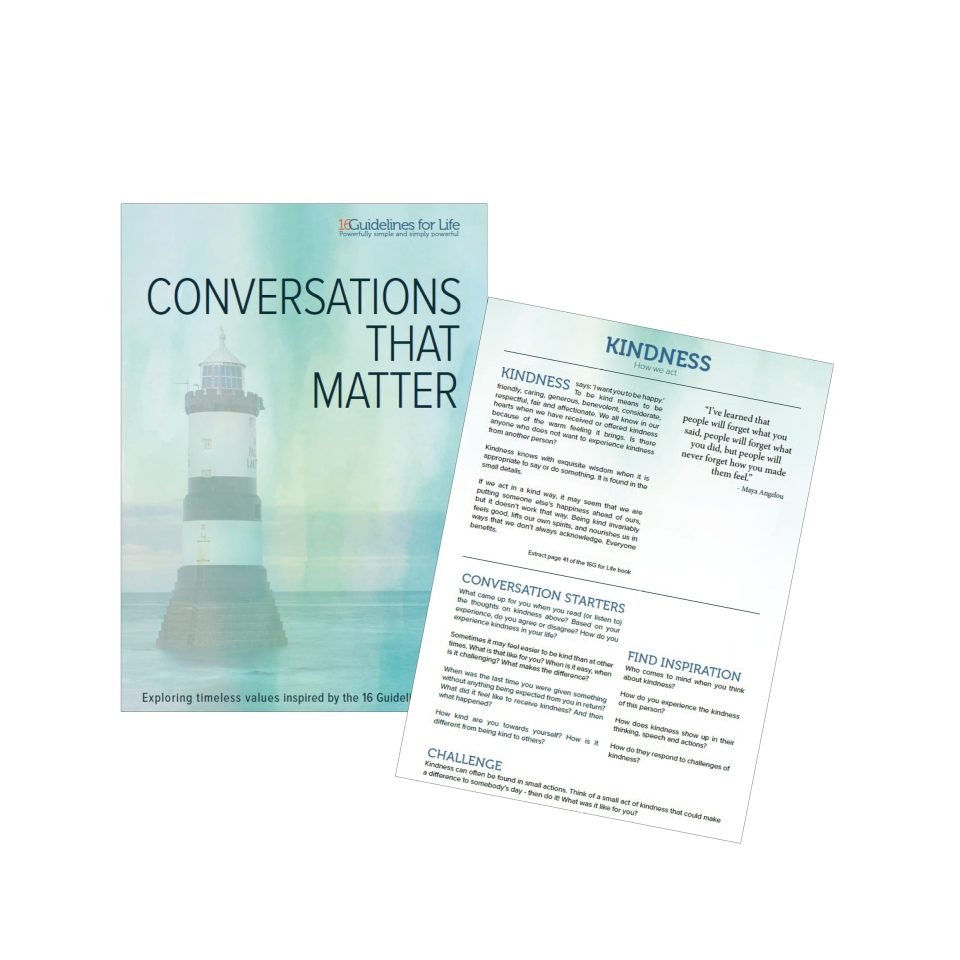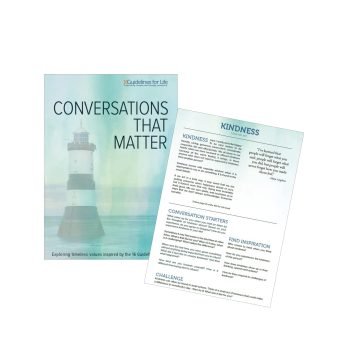 Always looking for new and timely ways to offer Universal Education, FDCW most recently released a new resource called Conversations That Matter, inspired by the 16 Guidelines for Life program. With a contemporary design, Conversations That Matter offers a new way of getting people talking about values and what matters to them in a simple, structured way that can easily be adapted for centers, volunteer groups, or meditation classes. The resource may be downloaded for free. For those who are curious about what a Conversation That Matters session might feel like, FDCW offers four free online taster sessions starting on May 31, which will explore different themes.
2022 will be a busy year, and FDCW hopes that many more people will be able to benefit from the wisdom and compassion that Universal Education offers. FDCW is also keen to hear about Universal Education initiatives from FPMT centers. 
"Lama Yeshe's vision for Universal Education was vast and in the last forty years it has inspired many people and projects around the world," said FDCW Executive Director Victoria Coleman. "Whether you are running Universal Education activities that you would like to share with the wider world or want to strengthen the UE pillar at your center and are looking for support, please get in touch with us. We would love to hear from you!"
---
To learn more about the Foundation for Developing Compassion and Wisdom, visit the FDCW website: https://www.compassionandwisdom.org
FPMT.org and Mandala Publications brings you news of Lama Zopa Rinpoche and of activities, teachings, and events from over 150 FPMT centers, projects, and services around the globe. If you like what you read, consider becoming a Friend of FPMT, which supports our work.
When ordinary people die they are out of control. Because they have not trained themselves during their life, they are overwhelmed by the experience of death and bewildered as their bodily elements go out of balance and cease to function harmoniously.
Lama Thubten Yeshe