Celebrations of His Holiness the Dalai Lama's 80th birthday, which is July 6 on the Western calendar, are taking place around the world. His Holiness is spending his birthday in Southern California in the US at the Global Compassion Summit. (For news and photos of the events, see #WithCompassion on Facebook and DalaiLama.com.)
FPMT spiritual director Lama Zopa Rinpoche, in a praise for His Holiness, said:
"Your Holiness is the great treasure of infinite compassion embracing all us sentient beings, the sole source of benefit and happiness of all us sentient beings, the sole refuge of all us sentient beings. Your Holiness is incomparably kinder to us than all the past, present and future Buddhas. We the fortunate disciples who have been fortunate to see your holy body and hear your holy speech make the following request.
"The kind Guru Shakyamuni Buddha, out of his great compassion, descended to this world of Dzambu in the Arya land of India for the sole purpose of bringing benefit and happiness to migratory beings by leading us to liberation and full enlightenment. … (Read the complete praise as a PDF.)"
Following the inspiration of Lama Zopa Rinpoche, FPMT centers, projects and services have been celebrating His Holiness' birthday. Many have organized special events and picnics. Ven. Tenzin Tsultrim shared what happened in Singapore:
"Amitabha Buddhist Centre in Singapore dedicated a full and meaningful day of prayers and practice in honor of His Holiness' 80th birthday. Starting in the late morning, we organized a special animal liberation practice and with generous contributions from our members and friends, were able to liberate about 492,800 'la-la' shellfish at sea. In the afternoon from 1:30 to 6 p.m., a large group participated in the recitation of the Golden Light Sutra. Never mind that today is Monday, people made the effort to take time off from work for the practice. 
"We capped our all-day celebration with a Namgyälma puja in the evening, led by our resident teacher, Khen Rinpoche Geshe Chonyi and ABC's sangha. Everyone who attended could take part in this puja of the long-life deity Namgyälma as we have the practice available in English. We had an enthusiastic turnout with about 200 ABC members and students coming to our prayer celebration. In addition, the just-published July/August issue of our newsletter, TASHI DELEK, pays special tribute to His Holiness with a cover feature highlighting a topic that our precious guide in the Dharma holds dear – compassion. We send our heaps of prayers for His Holiness to remain with us forever."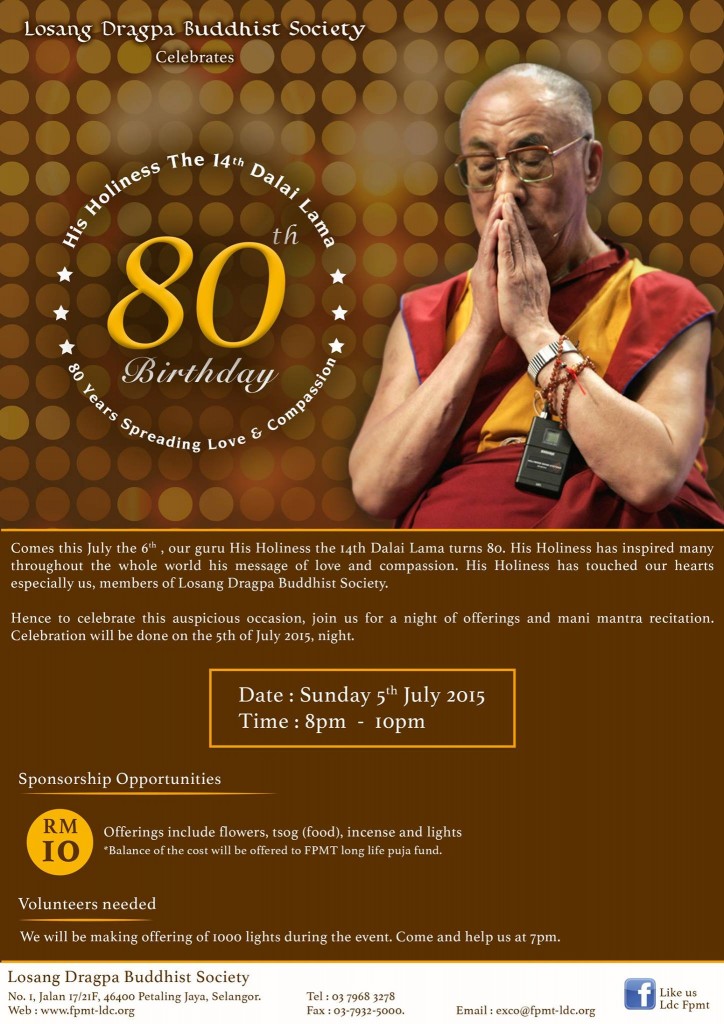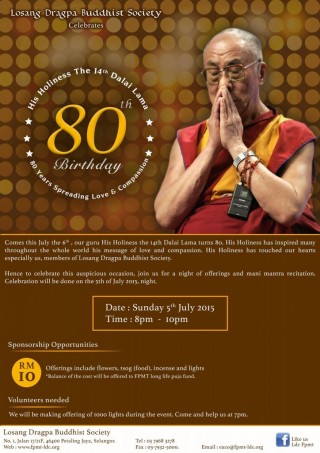 Losang Dragpa Centre in Kuala Lumpur, Malaysia, had a night of offerings and mani mantra recitation for His Holiness' birthday.
Tara Institute in Melbourne, Australia, celebrated His Holiness with a birthday puja on July 5 and combined it with a celebration of Geshe Doga, their resident geshe, who turns 80 next week.
Buddha House in Adelaide, Australia, celebrated His Holiness on July 6 doing the practice "The Inseparability of the Spiritual Master and Avalokiteshvara," which was written by His Holiness. Afterwards they had coffee, tea and cake.
Lama Yeshe Ling Centre in greater Toronto, Canada, is celebrating His Holiness' 80th birthday with a picnic at Dundas Valley. Center director Deborah Klassen wrote, "We are encouraging everyone to bring their friends and family. There will be singing, games, walking meditations and a lot more."
FPMT North American centers, projects and services are celebrating His Holiness' birthday as Compassion Day. Check out Compassion Day on Facebook – www.facebook.com/CompassionDay – for photos and stories.
Continuing this week, we'll have more stories on celebrating His Holiness' birthday and FPMT's long-time commitment to supporting the realization of His Holiness' wishes.
FPMT.org shares news of His Holiness the Dalai Lama, Lama Zopa Rinpoche and of activities, teachings and events from FPMT centers, projects and services around the globe. If you like our news updates, consider becoming a Friend of FPMT, which supports our work.