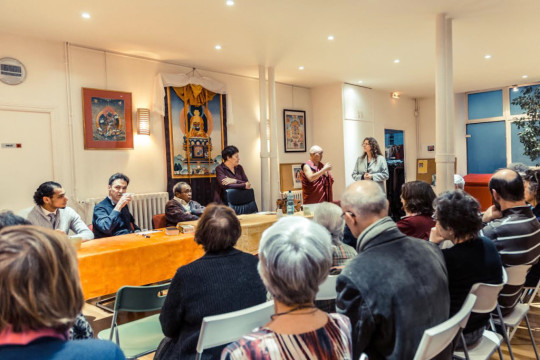 On March 5, Centre Kalachakra in Paris welcomed local religious leaders representing Catholicism, Protestantism, Buddhism and Islam. Fifty people attended the dialogue, which focused on the theme of joy and happiness.
Geshe Dakpa Tsundue, Centre Kalachakra's resident geshe, welcomed all the participants, stressing the importance of religious dialogue specifically in Paris after the violence against Charlie Hebdo. He also introduced His Holiness the Dalai Lama's main points concerning religious plurality and interfaith dialogue, namely, that differently religions suit different needs and interests; the importance of emphasizing the common values – such as compassion and forgiveness – shared between theistic and non-theistic traditions; the need to generate a sense of there being one human family; and the necessity of secular ethics in education to promote world peace. 
"Father Quinson, representing Catholicism, said we can experience joy with Jesus being the mediator of joy," said center director Ven. Elisabeth Drukier, who was also a presenter at the event. "Imam Mohamed replied we should give up aesthetic joy because the soul can't be satisfied that way. Pastor Raharinaivo commented that joy comes only from Heaven. And I explained the Buddhist view of inner joy coming from peace of mind.
"Interfaith dialogue has been going on for the last 15 years in 10th arrondissement of Paris on different themes such as preparing for death, forgiveness, and freedom. We usually go to different churches, synagogues or mosques. Centra Kalachakra has hosted this event three times and we expect more after Charlie Hebdo as there is a feeling of urgency to have more interfaith dialogue."
Mandala brings you news of Lama Zopa Rinpoche and of activities, teachings and events from nearly 160 FPMT centers, projects and services around the globe. If you like what you read on Mandala, consider becoming a Friend of FPMT, which supports our work.