FPMT News Around the World
In March, FPMT spiritual director Lama Zopa Rinpoche offered to sponsor life-size Maitreya statues at any FPMT center, service or project that wished to have one. Thubten Shedrup Ling (TSL) in Victoria, Australia, accepted the offer and received a statue two weeks ago.
"We are very grateful for Rinpoche's kindness and generosity allowing us to have such a beautiful statue in the monastery," writes Ven. Lhundrup, director at TSL. "The picture is of Maitreya seated in our temporary gompa where he keeps a watchful eye on the monks during puja. Maitreya will eventually be placed in our new, much larger gompa which we hope to commence building next month."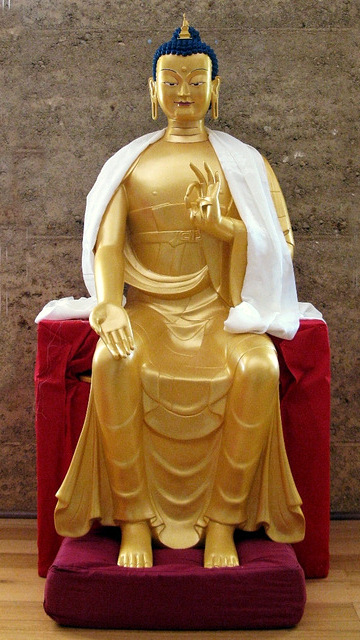 The statues are scale replicas of the larger Maitreya statues that are to be built by the Maitreya Project in Bodhgaya and Kushinagar, Uttar Pradesh, India. The plan to build a 500-foot (152-meter) tall Maitreya statue was inspired by FPMT founder Lama Yeshe.
While there are many depictions of Maitreya Buddha, the large statues that will be built by the Maitreya Project will show Maitreya Buddha in a simple form – without ornaments, wearing monk's robes and seated on a throne – so as to be recognizable to many Buddhist traditions.
Directors of FPMT centers, projects and services that wish to receive a Maitreya statue can contact Peter Kedge at the Maitreya Project for more information.
With 160 centers, projects, and services around the globe, there is always news on FPMT activities, teachers and events. Mandala hopes to share as many of these timely stories as possible. If you have news you would like to share, please let us know.