From Ven. Amy Miller, director Milarepa Center
On July 6, Milarepa Center celebrated our Fifth Annual Milarepa Festival Day. This year, we incorporated the enchanting music of Tibetan anthro-musicologist Penpa Tsering with an interfaith service to celebrate our region's Compassion Day and His Holiness the Dalai Lama's birthday.
More than 100 participants attended along with Village Harmony, a youth choir who sang songs from South Africa. It was a glorious day! We also had two large birthday cakes for His Holiness and everyone sang "Happy Birthday" and wrote personal notes on a card that will be delivered. 
Milarepa Center also recently completed construction on a new "Tiny House!" The lovely one-bedroom cabin was built in record time and will no doubt be a tremendous asset to Milarepa Center.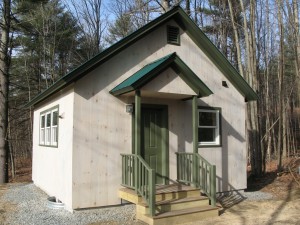 We were delighted to receive a Merit Box grant toward the costs and are so grateful to our kind and generous donors. We have five great teachers visiting our center this year who will enjoy the comfortable accommodations, along with the center director who lives there throughout the year.
If you like what you read on Mandala, consider becoming a Friend of FPMT, which supports our work. Friends of FPMT at the Foundation level and higher receive the print magazine Mandala, delivered quarterly to their homes.