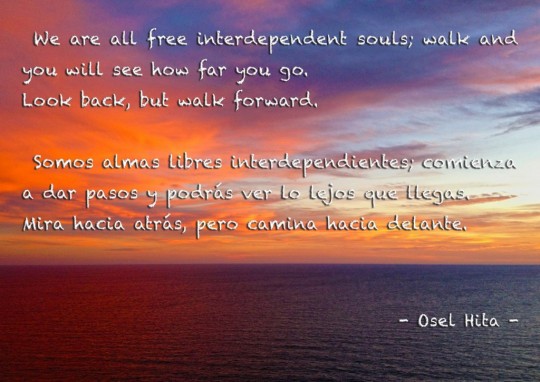 Occasionally Ösel shares his thoughts and experiences on his Facebook page. In this recent update, he reminds us that we are all connected and encourages us to go within to understand our own thoughts and intentions, rather than worrying about other people's thoughts, words or actions.

Stop fooling yourself and wake up, open your eyes. We are all free interdependent souls; walk and you will see how far you go. Look back, but walk forward. Life gets complicated when you have a material body, but if you investigate inside and observe your mind you will see that it is very simple. Just being the self, aware that you are the captain of your boat, and the rest will fall into place. You have got to find the limits inside yourself, not from external agents, be a warrior and forget about what other people do or say. Forget for the time being about other people's thoughts words, or actions. Go for the intentions and thoughts inside yourself. Everything starts there, after that you can worry about the words and actions that define YOU. You cannot see it in others without a subjective interpretation, so for the moment forget about them. Focus on what you have inside. Without the ignorance of illusion we have no separation from the rest. Separation is an illusion.
Deja de engañarte a tí mism@ y despierta; abre los ojos. Todos somos almas libres interdependientes; comienza a dar pasos, y podrás ver lo lejos que llegas. Mira hacia atrás, pero camina hacia delante. La vida se complica cuando tienes un cuerpo material, pero si investigas dentro y observas nuestra mente verás que es muy simple. Siendo tu mismo, y reconociendo que tu eres el capitán de tu barco, el resto caerá en su lugar. Debes encontrar los límites dentro de uno mism@, no a través de agentes externos, sé un guerrero y olvídate de lo que piensan, hacen o dicen otras personas. Ve a por las intenciones y pensamientos dentro de ti mism@. Todo empieza ahí, después preocúpate de las palabras y acciones que TE definen. Es difícil no verlo en los demás sin un punto subjetivo propio, por lo tanto olvídate de ell@s por el momento. Focaliza en lo que tienes dentro. Sin la ignorancia de la ilusión no hay separación del resto. La separación es una ilusión.
The Big Love Fund helps support the education and creative endeavors of Ösel. You can learn more about this project, follow Ösel's news or discover other Charitable Projects of FPMT.