News/Media

*If a menu item has a submenu clicking once will expand the menu clicking twice will open the page.

Study & Practice

*If a menu item has a submenu clicking once will expand the menu clicking twice will open the page.

Projects

*If a menu item has a submenu clicking once will expand the menu clicking twice will open the page.

FPMT

I encourage people not to express their anger, not to let it out. Instead, I have people try to understand why they get angry, what causes it and how it arises. When you realize these things, instead of manifesting externally, your anger digests itself. In the West, some people believe that you get rid of your anger by expressing it, that you finish it by letting it out. Actually, in this case what happens is that you leave an imprint in your mind to get angry again.

Lama Thubten Yeshe

*If a menu item has a submenu clicking once will expand the menu clicking twice will open the page.

Shop

The Foundation Store is FPMT's online shop and features a vast selection of Buddhist study and practice materials written or recommended by our lineage gurus. These items include homestudy programs, prayers and practices in PDF or eBook format, materials for children, and other resources to support practitioners.

Items displayed in the shop are made available for Dharma practice and educational purposes, and never for the purpose of profiting from their sale. Please read FPMT Foundation Store Policy Regarding Dharma Items for more information.
A pilgrimage book by Geshe Thubten Sherab, Headmaster of Kopan School, has been published by Lumbini Buddhist University and Kopan Monastery, and sponsored by Lama Zopa Rinpoche. This book was inspired by Rinpoche and crafted with his guidance. This recently published edition was volume one of two and covers the sacred sites of the Kathmandu Valley and Lumbini.
It was released on September 11 in the presence of Kopan's Khenrinpoche with more than 150 people in attendance including Nepal government officials, Culture Minister, members of parliament, representatives from the three yanas, professors from Lumbini University, and representatives of various Nepali communities. The event was held at the Hyatt Hotel, where Rinpoche wanted it, and according to those in attendance it was joyous, featuring a generous feast for all to enjoy.
This volume is almost 200 pages and took three years to complete. Rinpoche's wish was for it to be published in both Tibetan and Nepali. The Tibetan version had 500 copies printed and 1,000 copies were printed in Nepali. This work will also be translated into English.
With around 45 different sites covered in this volume—all of which Geshe Sherab has visited—the book includes photos of each site, an extensive bibliography, and index including all sources and references.
The book is divided into three sections: the sites related to the Buddha (those from Lumbini and surrounding), those related to the Bodhisattvas (Sutrayana), and the Tantrayana sacred sites. Geshe Sherab explained, "The reason for the divide in this way was very significant. This will allow people to have a clear understanding of these categories and those sites with the history."
The history of the book project dates back to the early 2000s. Geshe Sherab was in Bodhgaya with his brother's family and they visited some pilgrimage sites. They knew nothing about many of these places and Geshe Sherab felt he was not able to help them fully understand the history and significance of these places. He looked for a book to help guide their exploration and could not find one, so the thought occurred to him that he could write a book about Buddhist sites in India.
He began to research, visiting libraries and going on pilgrimage when he had the opportunity. He finally published a book in 2004, Gyakar Nangpi Neshed Rabsal Donmye and offered a draft copy to Lama Zopa Rinpoche who was very inspired and carried it with him afterward. He told Geshe Sherab, "Now we need to do a book on Nepali pilgrimage sites, too." Rinpoche showed a bit of concern that many sites were vanishing and there was no real reference book and the history was hard to find. Due to these concerns, he asked Geshe Sherab to write this book.
Having just been appointed the headmaster of Kopan School, he didn't have much time. At the end of 2019, Rinpoche offered to sponsor the printing, so initially, Geshe Sherab began to collect all the sites in Nepal and found there were around 52 sacred Buddhist sites in the country. Geshe Sherab shared, "When I showed it to Rinpoche, he was laughing and laughing and finally he said, 'OK, first finish Kathmandu Valley.' So, I did Kathmandu Valley along with the Lumbini areas." He consulted both Nepali and Tibetan sources which makes the book really unique as it's the first of its kind. He combined both sources, trying to fill gaps in the timelines and to reconstitute the history of each place by taking from both sources. He researched in many different libraries and some archeological departments. As a result, the book not only provides stories like you would find in a travel book, it also contains all the references to the various sources.
From time to time, Geshe Sherab would consult and discuss his work and progress with Lama Zopa Rinpoche. In particular, the book draws from Rinpoche's advice on what to do in these various places, what practices to engage in, etc.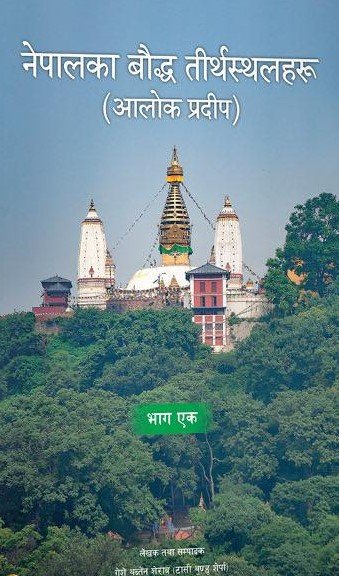 At the end of 2022, Geshe Sherab passed a draft copy to Rinpoche. Geshe Sherab shared, "One day Rinpoche called me up. When I went to see him, I was a little scared. As I entered his room and he looked very happy, I felt so relieved! Rinpoche said, 'This is wonderful that the book is finished but what is this cover photo?' It was an old historical photo of the Swayambunath Stupa. Rinpoche said we need to change it and asked Sherab (Ven. Lobsang Sherab, who serves as a photographer for FPMT) to provide me a nice Swayambunath Stupa photo. Which you'll see on the cover of the book."
Rinpoche told Geshe Sherab that it is good to translate into other languages but emphasized the importance of having it published in Nepali, sharing that until now we have been focusing more on the West but now, we also need to focus on local areas in Nepal and promote the Dharma here.
Rinpoche also advised that now we have to organize, "a grand release for the book." Geshe Sherab explained, "I was thinking maybe we could do it when Rinpoche's book on non-smoking releases at the Kopan nunnery. But Rinpoche had another plan. He said, 'We'll do it at the Hotel Hyatt and we will invite all like-minded scholars and government officials!' I was just scratching my head."
During the event on September 11, Geshe Sherab shared the story of the book and a professor from Lumbini University gave a talk about the book in Nepali. Additionally, Dr. Khenpo Jorden, a teacher of IBM Center from the Sakya tradition, who received his PhD from Harvard, gave a talk and praised the research.
The event was very successful and people were very happy, "All because of the blessings and kindness of Rinpoche," says Geshe Sherab.
Geshe Sherab is projecting about three years to complete the second volume. When the English translation of this first volume is available, we will share this news. 
---
Foundation for the Preservation of Mahayana Tradition (FPMT), is a Tibetan Buddhist organization dedicated to the transmission of the Mahayana Buddhist tradition and values worldwide through teaching, meditation and community service.
However the very bottom line is to do all ones actions with bodhichitta. That is the best, the most meaningful way to think during your break time. This makes your life most beneficial. As much as possible with awareness keep ones attitude and thoughts in bodhichitta, the thought of benefiting others, try to do all the activities with that mind, including doing your job and throughout the day. This way even in your break time whatever you do becomes the cause of happiness.
Lama Zopa Rinpoche