News/Media

*If a menu item has a submenu clicking once will expand the menu clicking twice will open the page.

Study & Practice

*If a menu item has a submenu clicking once will expand the menu clicking twice will open the page.

Projects

*If a menu item has a submenu clicking once will expand the menu clicking twice will open the page.

FPMT

May there be no war, disease or natural disaster such as fire, flood, earthquake and so forth. May everybody realize bodhichitta, the good heart, enjoy peace and happiness and as quickly as possible realize the wisdom directly perceiving emptiness, cease all their defilements and achieve enlightenment.

Lama Zopa Rinpoche

*If a menu item has a submenu clicking once will expand the menu clicking twice will open the page.

Shop

The Foundation Store is FPMT's online shop and features a vast selection of Buddhist study and practice materials written or recommended by our lineage gurus. These items include homestudy programs, prayers and practices in PDF or eBook format, materials for children, and other resources to support practitioners.

Items displayed in the shop are made available for Dharma practice and educational purposes, and never for the purpose of profiting from their sale. Please read FPMT Foundation Store Policy Regarding Dharma Items for more information.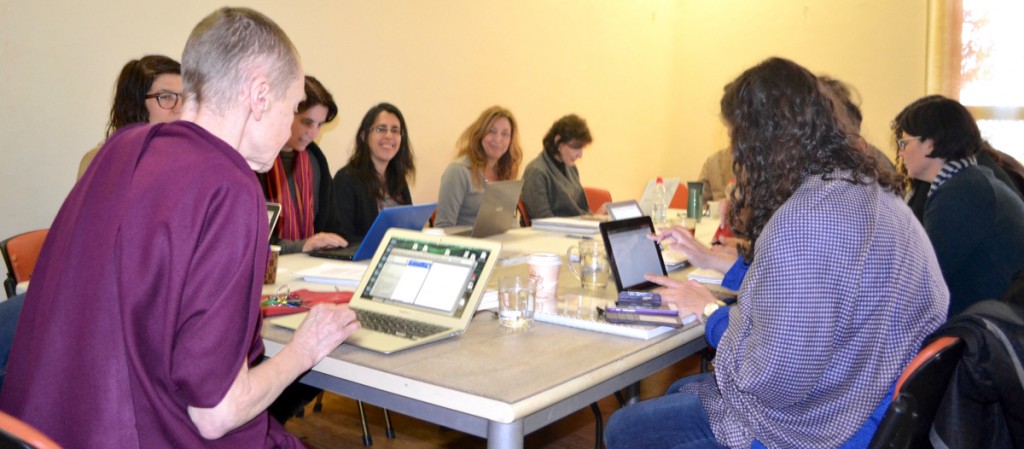 By Ven. Sangye Khadro
The news about Israel in the international media is usually gloomy, but, as is the case everywhere, there are bright stories that don't make the headlines. One such story is a new project, the Human Spirit Psychoanalytic-Buddhist Training Program, which opened its doors in March 2015. This is a seven-year program, run jointly by the Israel Association for Self Psychology and the Study of Subjectivity (IASPS) and FPMT center Istituto Lama Tzong Khapa (ILTK), to train psychoanalysts. Unlike traditional psychoanalytic training programs, its curriculum includes classes in Buddhist philosophy and meditation.
History and Background
The program is the brainchild of an eminent Israeli psychoanalyst, Raanan Kulka, together with his colleagues. Raanan has been practicing psychoanalysis for almost 40 years; he has also been interested in meditation since the age of 16. Over the years he acquired an extensive knowledge of Buddhism, primarily Tibetan and Zen Buddhism. Feeling that Buddhist teachings and practices – particularly those related to compassion, emptiness, and non-duality – could be helpful to therapists in working with their patients, he began thinking of a new type of psychoanalytic training program that would incorporate Buddhist philosophy and meditation alongside traditional psychoanalytic studies.
In 2003, a friend and colleague of Raanan's, Manuel Katz – a teacher in the Mindfulness Counselling Program held at ILTK – invited Raanan to be a guest speaker in their annual conference. From that time, Raanan and Manuel began discussing the idea of a Buddhist-psychoanalytic training program with Ven. Joan Nicell, then coordinator of the Masters and Basic Programs at ILTK. Ven. Joan, feeling it was important to discuss the project with Lama Zopa Rinpoche, arranged for a meeting between Rinpoche and Raanan in Singapore in early 2011. She was present at that meeting and said it was like a reunion between two old friends. Rinpoche expressed a great deal of interest and agreed that ILTK would work with him to create this program. Rinpoche also said that Raanan should definitely meet with His Holiness the Dalai Lama, who would be happy with what he wants to accomplish.
Over the next few years, two teams of people – one in Israel and one in Italy – continued developing the visionary project. In Israel, Raanan and the three other members of the Leading Committee – Manuel, Iris Gavrieli-Rahabi, and Arie Green – worked on planning the psychoanalytic side of the program, selecting teachers, searching for a suitable venue for the school, and seeking funding. Raanan's wish was for the program to be fully funded so that the students would be supported while studying, rather than having to pay course fees. Fortunately, a wealthy businessman and philanthropist, who was well acquainted with the IASPS, was so inspired by the vision that he offered to fund the entire project for the first seven years. As for the venue, it was decided to locate the project in Lod, a town in central Israel mid-way between Tel Aviv and Jerusalem, in which there is a strong demographic mix of different ethnic and religious groups – Jewish and Arab, Muslim and Christian – and socio-economic levels. The project will offer free analytic therapy to citizens of Lod, many of whom are in need of such help but unable to afford it.
In Italy, Joan and a group of senior students and teachers worked on formulating the Buddhist curriculum, based on FPMT in-depth education programs, as Raanan wanted Human Spirit students to have a comprehensive understanding of Buddhism. We came up with a tentative list of topics and resources for the seven-year program, with the understanding that adjustments could be made as we go along, depending on what works and what doesn't. Several members of the ILTK team – Vens. Sangye Khadro, Joan, and Connie Miller – were invited to Israel from 2011 to 2014 to lead the annual five-day retreat organized by the IASPS for therapists. During these retreats we had a chance to deepen our relationship with and understanding of the IASPS and its work. The three of us, plus several other in-depth FPMT teachers, were requested to serve on the Buddhist faculty of the program. The idea is to have a team of four to six teachers who would teach on a rotating basis. It was eventually decided that Ven. Sangye would teach both semesters of the first year, and the two semesters of the second year (2016) would be taught by Ven. Lozang Yonten and Andy Wistreich, respectively.
The application process opened in March 2014. The plan was to have 15 students in the first program, and another 15 students starting a new program three years later. Applicants had to be licensed psychotherapists with a Masters degree in psychology, psychiatry or social work, plus five years of clinical experience. Despite the strict requirements, 52 people applied – this was probably the largest number of applicants ever for a psychoanalytic training program in Israel. The organizers then had the difficult task of assessing the applicants and determining the 15 who would be most suitable, a process that took seven months. At the same time, renovation work began on an abandoned school in Lod that had been chosen as the site for the project.
On March 1, 2015, fifteen students – eleven women and four men, ranging in age from around 38 to 53 – sat cross-legged in a provisional "gompa" at the Lod school to begin their first lesson in meditation. The renovation work had run into delays, due to permit problems, so the workers had constructed a temporary facility consisting of a classroom, a meditation room, several offices, a common room, and bathrooms. It was the Human Spirit home for the next three and a half months.
Many of the students were new to Buddhism and meditation, so there was an atmosphere of nervous excitement on the first day. The weekly schedule included six 30-minute meditation sessions: one at the start and one at the end of each of the three days we met in Lod. In spite of the usual initial difficulties – physical discomfort, wandering mind, doubts, and so forth – the students gradually settled into the practice and came to enjoy it. In fact, just before the one-week Passover break in April, a few said they would miss the group meditation sessions during the holiday!
The schedule also included two classes per week in each of three domains: psychoanalysis, Buddhism, and humanities. The reason for including humanities in the curriculum was the belief that studying select treasures of literature, art, music, and philosophy from around the world will be another mode of transforming the minds and hearts of the students.
Self Psychology
The classes in psychoanalysis – taught by different members of the IASPS each semester – include studying the classical works of Freud and his followers, but mainly focus on a particular school of psychoanalysis that Raanan and his colleagues practice, known as "self psychology." It was developed by Heinz Kohut, a Jewish- Austrian man who immigrated to Chicago in 1940 to escape Nazi persecution. There he completed his studies in medicine, neurology, psychiatry, and psychoanalysis, and also began lecturing at the University of Chicago. His work led him to develop a different view of human potential than that of traditional Freudian psychoanalysis, which saw human beings as basically motivated by their sexual and aggressive drives. Kohut believed that human beings have intrinsic positive qualities, and whatever psychological problems they experience are the result of unmet needs, particularly during childhood. He asserted that a skillful analyst, using tools such as empathy, can help a patient fulfill their needs and achieve transformation, e.g., from self-centeredness to altruism. Due to this confidence in the human potential – which is quite similar to the Mahayana Buddhist idea of buddha nature – the Human Spirit community feels that self psychology is the most suitable form of psychoanalysis for building bridges with Buddhism. They also believe that for a psychoanalyst to be able to delve into the depths of the patient's mind and bring about healing, it was important to develop a blend of Buddhist contemplative ideas and the psychoanalytic innovations they have been working on.
Buddhism
As for the Buddhist side of the program, the first semester involved two parts: (1) basic instruction in meditation, and (2) an introduction to Buddhist philosophy, its different schools, and so forth. The second semester also comprised two parts: (1) a gentle introduction to the topic of "transforming suffering into the path" using Thich Nhat Hahn's book, No Mud, No Lotus, and (2) classes focused on the nature of the mind, specifically its conventional nature of clarity and awareness, and the seven types of awareness explained in lorig (awarenesses and knowers). The students were particularly fascinated with the latter topic; we had a number of intriguing discussions about questions related to their work as therapists, such as whether or not Buddhism has an explanation of the "unconscious," and if consciousness is individual or collective.
The Human Spirit students are not expected to accept the Buddhist explanation of things, nor to actually become Buddhist – this was confirmed by Lama Zopa Rinpoche during his meeting with Raanan in Singapore – although some might choose to do so. Instead, the purpose of the program is for them to become "a new kind of psychoanalyst: embodied and enveloped by Buddhist philosophy and meditation."
Discussions and Clinical Work
One day per week was devoted to discussions: one was a "Meeting the Dharma" seminar, during which the students could share experiences and insights arising from their encounter with Buddhism and meditation. Another was a "Clinical Seminar" in which the students discussed their work with disadvantaged members of the Lod community. For the first year and a half, each student is required to spend four hours per week visiting a selected "patient" – who could be Jewish or Arab, an elderly person living alone, a child with learning difficulties, or a mother struggling to raise her children with an unsupportive husband. During these visits, the students attempt to practice the tools they are learning, such as empathy, which is particularly emphasized in self psychology, as well as mindfulness and compassion. From the middle of the second year, they will begin to treat patients in psychoanalysis, with supervision from senior psychoanalysts.
The students are also required to be in personal analysis four times per week for at least five years during the seven-year program. They are all parents, some with very young children, so it's quite a challenge for them to juggle all their numerous personal, scholastic, and work commitments! Nonetheless, they found it highly rewarding to be part of the Human Spirit program. One student wrote: "My first year in Human Spirit has been very special. I've discovered a new way of being: a very gentle, kind, and loving way of life; a way to be connected to my fellow human beings and to all sentient beings with compassion, responsibility, and with a sense of calm happiness. I feel very fortunate that I've had the opportunity to take part in this path."
Another said that what was so special about the program for her was "learning new ideas, especially the Buddhist ones, letting them sink in, and seeing if and how they change me, my work or my life, and how they 'communicate' with other ideas I have about life, about myself, and about the ways I can help people. Meditation is a whole new world for me, and I'm just starting to find my way in it. I feel that being a part of this group of people – students and teachers – is a huge privilege: trying together to create something new that aims to help people."
A third student wrote that it was her first opportunity to study and practice Buddhism in such a systematic way, and she felt "that the ancient ideas are inspiring our present and future work and studies, as human beings and as psychologists. The meditation and lorig studies enabled me to rethink our everyday and professional concepts. In this process of learning and meditating, I felt that concepts we tend to think of as familiar or already known to us (such as 'mind' and 'awareness') are now understood and felt in a new way. It is as if 'something' that was 'solid' and 'unified' became a stream of very delicate and elusive moments that keep changing. 
"I also find that Buddhism enriches and expands our ethics: the responsibility for all sentient beings, the principle of equanimity, the gathering of intention and motivation, the practice of mindfulness that helps us remember those ideals and to notice our ongoing conduct and speech. … During meditation the conventional tendency to separate and discriminate between 'me' and 'not me,' or 'mine' and 'not mine,' is temporarily dissolved. Therefore, meditation supports the sense of responsibility for others, and also helps to practice empathy."
---
From Ven. Sangye Khadro: "As I was involved in the program for the entire year, meeting regularly with its students, faculty and staff, I think I can confidently say that it was a life-changing experience for all of us. I wish to express my deepest thanks to all who made it possible, and to dedicate the positive energy we have accumulated that all beings everywhere may become free of suffering and its causes, attain happiness and its causes, and swiftly realize their potential for enlightenment!"
More information about the Human Spirit project can be found at: http://www.selfpsychology.org.il/?lat=en
Mandala brings you news of Lama Zopa Rinpoche and of the activities, teachings and events from nearly 160 FPMT centers, projects and services around the globe. If you like what you read, consider becoming a Friend of FPMT, which supports our work.
We hear religious people talk a lot about morality. What is morality? Morality is the wisdom that understands the nature of the mind. The mind that understands its own nature automatically becomes moral, or positive; and the actions motivated by such a mind also become positive. That's what we call morality. The basic nature of the narrow mind is ignorance; therefore the narrow mind is negative.
Lama Thubten Yeshe