News/Media

*If a menu item has a submenu clicking once will expand the menu clicking twice will open the page.

Study & Practice

*If a menu item has a submenu clicking once will expand the menu clicking twice will open the page.

Projects

*If a menu item has a submenu clicking once will expand the menu clicking twice will open the page.

FPMT

No desire means no emotional pain of attachment, anger and jealousy. There is peace, openness and space for genuine love and compassion to arise.

Lama Zopa Rinpoche

*If a menu item has a submenu clicking once will expand the menu clicking twice will open the page.

Shop

The Foundation Store is FPMT's online shop and features a vast selection of Buddhist study and practice materials written or recommended by our lineage gurus. These items include homestudy programs, prayers and practices in PDF or eBook format, materials for children, and other resources to support practitioners.

Items displayed in the shop are made available for Dharma practice and educational purposes, and never for the purpose of profiting from their sale. Please read FPMT Foundation Store Policy Regarding Dharma Items for more information.
When did Tibetan Buddhism come to the West? In 1958 Geshe Wangyal established a monastery in New Jersey where several of the first Americans to learn Tibetan studied in the 1960s. Sakya lama Dezhung Rinpoche arrived in the USA in 1960 and began teaching at the University of Washington. Lama Yeshe started to teach Westerners in India in 1967, and Geshe Lhundub Sopa taught at the University of Wisconsin from 1967 on. Chögyam Trungpa Rinpoche started teaching in Scotland in 1967 and the USA in 1970. Tarthang Tulku founded the Nyingma Institute in Berkeley, California in 1972. So more than five decades have passed since the transmission began.
What can we learn from looking at how Tibetan Buddhism is taught in the West? Longtime teacher Dr. Roger Jackson talked to Mandala associate editor Donna Lynn Brown about the ins and outs of teaching Buddhism.
Roger, how did you meet the Dharma?
In high school in the mid-1960s, I got interested in all kinds of things! One year I was an existentialist, the next a Marxist…. But I was especially fascinated by "the mysterious East." I majored in religion at Wesleyan University in Connecticut, and studied Zen, Daoism, and Hinduism; I really liked Vedanta. Philip Kapleau Roshi came and led a sesshin, and that was my first meditation experience. At the end of college, my now-wife Pam and I decided to explore the spiritual scene and moved to the Bay Area. It was Allan Watts one day, John Lilly the next, a weekend at the Nyingma Institute where we met Dudjom Rinpoche. We tried a lot of things but didn't commit. After saving up $1,500 each working for the Post Office, we set off on a "spiritual journey," arriving overland in India January 1, 1974. But we seemed to have obstacles—we missed His Holiness the Dalai Lama in Dharamsala; we couldn't stay at the ashram we liked in Rishikesh; India's poverty overwhelmed us. We made our way to Nepal, where we saw some Tibetan Buddhism, but at that point, it seemed too exotic. We were about to head to Auroville in South India, but someone showed us a brochure for Kopan, and it hit us like a bolt of lightning. We realized that, if we were serious about spirituality, it was time to put up or shut up. So we registered for the spring 1974 course. I struggled right from the initial claim that mind is beginningless. Really? And after a few days of sitting under a shaking, moaning tent through earthquakes and thunderstorms, I was ready to pack it in. But Pam said, "No, I'm totally into this." So I stayed out of attachment, and then gradually came around. At the end we both took refuge. We were incredibly impressed by the two lamas—they were the first religious people we'd met who seemed to embody what they taught. And they had this delightful bad cop/good cop routine. Lama Zopa would talk for days about the hells, then Lama Yeshe would come in and say, "Oh, but you have buddha nature."
And what led you to study with Geshe Sopa?
We found out Geshe Sopa was teaching Buddhist studies at the University of Wisconsin in Madison. That was a dream come true: to study with the teacher of the lamas we so esteemed. In my grad school application I wrote that I wanted to spread the Dharma in the West, and I still can't quite believe they let me in, because back then scholars were expected to be objective. But they did. Studying with Geshe Sopa was like getting a Gelug monastic education, but I also received a more Western religious studies perspective from professors like Stephen Beyer and Leonard Zwilling. They showed me that Tibet wasn't quite Shangri-la, and that Buddhism wasn't just philosophy but also a complicated social reality—actual people living their religion. My dissertation ended up being on the question that confounded me back at Kopan: the beginninglessness of mind. I translated and discussed Dharmakirti's argument for past and future lives and the four noble truths, along with Gyaltsab Je's Tibetan commentary. It was later published as Is Enlightenment Possible? I got my Ph.D. and started teaching university in 1983.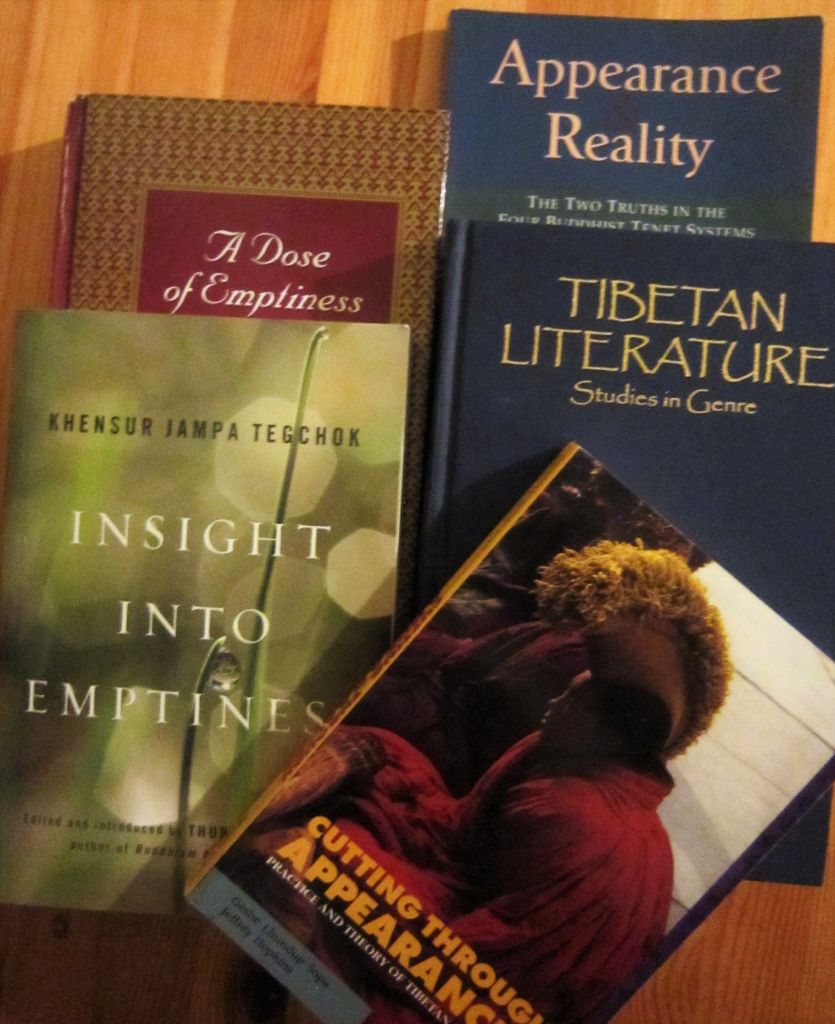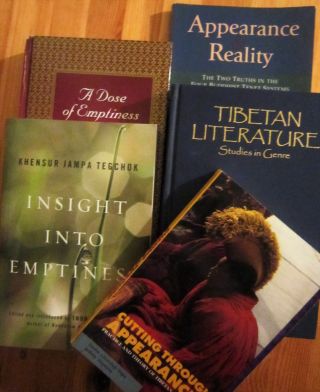 You've taught Buddhism in both universities and Dharma centers. What's the difference?
In centers I mostly keep to the tradition. Most of my Dharma center teaching is working through Indian Buddhist texts with American Dharma students at Gyuto Wheel of Dharma Monastery in Minneapolis. From Geshe Sopa, I learned the value of teaching directly from texts, so I present the text more or less as a geshe would—though I'm far from being a geshe!
A college or university is different. I teach by topic, and assign readings from various sources. Above all, I don't teach "Dharma." I help students understand Buddhism from an academic point of view. That includes the ideas from great texts, but from multiple perspectives rather than a single authority. In a typical class, I spend a few weeks on philosophy, making sure people know about the four noble truths, emptiness, the bodhisattva path, and so forth, but then I take them into areas like anthropology, sociology and cultural studies. For instance, we will investigate what Buddhism looks like on the ground in Sri Lanka or Tibet. And then we might examine a difficult ethical issue from a Buddhist perspective.
What has it been like, as a Buddhist, to teach Buddhism in universities?
When I started teaching in universities, I didn't like to admit that I was a practicing Buddhist—most of us in those days kept up this "objective" persona. Some people stayed quiet about being Buddhists until they got tenure. That wasn't necessary in Dharma centers. But then I taught for a while at a Jesuit university, and they made clear that they valued my Buddhist beliefs because they wanted not just a scholar but someone with whom they could engage in dialogue. I also came to understand that the notion of complete objectivity is ludicrous. So now I tell students I am a Buddhist. It may subtly affect how I explain things, and I want them to be able to call me on that.
Nowadays, it is easier to be an "insider." We understand that total objectivity doesn't exist; instead we are methodologically self-conscious, meaning we recognize and admit who we are and proceed as honestly as we can. It's a shift from modernism, which assumed that there could be a neutral stance or objective knowledge, to post-modernism, which recognizes that we all come with presuppositions. That shift freed people to be who they were. We still have to observe good professional boundaries. Proselytizing is not OK, for example, and we have to maintain a balance among competing views. But this change in the intellectual climate helped Buddhist studies to flourish by welcoming practicing Buddhists.
How do young people take to the Buddhism they learn in universities?
They seem to love it. I joke that one of my jobs is to pop their bubble. They arrive thinking Buddhism's so cool and Christianity's so square. Their idea of comparative religion is to contrast the Dalai Lama with the Spanish Inquisition. I have to level the playing field by pointing out that Tibetan history is fairly bloody too. Even so, a significant minority of undergraduates who study Buddhism take up meditation or get additional Buddhist teachings. Some participate in meditation and study programs in South Asia, the Himalayas, or Burma. Back in the 1970s, I wondered if the popularity of Buddhism in the West might die out with the baby boomers. That hasn't happened. I would guess that His Holiness the Dalai Lama is one reason. He's a superstar—he has drawn people to Buddhism. There have been skillful presentations of teachings in the West, by him and others, that have made Buddhism very compatible with modern ways of thinking. Western Buddhism focuses mostly on meditation and philosophy. It doesn't look quite the same as Buddhism in Asia—or in ethnically Asian Buddhist temples here.
How do you teach tantra in a university? What is the objective, and how do you avoid passing on information that is intended for practitioners only?
I taught a tantra course once, and one goal was to undo false impressions: "Tantric sex is a no-brainer for a whiskey man!" said one ad for Glenfiddich a few years back. Then, what I taught was academic material from the public domain. To convey what tantra is, I drew on Tantra in Practice, which is a collection of works by Western academics, and Geshe Tashi Tsering's Tantra. I talked about the role of embodiment and imagination in practice. Then I contextualized tantra historically in Indian traditions. One reason students think tantra is "cool" is because they've heard that the great Indian mahasiddhas were rebels against conventional society, but Christian Wedemeyer, in Making Sense of Tantric Buddhism shows that this claim is overblown: leaving the monastery to practice in a charnel ground was not uncommon in those days, and tantric practice—then and now—has generally been quite mainstream. So I explained tantra's nature and how it fit into Buddhist practice and society. It's worth teaching, because tantra is an important part of Asian religious culture, not only in Tibet but also in China, Japan, and Korea. Even Daoism has a tantric side.
We often assume that university courses on Buddhism teach only philosophy, but now you also include practices—rituals, ceremonies, pilgrimage, daily life. Why?
It's not what students start out thinking Buddhism is, so it's good for them to learn. If I had seen some of that material, I wouldn't have been so surprised when I got to Asia. When I started in Buddhist studies, almost everyone was studying philosophy. Over time, influences from psychology, history, anthropology, sociology, and cultural studies worked their way in. Now, in Tibetan Buddhist studies, we see as many biographies coming out, for example, as books on doctrine—a sea change. Since it's my job to expose students to the latest scholarly perspectives, I teach on how Buddhism is practiced in real life, as well as discussing gender, power, social class, and so on. We may want only "truth," but Foucault showed us that truth is embodied and related to power. We can't escape that if we want to understand Buddhism. We can't only study philosophy. And learning how Buddhists live and practice doesn't scare students away. Most undergrads start out more interested in the ideas; I could do a whole course just on their questions about karma! But education means exposing people to the broader picture, and they come to appreciate that.
There is now scientific research on the effects Buddhist practices, such as meditation and compassion, have on the brain. What impact is that having?
It is definitely bringing people in. For example, psychology and science students take courses in Buddhism because they hear about Dr. Richard Davidson's research at the Center for Healthy Minds on the effects of meditation on the brain. They start out interested intellectually, then sometimes move toward practice. Because of this research, Buddhism gets seen as not just a "religion" like your parents had, but a science of mind. What gets shunted aside sometimes, though, is the traditional context of practices. Take Mahamudra: it may seem like a simple meditation—just mind seeing mind!—but it was always surrounded by ritual and devotion, and if you extract it from those, you lose something vital.
You studied with Geshe Sopa in a university. Do geshes teach in universities now?
Dezhung Rinpoche taught at the University of Washington in Seattle for many years, and Geshe Sopa was the first Tibetan religious teacher to get tenure in a Western university. Geshe Thupten Jinpa, Ph.D. sometimes oversees Ph.D. students at McGill in Montréal, Canada, and I believe Geshe Lobsang Tenzin Negi, Ph.D., does some teaching at Emory in Atlanta, Georgia. But I can't think of any Tibetan masters teaching full time in a North American university right now. One challenge is that geshes do not have Ph.D.s or training in the Western critical method—unless they also complete a Ph.D. And what is expected of scholars here, and the teaching style, are very different. The most common model is to invite lamas or geshes for periods of time to teach particular texts or topics. That works well.
Can you take a critical stance in Dharma centers the way you can in a university?
In a university, we are expected to be historical and critical, but we can be that way in Dharma centers too, even while respecting traditional teachers and teachings. In fact, the ability to shift between one and the other is useful. I think I am invited to teach at Dharma centers because I have academic as well as traditional training, and can talk about both. That's what I do at Gyuto: I stay within the tradition by teaching texts more or less the way a geshe would, but I bring in my academic perspective by giving historical context and discussing points of controversy. Scholars of Buddhist studies can enrich what is taught in Dharma centers by including important historical, social, and philosophical issues.
Are Tibetan Buddhist Dharma centers drawing closer to academic Buddhist Studies?
It varies. Some centers invite academics, like Jeffrey Hopkins, to teach. I gave some talks on Mahamudra at Sravasti Abbey a few months ago. Most centers now understand that Buddhist academics won't undermine the tradition; we are conversant with both traditional and academic approaches, and can discuss similarities and differences. So the wall is eroding. We shouldn't think the Dharma can't stand up to critical and historical analyses of the kind applied by academics.
Has the teaching at Tibetan Buddhist Dharma centers evolved over time?
Not that much. Gelug centers have mostly stayed quite traditional. They still focus on lamrim, for example, without much Westernization. Students sometimes want more meditation, but that's an adjustment Gelug centers haven't always made. One result is a steady trickle of Gelug students going to Nyingma teachers to learn Dzogchen. John Makransky, Anne Klein, and B. Alan Wallace are prominent examples. So that's one issue to consider. Another is how centers can serve both ordinary people and more serious practitioners. Mingyur Rinpoche, a Kagyu-Nyingma master, has created two tracks in his Tergar organization: one for busy lay people with a secular orientation, and the second for those who want to do a more "Buddhist" practice. His Holiness the Dalai Lama also stresses basic teachings for secular people, and more intense practice for those so inclined. I wonder if Gelug organizations should consider creating different tracks as well.
As they progress, do Dharma students need to go to monasteries or other practice centers for higher teachings? Can their own centers meet their needs?

Advanced students can keep benefiting from centers, I think, depending on the center. Deer Park in Wisconsin is one example. Classic texts are taught there throughout the year. These have infinite depths and can be studied over and over. And then Deer Park's summer courses, currently taught by Jangtse Chöje Rinpoche, intensively cover major texts. That might be the ideal kind of center for advanced students. But even if a center doesn't have intensive teachings, many have geshes or lamas with whom students can have a personal relationship, and who can give private teachings and guidance. Advanced students at smaller centers might stay part of the community, share rituals, and so on, but then travel for specific teachings or retreats. There are courses and retreats around the world; older students who are retired often travel to take advantage of opportunities. For younger students with fewer resources, going to India or Nepal is a way to get teachings or do retreat at a lower cost. People are traveling quite a bit nowadays to get the experiences they want.
How can Buddhist organizations deal with difficult areas where cultures clash—gender, power relations, and so on?
We are still early in the transmission of Dharma to the West. It's good that we speak out, but change is not as simple as saying "this is unfair." Our teachers come from monastic institutions that are very different from our Dharma centers. Western culture is a big adjustment. So we need patience. We can work for change, but we need to hold on to what is good, too. "Buddhist theology" is intended to translate Buddhism for the West, but also to bring into Buddhism the best the West has to offer, politically, culturally, and intellectually—such as a historical consciousness—to help shape the Dharma's contemporary manifestations. We need to integrate the modern without losing what is essential. The result won't be one version of Buddhism, universally applied. We will have a spectrum of Buddhisms, from a modernist wing that focuses mostly on philosophy or meditation as applied to contemporary life, to a more conservative wing that preserves traditional prayers, rituals, and ideas. The Buddha gave 84,000 teachings, so we can have more than one approach. And although I advocate patience, I am confident that it won't take as long as the proverbial bird's wing wearing down Mount Meru. We will figure it out.
---
Roger Jackson, Ph.D., has been teaching Buddhism since 1983. He is emeritus professor of Asian Studies and Religion at Carleton College in Minnesota, USA, specializing in Indian and Tibetan Buddhism. He is the author of countless academic articles as well the books Is Enlightenment Possible? and Tantric Treasures, co-author of The Wheel of Time: Kalachakra in Context, editor of The Crystal Mirror of Philosophical Systems, and co-editor of Tibetan Literature: Studies in Genre, Buddhist Theology, and Mahamudra and the Bka' brgyud Tradition. He is currently completing a book on Mahamudra in the Gelug tradition.
When ordinary people die they are out of control. Because they have not trained themselves during their life, they are overwhelmed by the experience of death and bewildered as their bodily elements go out of balance and cease to function harmoniously.
Lama Thubten Yeshe