News/Media

*If a menu item has a submenu clicking once will expand the menu clicking twice will open the page.

Study & Practice

*If a menu item has a submenu clicking once will expand the menu clicking twice will open the page.

Projects

*If a menu item has a submenu clicking once will expand the menu clicking twice will open the page.

FPMT

No desire means no emotional pain of attachment, anger and jealousy. There is peace, openness and space for genuine love and compassion to arise.

Lama Zopa Rinpoche

*If a menu item has a submenu clicking once will expand the menu clicking twice will open the page.

Shop

The Foundation Store is FPMT's online shop and features a vast selection of Buddhist study and practice materials written or recommended by our lineage gurus. These items include homestudy programs, prayers and practices in PDF or eBook format, materials for children, and other resources to support practitioners.

Items displayed in the shop are made available for Dharma practice and educational purposes, and never for the purpose of profiting from their sale. Please read FPMT Foundation Store Policy Regarding Dharma Items for more information.
The Lama Yeshe Wisdom Archive has released a new free book by Lama Yeshe, Knowledge-Wisdom: The Peaceful Path the Liberation. This collection is drawn from teachings given by Lama Yeshe in the 1970s and 1980s, when he and Lama Zopa Rinpoche traveled the world, teaching extensively. Lama Yeshe consistently encouraged students to recognize and develop their limitless potential, and his dynamic teaching style means that these teachings are as relevant and accessible today as when first taught.
From this new book we share an excerpt from a discourse by Lama Yeshe at a refuge ceremony held at Chenrezig Institute, Australia on September 12, 1979:
When you take refuge in Buddhadharma, the important point is that you have recognized your own profound potential, and from the beginning can see that, "I can do something; I can take responsibility for liberating myself." This is different from the attitude we normally have: "I'm hopeless, I'm hopeless; maybe God, maybe Buddha, maybe Lama can do something for me." This sort of human attitude is wrong. From the Buddhist point of view, it is wrong to think, "I'm hopeless, Buddha can do something for me." That attitude is wrong because it's not true. By believing that you are hopeless you have already decided that you are nothing; you have already put a limit on your profound quality. The important thing in taking refuge is to have the understanding that you can do something to solve the problem of everyday life by relying, with confidence and trust, on the Buddha's wisdom—you can also call it your own activated wisdom—to liberate you from confusion and suffering. So it is really worthwhile. The real significance of taking refuge in Dharma wisdom is that it is the entrance to the path to enlightenment.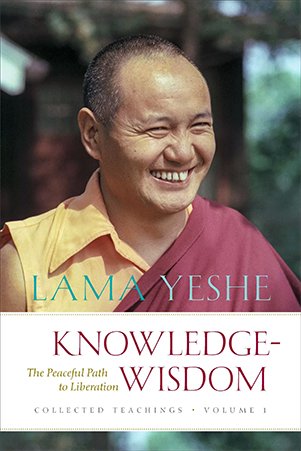 That is why, traditionally, people in Buddhist countries take refuge in Buddha, Dharma and Sangha every day. But Western people don't need to copy this, going to the temple daily, taking refuge in Buddha, Dharma and Sangha without concentration. We don't need to follow the customs of those countries. What we need to do is to recognize what brings us a liberated, joyful life. Instead of relying on, taking refuge in, chocolate and apples and biscuits and toys, instead of taking refuge in the beach, movies or popcorn, we should understand in our hearts that the liberated joyful life does not depend on those conditions, those worldly phenomena.
The lamrim shows exactly, logically, scientifically that human happiness and joy do not depend on material conditions. You should understand this clean clear and determine that that is reality. Then you will not be upset when you don't get presents or chocolate or when people don't pay attention to you. Otherwise, small things always upset you and small things make you dissatisfied. The over-extreme expectation of getting things from the external world makes problems. So, taking refuge in Buddhadharma instead is really worthwhile.
You can read more of this teaching on the Lama Yeshe Wisdom Archive or order the whole collection of teachings in print or ebook format. 
---
Through timely advice, news stories, and updates, FPMT.org and Mandala Publications share the wisdom culture inspired and guided by the teachings of FPMT founders Lama Thubten Yeshe and Lama Thubten Zopa Rinpoche. 
When ordinary people die they are out of control. Because they have not trained themselves during their life, they are overwhelmed by the experience of death and bewildered as their bodily elements go out of balance and cease to function harmoniously.
Lama Thubten Yeshe