News/Media

*If a menu item has a submenu clicking once will expand the menu clicking twice will open the page.

Study & Practice

*If a menu item has a submenu clicking once will expand the menu clicking twice will open the page.

Projects

*If a menu item has a submenu clicking once will expand the menu clicking twice will open the page.

FPMT

Faith alone never stops problems; understanding knowledge-wisdom always does. Lord Buddha himself said that belief in Buddha was dangerous; that instead of just believing in something, people should use their minds to try to discover their own true nature.

Lama Zopa Rinpoche

*If a menu item has a submenu clicking once will expand the menu clicking twice will open the page.

Shop

The Foundation Store is FPMT's online shop and features a vast selection of Buddhist study and practice materials written or recommended by our lineage gurus. These items include homestudy programs, prayers and practices in PDF or eBook format, materials for children, and other resources to support practitioners.

Items displayed in the shop are made available for Dharma practice and educational purposes, and never for the purpose of profiting from their sale. Please read FPMT Foundation Store Policy Regarding Dharma Items for more information.
Lama Zopa Rinpoche's care for animals is well known. What's perhaps less well known is Rinpoche's creative whimsy with animal statues and the signs he has created for them.
At Buddha Amitabha Pure Land, in a remote part of Washington State in the US, Rinpoche has many animal statues placed on the property with signs that share thoughts about practicing lamrim, or the graduated path to enlightenment.
A  parrot on a fence says, "I have been waiting to see you from beginningless rebirths and I never have. That means I won't see you again, because there is nothing to see."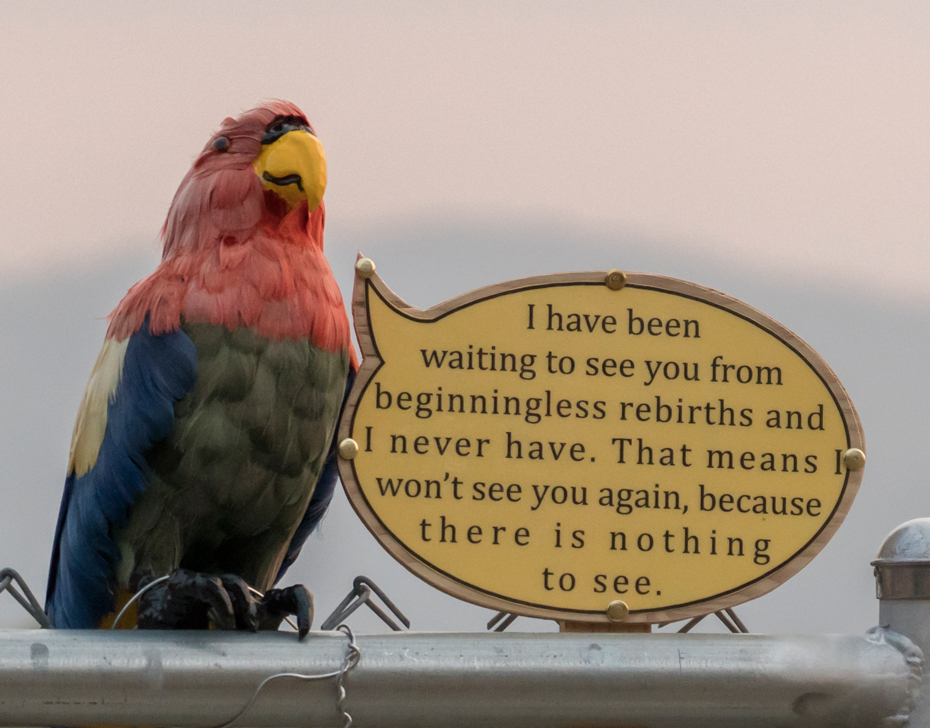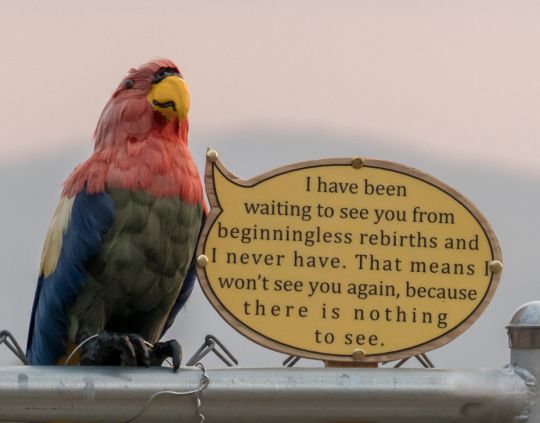 A dove on a fuel tank says, "I have been in retreat from beginningingless rebirths, not only this life, but endlessly. I don't see any people and I don't speak except to hallucinations."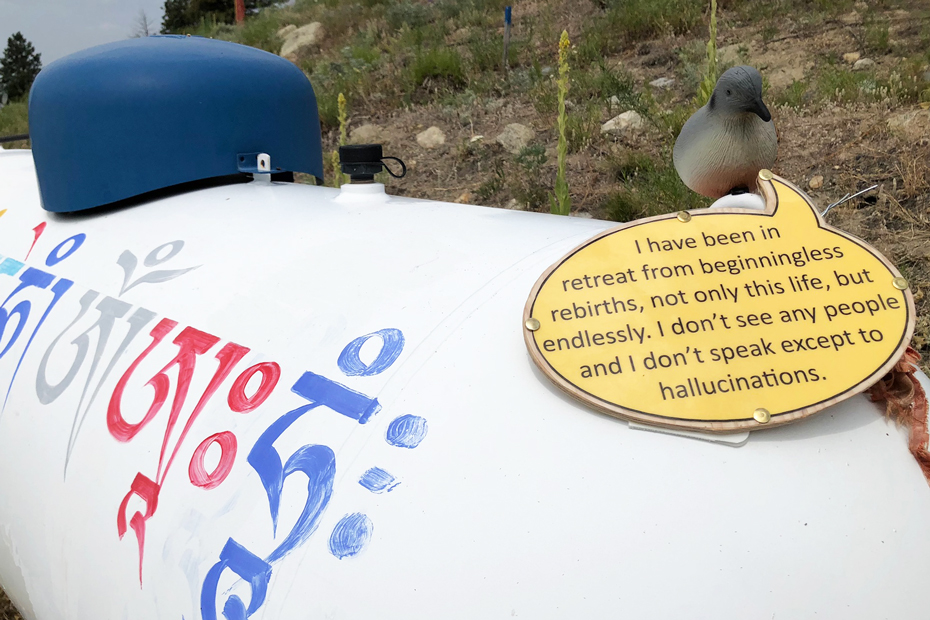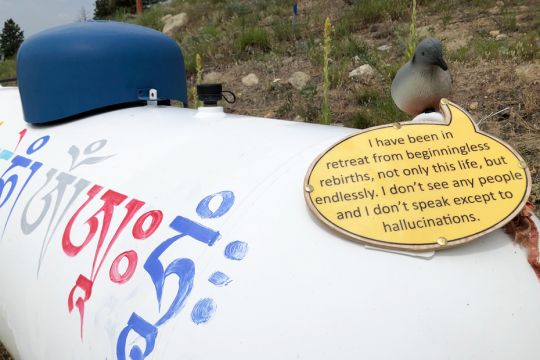 And an owl says, "I have been meditating for many lifetimes. Nothing exists that you believe is real. Wow!"
Two ducks in rainboots have two signs that say the following:
"Why don't you practice wisdom? Look at everything as empty, as they are empty in reality. Then you can liberate all sentient beings and bring them to enlightenment."
"Why don't you practice bodhichitta? To not only enlighten yourself, but enlighten all sentient beings."
A dog, decorated with butterflies, says, "I want to achieve enlightenment quicker than you. Because I am offering myself to every single sentient being, for their enlightenment."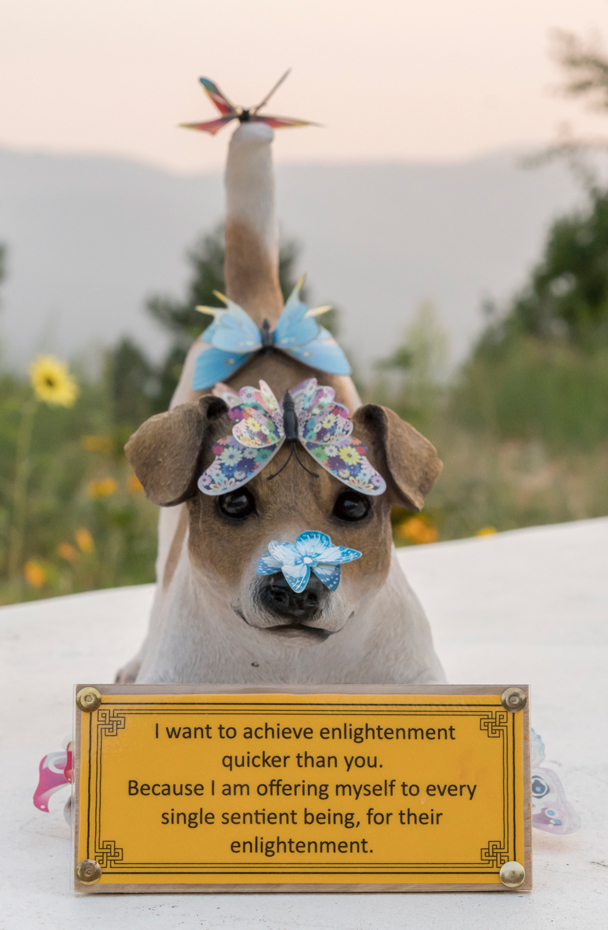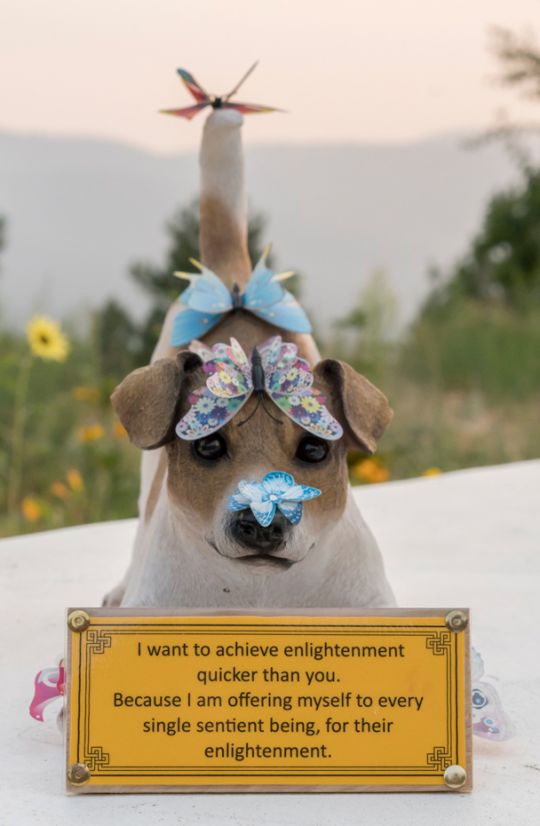 And a raccoon near the Medicine Buddha statue says:
"I want to announce to all the sentient beings, whether I want to be living in this tree or to be out, to be free from this. It is in my hands. So like this, it is the same for you people, whether you want to be in samsara or to be free from samsara. To be in samsara means experiencing the oceans of samsaric suffering or to be free from that forever, not just for seven days' vacation, not like that. So it is totally in your hands. It is up to you, what you do with your mind, how you use your mind. Thank you very much."
---
Watch recorded video teachings from Lama Zopa Rinpoche, including recent teachings at Amitabha Buddhist Centre, Kurukulla Center, and Maitripa College, online:
https://fpmt.org/media/streaming/teachings-of-lama-zopa-rinpoche/
More information, photos, teaching schedule, and updates about FPMT spiritual director Lama Zopa Rinpoche can be found on Rinpoche's webpage on FPMT.org. If you'd like to receive news of Lama Zopa Rinpoche and FPMT via email, sign up to FPMT News.
You must recognize that your real enemy, the thief who steals your happiness, is the inner thief, the one inside your mind – the one you have cherished since beginningless time. Therefore, make the strong determination to throw him out and never to let him back in.
Ego, Attachmnet and Liberation
Lama Thubten Yeshe