Dear Friends,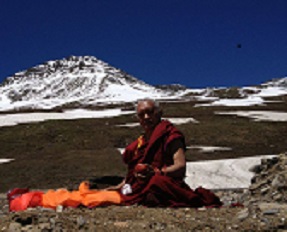 Lama Zopa Rinpoche has just finished retreat in a very holy place in northern India (see photo). Rinpoche is well and next stop is Mongolia for the 100,000,000 mani retreat.
I would like to thank everyone very much for all their efforts in helping to do the practices Khadro-la advised us to do for Rinpoche's health and long life.
It is very important for us to continue doing these practices especially at this time when we know there are obstacles for Rinpoche in 2014 and 2015. Khadro-la (Rangjung Neljorma Khadro Namsel Drönme) was very clear for students especially to help by doing as much of the practices as possible.
If you take a little time to think of how each of us has benefitted so much from Rinpoche's teachings  and example … such a source of inspiration for practice! It is easy to make a little time with others or alone to generate a good motivation and do one of the practices requested. In fact dedicating any merit created from any virtuous action you do to purifying the karmic view of seeing the Guru as unwell is beneficial.
THANK YOU again,
Love Roger
 Practices Specifically Requested for Students of Lama Zopa Rinpoche to Do (see links above for more information about these practices): 
– Liberate many animals
– Hang Tendil Nyersel prayer flags in all FPMT centers, projects and services
– Recite Most Secret Hayagriva mantra
– Offer long life pujas to Rinpoche with the 5 dakinis
Khadro-la said "The most important is good samaya from the students' side. Whoever is doing the puja, prayers or practice, it should be done well, with good motivation and meditation".
Please send your count of practices done at the end of each month to FPMT Center Services
Rejoice at practices done so far!