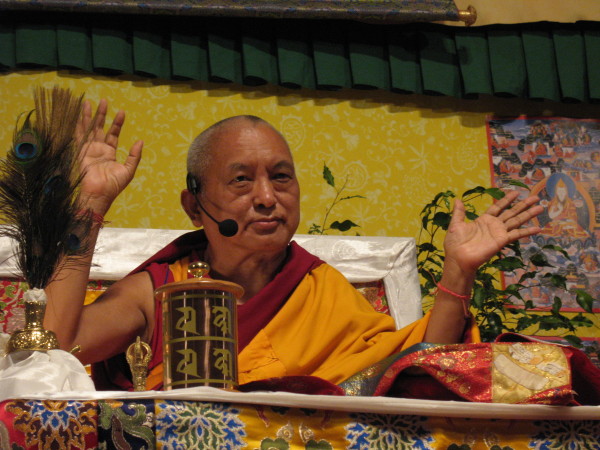 Over the years, Mandala has explored the issue of vegetarianism and the question of whether or not to eat meat. But with a growing awareness of issues of animal cruelty and environmental concerns connected to the production of dairy products and eggs, many FPMT students have taken up the practice of veganism, including Nicholas Ribush, director of the Lama Yeshe Wisdom Archive. In this issue's online edition, Nick explains his motivations for his decision in "On Becoming a Vegan."
At the 2009 CPMT meeting in France, Nick asked Rinpoche about veganism, to which Rinpoche gives an expansive and motivational response.
Nick Ribush: Rinpoche, how do you feel about FPMT promoting a policy of not only vegetarianism, but also veganism, because of the cruelty to animals inherent in the production of dairy products and so forth?
Lama Zopa Rinpoche: The reality is that we cannot live without harming others. There's no way we can survive without others being harmed, killed. We can't survive for even a day without causing suffering to others.
This is how life is in samsara and that's why the ultimate answer is to get out of samsara, to be liberated from it. Only when you free yourself from samsara by actualizing the remedy, the true path, the wisdom directly perceiving emptiness, which directly terminates the delusions, the disturbing thought obscurations, and the negative imprints, the seeds of delusion, will you no longer have to reincarnate, no longer have to go through the cycle of death and rebirth, experiencing all the sufferings of the six realms, one after the other.
It's only when you're liberated from samsara that others don't have to suffer for your happiness, only then that others don't have to be harmed or killed in order for you to survive. Therefore, actualizing the path is of the utmost urgency; that's the emergency …
Read the full teaching as part of Mandala's July-September 2013 online content …