News/Media

*If a menu item has a submenu clicking once will expand the menu clicking twice will open the page.

Study & Practice

*If a menu item has a submenu clicking once will expand the menu clicking twice will open the page.

Projects

*If a menu item has a submenu clicking once will expand the menu clicking twice will open the page.

FPMT

If you have fear of some pain or suffering, you should examine whether there is anything you can do about it. If you can, there is no need to worry about it; if you cannot do anything, then there is also no need to worry.

His Holiness the Dalai Lama

*If a menu item has a submenu clicking once will expand the menu clicking twice will open the page.

Shop

The Foundation Store is FPMT's online shop and features a vast selection of Buddhist study and practice materials written or recommended by our lineage gurus. These items include homestudy programs, prayers and practices in PDF or eBook format, materials for children, and other resources to support practitioners.

Items displayed in the shop are made available for Dharma practice and educational purposes, and never for the purpose of profiting from their sale. Please read FPMT Foundation Store Policy Regarding Dharma Items for more information.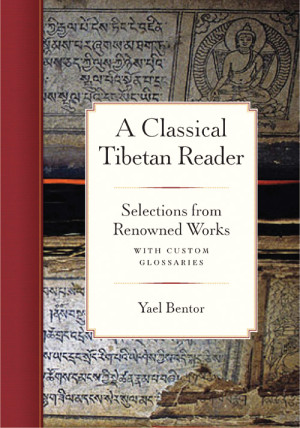 A Classical Tibetan Reader: Selections from Renowned Works with Custom Glossaries
By Yael Bentor; Reviewed by Donna Lynn Brown
Having the right selection of books available at each stage of learning is a challenge faced by students of classical Tibetan that is not shared by most students of European languages. While progress has been made toward meeting the needs of Tibetan language students, gaps still exist. With A Classical Tibetan Reader: Selections from Renowned Works with Custom Glossaries, Dr. Yael Bentor, a senior lecturer in Indian and Tibetan Studies at Hebrew University in Jerusalem, seeks to fill one of those gaps.
Dr. Bentor, who has taught classical Tibetan for 20 years, developed this textbook by compiling a series of short, enjoyable narratives alongside customized glossaries. This approach enables and encourages even beginners to read classical Tibetan, since the glossaries give each word's meaning in the context of the narrative, which simplifies deciphering the story. Dr. Bentor herself teaches the alphabet and basic grammar before her students begin these readings, since a student cannot decode even the simplest sentence without them, but she does not teach grammar fully before plunging in. Instead, students learn grammar along with vocabulary as they work through the stories.
This method of instruction is more contextual and intuitive than that used when the full range of grammar is taught before introducing students to reading narratives. Learning styles vary, and for students who prefer to learn the finer points of "attributive syntax" and "the uses of declension" in the context of real Tibetan literature, rather than sentences in a grammar text, Dr. Bentor's book provides a good balance of challenge and reward. It offers 12 readings of varying lengths, drawn from works that are already translated into English, and whose translations, while not appearing in this book, are easily available. Many of the readings will be familiar to Tibetan language students who have some background in Buddhism, such as short pieces from the life stories of Padmasambhava and Milarepa, and well-known Dharma teachings from Words of My Perfect Teacher like "The Faith of the Old Woman" and "Tuning the Vina." Bentor's teaching experience shows in her choice of stories that are fun to read and not overly difficult. She has avoided the complexities of philosophy and ritual, and stuck to selections from namthar [hagiography] and lam-rim that are ideal for novices. The book is not intended to go further, and Bentor recommends that students who complete it go on to the greater detail and subtlety found in readers based on philosophical texts. With one four-line exception, the book also contains no verse, a translation challenge that Bentor leaves for more advanced courses.
While made for the classroom, the Reader can be used outside of it by independent students, as long as they have a grammar text on hand, since Dr. Bentor's book offers only the most minimal grammatical instruction. Given a good grammar text, though, those learning at home will likely find this reader first-rate. Even the intermediate student who wants to practice reading by spending some time with "ordinary" classical Tibetan, rather than philosophy or tantra, will benefit from this book. Indeed, for intermediate students who have studied grammar intensively but read relatively little, this textbook would be the ideal confidence-builder before tackling sadhanas or philosophical works. And for those able to read a little, this would be a good bedside book: not too serious, and with no need to consult a dictionary!
Dr. Bentor's Reader is not intended to meet the language student's every requirement. Rather, it fulfills a single need that has not, so far, been met very well: the need for enjoyable short narratives with matching glossaries that enable them to be deciphered even by novices. As such, it is a tremendously helpful tool for beginning, and even intermediate, students of classical Tibetan.
Donna Brown studies Tibetan language at Maitripa College in Portland, Oregon.
Published by Wisdom Publications
Paperback US$15.16
www.wisdompubs.org
Approaching enlightenment is a gradual process, but once you attain it, there's no going back; when you reach the fully awakened state of mind, the moment you experience that, you remain enlightened forever.
Lama Zopa Rinpoche