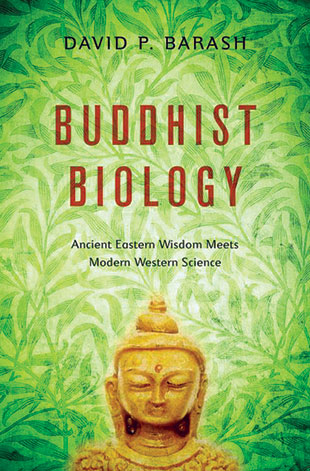 Buddhist Biology: Ancient Eastern Wisdom Meets Modern Western Science
By David P. Barash; Reviewed by Jacob Sky Lindsley
Some curious students of contemporary Buddhism will be familiar with the ongoing dialogue between Buddhism and science. Events like the "Mind and Life" conferences put high-profile scientists in selfies with the Dalai Lama and other well-known Buddhists. While psychology, neurology, and physics have tended to be the disciplines most featured in such prestigious conferences, Dr. Barash's Buddhist Biology attempts to add biology to this interesting discussion. Though many of the questions he asks are undeniably fascinating and profound, his overall approach seems ill suited to the task.
Before we go into a critique, Barash should be given credit where it is due. He is a buoyant, colorful and playful writer and doesn't flinch when tackling complex questions. Additionally, his vocal call for human beings to take responsibility for their effect on the planet reveals his overwhelmingly positive motivation. He sees in Buddhism the potential to ground the insights of biology in a way that highlights human moral imperatives. He does a good job of highlighting the sheer wonder of our world and the reader can really feel how much he loves our Earth.
But as a rule, Barash does not entertain discussion on anything that falls outside the boundaries of his worldview. His downright ornery insistence on what he calls the "natural, the real, the material" makes it difficult for him to appreciate the methodology of the Buddhist tradition. While certainly understandable given his training, it nevertheless clouds his discernment and weakens his conclusions.
The book is roughly divided into two exercises: a discussion centered on the ways Barash sees Buddhist philosophy through the lens of contemporary biology, and, a moral argument for acting urgently on climate change. In his discussion of Buddhist philosophy, he comes across as mocking and dismissive of whatever parts of the tradition that do not conform to the philosophy of science. He uses the controversial work of Stephen Batchelor as the main justification for his method, interspersed with cherry-picked quotes from other popular Buddhist figures and Buddhist literature. I imagine that many of these authors would take issue with Barash's approach – and he suspects as much, admitting that even Stephen Batchelor wouldn't likely go as far as he does on some issues. It seems that for Barash, the story of biology and his vision of science necessarily have every answer, which makes his book a soliloquy rather than a true dialogue.
Barash's main issue seems to be that he has difficulty seeing Buddhism as itself, switching between what José Cabezón calls the "identity" and "conflict" models of scientific engagement with Buddhism. In the first model, scientific concepts are "identical" with Buddhist ones, or vice versa. For example, early on Barash regards "Buddha Nature" as a teaching about "biological continuity among all living things" through time. While there is a possibly interesting convergence between the two, there is a highly significant gap between them that he leaves unexplored. In the second model, the two traditions are seen as inherently incompatible or even in "conflict." We need only refer to the sections where he takes an insulting tone, using terms like "hocus-pocus" and "poppycock," to refer to scriptural Buddhist ideas such as the knowledge of previous lives.  
For a real dialogue to occur, one must be open to putting differences, as well as convergences, into conversation. This third, more responsible approach is what Cabezón calls the "complementarity" model. Complementarity acknowledges that each view (scientific and Buddhist) has something unique to contribute to the pursuit of knowledge. They may have different objects or different methods, but each contributes equally to a valid view of a more holistic reality. Barash doesn't seem aware of the possibility that Buddhism might have some interesting criticism of his own assumptions. Instead, he seems to instinctively dismiss the strange or unknown as garbage in the name of Buddhist Modernism. This could be because he has not taken the time to thoroughly understand these areas of difference.
At times, Barash seems to have a confused – if not frustratingly wrong – understanding of some Buddhist concepts. For example, in one of the more interesting parts of the book, he asks how the theories of evolution and karma might inform each other. However, rather than examine the merits or weaknesses in the ideas of karma and reincarnation, he simply reduces what can be said about it to the "recycling of atoms and molecules" and proceeds to lament the fact that Buddhism insists on a "soul." The Buddhist notion of reincarnation is not an easy subject, but to frame karma through the "mind/body" duality of Renaissance Europe is simply a mischaracterization. It doesn't take much research to know that atman – as the soul and primordial self – was one of the main targets of Buddha's critique of his Vedic contemporaries. A nuanced appreciation of this point should be basic to any discussion of karma or rebirth. There are too many places in the book where he makes blunders like this, undermining his credibility.
In addition, his monistic materialist reduction makes it difficult for him to rally the reader to his main point. When he attempts to move the discussion to ethical implications, the portrait of a world where free will is impossible and our genes rule behavior fails to inspire. We humans, understood as lumbering biological robots bent on self-preservation, can only encounter his pleas as one more thing to be consumed on our road to procreation and meaningless death. I really wanted Barash to succeed here, but the impersonal limitations of his appeal made it feel stale. One has to wonder whether it really matters if the world destroys itself. What makes one configuration of molecules better than another one?
Barash's Buddhist Biology is a book about biology, but it has little to do with Buddhism. A more accurate title would be: What Biological Ideas Buddhism Has Too. There is certainly a lot of good information and interesting questions in his work, but readers looking for a conversation between Buddhism and science would do well to find books that engage these questions more maturely and with less speculation, such as the many that have been based on the Mind and Life dialogues. A good start might be Varela and Hayward's Gentle Bridges. Barash is certainly less than gentle in his treatment of this complex and delicate topic, and his "bridge" looks more like a fortress. For Barash or any author wanting to have a place in these nascent explorations of the intersection of the Buddha and the boson, he or she will need to raise the portcullis and open the gate a bit more.  
Published by Oxford University Press
Hardcover US$29.95
http://global.oup.com