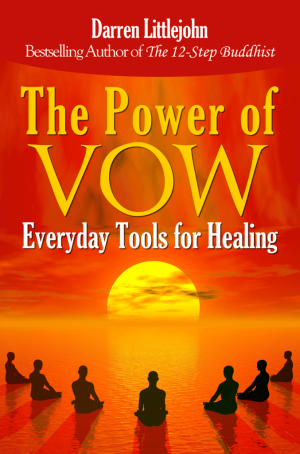 The Power of Vow: Everyday Tools for Healing
By Darren Littlejohn; Reviewed by Michael Jolliffe
In his earlier book, The 12-Step Buddhist, Darren Littlejohn, a recovering addict and student of Lama Zopa Rinpoche, offers a bridge between traditional 12-Step programs, which suffer from problematic terminology and pedagogy, and Buddhist teachings, which aren't equipped to address some of the specific needs and concerns of the modern addict. Littlejohn's newest work, The Power of Vow, accomplishes a similar synthesis, but specifically focuses on showing Buddhist and Buddhist-curious addicts "how to use sacred vows as tools that will help [them] find personal power." Vows, for Littlejohn, help addict-practitioners grow into happier, healthier people.
Littlejohn writes The Power of Vow for what he calls the "neo-monastic," that is, a committed Buddhist practitioner who is "low-key, under the radar, but working diligently to evolve." Littlejohn's neo-monastic by another term might just be "lay practitioner," but his choice of phrasing highlights the tacit distinction between lay practitioners who merely claim so on their Facebook pages and lay practitioners that are committed and integrated in a more holistic way.
After a short introduction to basic Buddhist concepts (a summary of what was already covered in The 12-Step Buddhist), Littlejohn talks about what a vow is and how to make one. Next, he talks about the general types of vows – refuge, lay and bodhisattva – and provides a nuanced interpretation of what they entail while also making connections between the vows and the 12-steps. For example, when exploring the vow to not steal:
What do we take from others in the way of sympathy, attention, and affection? Anyone who's done a searching and fearless moral inventory (Step 4) has likely touched a nerve about selfishness and self-centeredness. I think this vow is directly related.

As much as we're thinking about ourselves, as most addicts do, we're not considering others. I'm not advocating that we become obsessed with thinking of others to the degree that we aren't taking care of ourselves. That would be more about codependency than the vow of not stealing. But there is plenty we can do to ease the burden of self-obsession, especially when we consider that it detracts from the happiness that others could be feeling. After all, if the self is really empty of inherent existence and only appears to be real, why would I be so self-absorbed as to ignore the happiness of others by taking what is not given? On the Buddhist path of vows, this is a thought that must stay with us as we develop.
The book ends with instructions on how to purify negative karma, what Littlejohn calls "the neutralizing of negative potentialities," with traditional Tibetan Buddhist practices like recitation of the confession chapter of the Sutra of Golden Light, Vajrasattava visualization and mantra recitation, and prostrations. This section on purification also contains a helpful daily practice guide, which gives concrete instructions for addict-practitioners to start integrating vows into their daily lives.
Littlejohn, through The Power of Vow, has made at least two major contributions for which all addicts and non-addicts should be thankful. For adherents to the 12-Step model, Littlejohn's work is another contribution to the growing number of alternative perspectives on a successful, although arguably dated system of recovery. For Buddhist addicts, Littlejohn has kindly – and without judgment – opened the door to a more fulfilling and happy life.
Published by Rainbow Light Media
Paperback US$12.62
Kindle eBook US$3.99
http://thepowerofvow.com