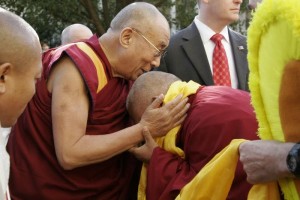 On October 16, 2012, 
His Holiness the Dalai Lama spent part of the afternoon at Kurukulla Center
for Tibetan Buddhist Studies in Medford, Massachusetts, in the United States, near Boston. His Holiness' visit was the fulfillment of a request made by Geshe Tsulga, the center's much-loved resident geshe who passed away in November 2010.
An enthusiastic crowd of nearly 2,000 people of all ages – including Kurukulla Center members, Boston-area Tibetans and Kurukulla Center neighbors – listened to His Holiness speak on universal human values and inter-religious harmony. For part of his talk, His Holiness spoke directly to the gathered Tibetan community in Tibetan. He expressed his admiration for how they have preserved their language and culture in exile and said that this, along with the strong spirit of Tibetans in Tibet, serves as grounds for hope for the future.
You can read the complete story of His Holiness' visit in the print edition of Mandala January-March 2013.
Kurukulla Center has kindly provided Mandala with photos of the event, which we are happy to share here.
From Mandala January-March 2013