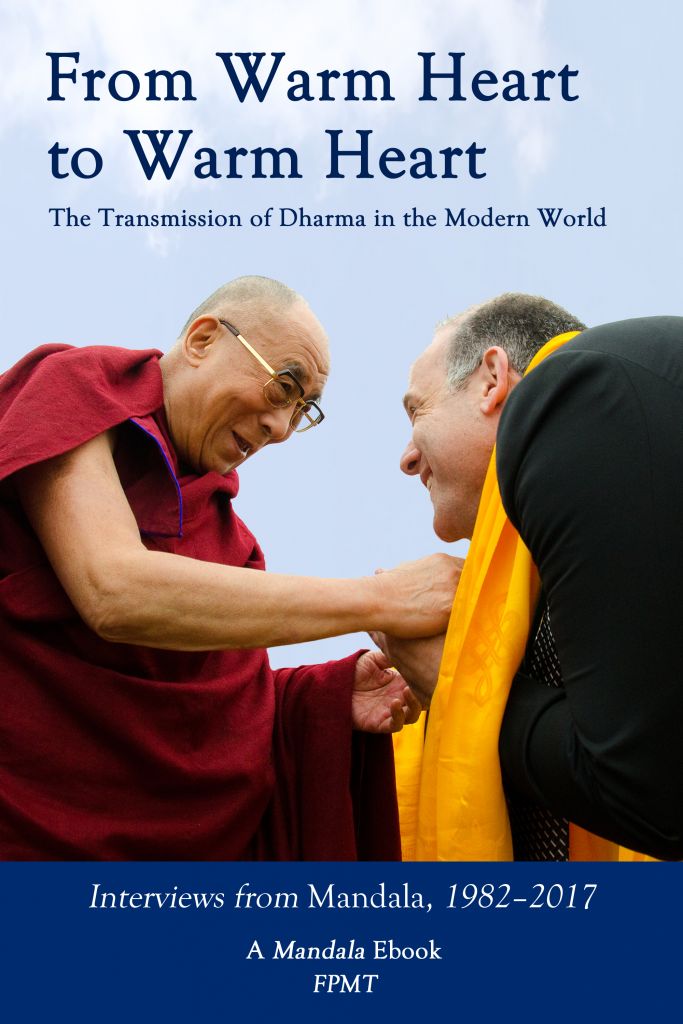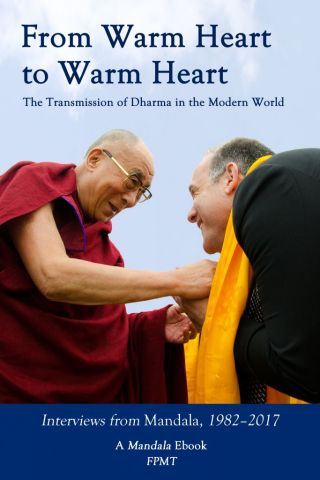 Mandala has just published a new ebook called From Warm Heart to Warm Heart: The Transmission of Dharma in the Modern World.
The ebook contains seventeen interviews about the transmission of Dharma, published by Mandala between 1982 and 2017. While all have been previously published, many, never digitized, have until now existed only in long-forgotten print editions.
Included are interviews with Lama Yeshe, Geshe Lhundub Sopa, and Yangsi Rinpoche as well as with distinguished scholars, practitioners, and teachers like Ven. Thubten Chodron, Ven. Antonio Satta, Jeffrey Hopkins, Thupten Jinpa, Georges Dreyfus, Robert Thurman, Anne Klein, John Dunne, and Roger Jackson. As a group, these thinkers provide fascinating insights into the diverse challenges of transmitting the Dharma from its traditional Tibetan setting into the modern world.
The ebook is downloadable in three formats—MOBI for Amazon's Kindle devices, EPUB for other e-readers, iPads and tablets, and as a PDF—so that you can read it on all of your electronic devices, including your laptop or desktop computer.
The ebook is available as benefit to Friends of FPMT at the e-Friends level and higher and to Mandala magazine's center packages subscribers. In becoming a Friend, you support the FPMT International Office and its wide-ranging Dharma activities. The ebook can also be purchased through the FPMT Foundation Store, Amazon's Kindle store, and will soon be available through Apple's iBooks, Barnes and Noble, Kobo, Aldiko, Overdrive, and other ebook outlets.
---
Friend of FPMT supporters join others from around the world to contribute to the success of all of FPMT International Office's work in advancing education, charitable projects, online resources, services to FPMT communities, and more. Mandala ebooks are one of the many benefits of joining the Friends of FPMT program.