News/Media

*If a menu item has a submenu clicking once will expand the menu clicking twice will open the page.

Study & Practice

*If a menu item has a submenu clicking once will expand the menu clicking twice will open the page.

Projects

*If a menu item has a submenu clicking once will expand the menu clicking twice will open the page.

FPMT

You can see that some people's relationships are reasonable. Therefore, they last a long time. If people's relationships start off extreme, how can they last? You know from the beginning they cannot last. Balance is so important.

Lama Thubten Yeshe

*If a menu item has a submenu clicking once will expand the menu clicking twice will open the page.

Shop

The Foundation Store is FPMT's online shop and features a vast selection of Buddhist study and practice materials written or recommended by our lineage gurus. These items include homestudy programs, prayers and practices in PDF or eBook format, materials for children, and other resources to support practitioners.

Items displayed in the shop are made available for Dharma practice and educational purposes, and never for the purpose of profiting from their sale. Please read FPMT Foundation Store Policy Regarding Dharma Items for more information.
FPMT International Office News
April 2013
If you received this from someone else, or unformatted,
visit our subscribe page to receive this newsletter directly.
You can have this translated into your preferred language by using our
convenient translation facility located on the right-hand side of the page.
Lama Zopa Rinpoche lights a large butter lamp in Kopan Monastery Gompa, after arriving from the airport at 11:45 p.m. Rinpoche did three long prostrations and then offered khatas to the main statues, including the Lama Yeshe statue, Nepal, March 2013.
Photo by Ven. Roger Kunsang.
---
Lama Zopa Rinpoche's News:
New Advice:
Dharma is Needed for the Happiness of Sentient Beings
Lama Zopa Rinpoche gave the following advice to Ven. Thubten Dondrub, who is resident teacher at Buddha House, Australia and videoed the talk, while waiting for a flight to Hong Kong at Kuala Lumpur Airport in Malaysia.
An excerpt follows – please read the full advice here.
"Good morning, good afternoon, maybe good night! Thank you very much; thank you so much for your prayers for me, for sentient beings, for Buddha, from where all sentient beings receive their happiness.
For sentient beings to have not only temporary happiness – when we say 'happiness,' should not think only temporary happiness, only samsara happiness – don't think [that] – we must think ultimate happiness, liberation from samsara forever, then peerless happiness – full enlightenment.
So when I recite the long version of the Six Session [Guru Yoga], instead of happiness I say 'enlightenment,' full enlightenment, the cause of enlightenment. I change that [word because] it helps my mind to think of highest happiness, true happiness. Just to say 'happiness' normally means temporary happiness, makes one think of temporary happiness. And we have had temporary happiness numberless times from beginningless rebirths.
Why we have the center is to have happiness for sentient beings – to increase, to develop happiness for sentient beings."
Find a full range of advice from Lama Zopa Rinpoche on Rinpoche's Advice page.Go to the Lama Yeshe Wisdom Archive for lots more advice from Lama Zopa Rinpoche.
Lama Zopa Rinpoche meets the directors, spiritual program coordinators and board members of the FPMT centers and service in Malaysia, March 2013.
Photo by Ven. Roger Kunsang.
Rinpoche's Schedule
Please contact the hosts directly for any questions regarding the event.
Subscribe to our RSS feed on Rinpoche's Schedule to receive updates automatically as soon as they are available!
2013
May 3 – Presiding at the opening ceremony for Khensur Lama Lhundrup's stupa, Kopan Monastery, Nepal
August1 – 30 100 Million Mani Retreat, FPMT Mongolia
November/December– Teaching during the one-month course (Nov. 9 – Dec. 9), Kopan Monastery, Nepal: Rinpoche's teaching dates to be confirmed
2014
May 11 – 25 Light of the Path retreat, Kadampa Center, USA
Late 2014 Retreat with Rinpoche and CPMT meeting, The Great Stupa of Universal Compassion, Maiden Gully, Australia
---
International Office News:
Education Services News:
Italian Basic ProgramOnline Success!
The Italian-language Basic Program Online offered by Istituto Lama Tzong Khapa (ILTK) in Italy had its first-ever final exam this March. All 10 participating students passed – a huge achievement for all involved! Kind thanks to Basic Program Online tutor Vania Tesser, who provided students with the care, support and inspiration needed to get this far, and many other staff at ILTK who contributed over the course of five years. This is an FPMT milestone: previously we had no homestudy students completing a Basic Program and final exam in any language other than English. Congratulations to all!
FPMT Charitable Projects:
Offering to the 2,600 Monks of Sera Je Monastery
Have you ever wondered how to offer food to the 2,600 monks studying at Sera Je Monastery? Learn more and see what an offering of this magnitude looks like.
News from Mandala Publications
Lama Zopa Rinpoche relaxes and enjoys the gardens after walking back from dinner after teaching in Hong Kong, March 2013.
Photo by Ven. Roger Kunsang.
Keep current with the worldwide FPMT mandala by reading Mandala online! Our daily blog shares news and updates from Lama Zopa Rinpoche and the more than 160 FPMT centers, projects and services around the world as well as timeless stories from the Mandala archive. Recent features include new posts from Ven. Roger to his popular blog "Life on the Road with Lama Zopa Rinpoche;" a story from the Mandala archive about Kirti Tsenshab Rinpoche's extraordinary journey to Antarctica in 2006 to bless the world's waterways; plus exclusive interviews and stories from the latest issue of Mandala and much more.
Friends of FPMT
Become a Friend of FPMT and stay connected to all the FPMT has to offer including the FPMT Online Learning Center, Mandala Publications and many complimentary resources offered at the free FPMT Membership level.
---
For Center, Project and Service Directors,
SPCs, Teachers and Board Members:
(This advice is specifically for those offering service in the roles listed above.)
Feedback about Advice Regarding Spiritual Teachers
Lama Zopa Rinpoche having dinner at his brother Sangay Sherpa's house (Sangay is director of Lawudo Retreat Centre) and eating
thor
, made from a deep-rooted wildflower in the Himalayas, for the first time since he was a child, Nepal, April 2013.
Photo by Ven. Roger Kunsang.
Some years ago due to popular request we made available a short informative document on how to relate to the spiritual teacher, written by Ven. René Feusi.
Our wish was that this would help students at all FPMT centers, and most particularly new students, by answering so many of the frequently asked and essential questions on how to properly relate to a spiritual teacher, ensuring that students coming to your center would be well informed and protected from mistakes. We asked you to please display this very informative booklet publically for all to see.
Now we would like to know if you have been finding this booklet helpful. Please let Tom and Claire know, together with any other related feedback. Thank you!
Foundation Store Offer: 40% Off Discovering Buddhism DVDs!
Get 40% off our most popular and wonderful Discovering Buddhism series on DVD. Available with subtitles in English, French, Spanish, and German. For those centers who order more than 30 copies, no matter where and how far you are, the Foundation Store will offer free shipping on top of the 40% discount! These special bulk orders should be addressed to Diana Ospina.
---
FPMT World:
Rejoice!
Tushita Delhi Celebrates Dharma with His Holiness the Dalai Lama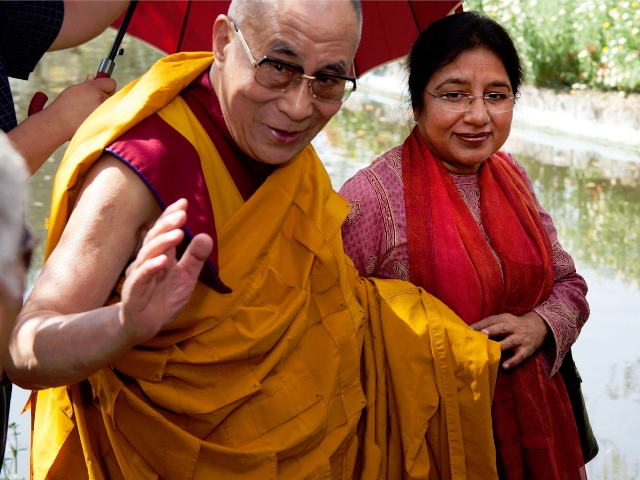 His Holiness the Dalai Lama and Dr. Renuka Singh (director of Tushita Mahayana Meditation Centre) at Tushita's 20th Delhi Dharma Celebration, India, March 2013.
Photo courtesy of Ven. Kabir Saxena.
Tushita Mahayana Meditation Centre in Delhi has now hosted 20 Dharma Celebrations with His Holiness the Dalai Lama! The 20th Delhi Dharma Celebration, co-hosted with Tibet House, felt especially meaningful, reports Ven. Kabir Saxena, SPC at Tushita:
"Approximately 4,000 people attended the event on March 9, which was held in front of a beautiful Buddha statue that was sponsored by His Holiness and offered as a gift to the Indian people two decades ago in gratitude for the gift of Dharma.
This year there were about 70 volunteers from Ladakh, and there were also volunteers from Jawahar Lal Nehru University where Tushita director Dr. Renuka Singh teaches. So this means that young people are being exposed to His Holiness and the 'Three Principal Aspects of the Path to Enlightenment,' which was the topic for the afternoon.
Photos from the event show a very energetic and beaming His Holiness and a focused audience who sat through a hot afternoon with rapt attention."
Jade Buddha Benefits Many in Penang
Daniel Yeoh, director of Chokyi Gyaltsen Center in Penang, Malaysia, reports:
"We have benefitted so many people in Penang on just the first two days of the Jade Buddha for Universal Peace [tour], including 1,500 school kids who came in batches of buses. I estimated about 8 to 10 thousand people visiting the Jade Buddha on the second day."
Opportunities to Offer Service in FPMT
We have resident teacher opportunities at Ganden Yiga Chözin, Pokhara, Nepal and Tong-nyi Nying-Je Ling, Copenhagen, Denmark. Land of Calm Abiding, USA is looking for a director. Nalanda Monastery, France is looking for a qualified Tibetan-English interpreter for Basic Program; while Root Institute, India needs a school manager, a physiotherapist, and nurses.
Please check out these and other exciting opportunities to offer service as a volunteer or as paid staff in FPMT centers, projects and services around the world!
Impermanence at Work
Ganden Buddhist Meditation Centre, Latvia
We welcome new co-SPCs – Alona Kononovica and Oskars Mickevics
With grateful thanks to outgoing SPC – Rita Veilande
Gendun Drubpa Centre, Canada
We welcome new resident teacher – Ven. Tenzin Chogkyi
Hayagriva Centre, Australia
We welcome new SPC – Jude Carter
With grateful thanks to outgoing SPC – Susan di Bona
Longku Center, Switzerland
We welcome new SPC – Regula Burri
With grateful thanks to outgoing SPC – Anastasia Perov
Nagarjuna C.E.T. Barcelona, Spain
We welcome new SPC – José Moya
With grateful thanks to outgoing SPC – Dolores Banti
Pamtingpa Center, USA
Tel: +1 (509) 486 1021
We welcome new director – Kim Jacobs
With grateful thanks to outgoing director – Julia Sanderson
Thubten Kunkyab Study Group, Mexico
Dr. Martínez del Río 201-15, Col. Doctores
Del. Cuauhtémoc, CP 06720, Mexico City
Tel: +52 (55) 6545 1882
Vajrapani Institute, USA
Tel: +1 (800) 531 4001
---
With love,
FPMT International Office
The most happy thing in my life, most fulfilling thing is to work for and to benefit sentient beings. Even just the mere thought to cause happiness to sentient beings, to benefit them, to free them from suffering is the BEST offering to all the buddhas and bodhisattvas. This is the best offering, the best puja; this is what pleases their holy mind most.
Lama Zopa Rinpoche