International Office News
February 2017
Lama Zopa Rinpoche during the long life puja offered by the Kopan nuns in Sarnath, India, January 18, 2017. Photo by Ven. Roger Kunsang.
Losar Tashi Delek!
Happy Tibetan new year to all our dear friends!
With love from Lama Zopa Rinpoche and
everyone at FPMT International Office.
"The FPMT exists to help others and the FPMT exists to help you, providing education to all through books and teachers, showing you and others how to benefit sentient beings and attain enlightenment. From the depths of my heart, I want to thank you numberless times for all the help you have given the organization with your body, speech, and mind."
– Lama Zopa Rinpoche in his letter in the FPMT Annual Review 2016
Have this translated into your native language by using our convenient translation facility located on the right-hand side of the page. French and Spanish speakers will find the FPMT International Office News translated each month in the "Bienvenue" and "Bienvenidos" tabs on the FPMT homepage!
---
Lama Zopa Rinpoche News:
Activities and Advice
Highlights from our blogs:
Lama Zopa Rinpoche Offered Long Life Puja on Behalf of Sera Je Monastery
Jangtse Chöje Rinpoche and Lama Zopa Rinpoche during the long life puja offered to Lama Zopa Rinpoche in Bodhgaya on January 2, 2017. Photo by Ven. Lobsang Sherab.
A long life puja was offered to Lama Zopa Rinpoche on behalf of Sera Je Monastery on the Maitreya Project land in Bodhgaya on January 2, 2017. The puja was to thank Rinpoche for twenty-six years of support offered through the Sera Je Food Fund, which provides three vegetarian meals every day to the monks studying at Sera Je Monastery. Read in full …
How to Bless Tea Sold at a Center: Advice from Lama Zopa Rinpoche
Lama Zopa Rinpoche wearing his mantra hat and holding tea offered to him by Kunsang Yeshe Retreat Centre, Washington State, USA, November 2016. Photo by Ven. Lobsang Sherab.
Lama Zopa Rinpoche was offered tea by Kunsang Yeshe Retreat Centre in Australia, which was selling the tea as a fundraiser. He responded with advice on how to "really" bless the tea. Read the advice …
Find a wide range of advice from Lama Zopa Rinpoche on Rinpoche's Advice page.
Lama Zopa Rinpoche, Root Institute, Bodhgaya, India, February 2017. Photo by Ven. Roger Kunsang.
Schedule
Read Lama Zopa Rinpoche's 2017 schedule in full …
April 1 – 30 Teachings and celebration in Korea for the Jade Buddha for Universal Peace, a project of the Great Stupa of Universal Compassion
May 6 – 13 Teachings and initiation, Golden Light Sutra Center and Ganden Do Ngag Shedrup Ling, Mongolia
May 20 – June 3 Teachings and initiations, Kalmyck Temple and Ganden Tendar Ling, Russia
August 20 – September 17 Light of the Path retreat, Kadampa Center, USA
September 30 – October 1 Teachings and initiation at Panchen Losang Chogyen, Austria
October 4 – November 5 Mani retreat, Istituto Lama Tzong Khapa, Italy
November/December Teaching during part of the one-month lamrim course, Kopan Monastery, Nepal
Subscribe to our FPMT news blog to get updates as soon as they are announced. Enjoy livestreams of many of the teachings above and recordings of Rinpoche's most recent teachings via Rinpoche Available Now!
---
International Office News:
We Invite You to Review Our 2016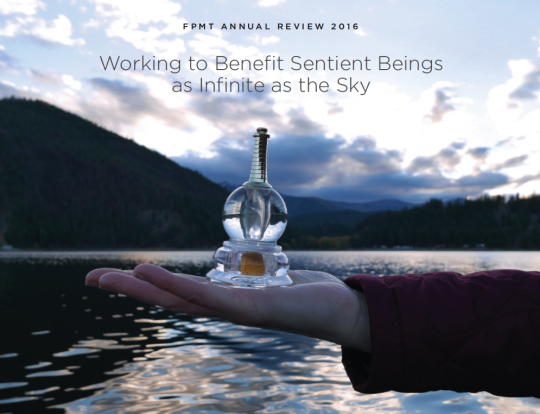 Welcome to FPMT Annual Review 2016: Working to Benefit Beings as Infinite as the Sky! This is our first ever fully-digital annual review. Working to Benefit Beings as Infinite as the Sky shares the story of FPMT International Office's 2016. Included are letters from Lama Zopa Rinpoche and our CEO, Ven. Roger Kunsang, plus beautiful photos and reports on our work in education, charitable projects, communications, and more.
Rejoice with Us in a Year of Charitable Giving!
Lama Zopa Rinpoche offered shoes and socks to the 190 students at Maitreya School, a project of Root Institute, Bodhgaya, India, February 2017. Photo by Ven. Roger Kunsang.
In 2016, FPMT Charitable Projects provided grants totaling US$3,512,326 toward various beneficial activities including offering food to ordained Sangha and children; providing Buddhist philosophy scholarships; sponsoring beneficial pujas and practices; offering stipends to the main teachers of the Lama Tsongkhapa tradition and sponsoring annual debates; offering grants to social services such as elder care homes, schools, hospitals, and monastic institutions; providing comprehensive Dharma programs; translating Dharma texts; sponsoring the creation of holy objects, such as statues, stupas, prayer wheels, and large thangkas; and saving animals from death and exposing them to Dharma.
We invite you to rejoice in all that FPMT Charitable Projects was able to offer this year. This is thanks to the kindness and generosity of many who give to the various funds and initiatives.
New from Education Services
New Feature: His Holiness Gives 34th Kalachakra Initiation
Mandala recently published an article—with plenty of great photos—about the Kalachakra initiation held recently in Bodhgaya, India, and FPMT's involvement in it. This was the 34th such initiation His Holiness has granted and the fifth one in Bodhgaya, and more than 220,000 people attended, including students from FPMT centers around the globe. Read the full story …
Special Time to Become a New Friend of FPMT
We invite you to become one of our new Friends of FPMT! The fifteen merit-multiplying days of Losar are special days to join the Friends of FPMT program! Help advance our Dharma activities, and enrich your Dharma practice with open access to lots of FPMT Education materials and programs, plus Mandala publications.
Please Empty Your Merit Boxes!
Calling all Merit Box practitioners—it's time to submit your offerings, with great rejoicing! Funds received by March 31 will be used as grants for Dharma projects around the world this year. Learn how to submit your offerings here.
Farewell George, Eamon's New Role
With grateful thanks we said farewell to George Williams at the end of 2016. Eamon Walsh, current chief financial officer (CFO), has now added the additional responsibility of chief operating officer (COO) to his work for International Office.
---
For Center, Project and Service Directors, SPCs, Board Members, Registered Teachers and Coordinators:
This advice is specifically for those offering service in these roles.
Lama Zopa Rinpoche with Adriana Ferranti, director of MAITRI Charitable Trust, Bodhgaya, India, February 2017. Photo by Ven. Roger Kunsang.
Affiliate Area Teaser: Do You Know What to Display?
Find out by looking at this section of the Affiliates Area: For Display in Centers, Projects, Services and Study Groups! Top tip—this section includes the guideline Advice Regarding Gurus, which was updated recently.
Compilation of Key Advice and Resources Given in 2016
Key advice from Lama Zopa Rinpoche and resources provided in 2016 are now available in one document for easy review. You'll find Key Advice and Resources to Note – 2016 in the Resources at a Glance/Compilations of Key Advice section of the Affiliates Area. (Log in before clicking the link!)
New Registered Teachers
We are pleased to share the February 2017 updated FPMT Registered Teacher List and FPMT Tibetan Teacher List with you; several newly listed teachers are included on each list. The changes are highlighted in the New and Updates section at the end of each list. Both lists are available for you on the FPMT Teacher Lists page in the Affiliates Area of the FPMT website. (Log in before clicking the link!)
---
FPMT World:
Rejoice!
News about Foundation Service Seminars
FSS registered facilitators with FPMT Service Seminar coordinator Amy Cayton, February 2017. Photo by Violette Pliot.
Amy Cayton, with help from senior registered facilitators, hosted a very successful Foundation Service Seminar (FSS) followed by Facilitator Training at Land of Medicine Buddha, USA, recently. One participant commented: "It was FANTASTIC! So inspiring, and so great to see old friends and meet new friends in the FPMT mandala."
Book Your Place at a Foundation Services Seminar:
This seminar is fantastic training for anyone offering service in an FPMT center, project, or service, as well as reinvigorating for those who have been already serving for some time.
April 13-18, 2017 at Mahamudra Centre for Universal Unity, New Zealand
June 24-27, 2017 at Losang Dragpa Centre, Malaysia
August 2018 at Jamyang Buddhist Centre, London, UK
We welcome Lhagsam Tibetan Meditation Study Group, a probationary center in Zurich, Switzerland!
Opportunities to Offer Service in FPMT
Please check out the regularly updated meritorious opportunities to offer service as a volunteer or as paid staff in FPMT centers, projects, and services around the world. Recently added: Land of Calm Abiding, USA, needs a caretaker (would suit a couple or a single person).
Impermanence at Work
FPMT South Asia Regional Office
FPMTSAR@gmail.com
Ganden Buddhist Centre, Latvia
We welcome new spiritual program coordinator, Inga Logina
---
If you received this from someone else, or unformatted,
visit our subscribe page to receive this newsletter directly.