International Office News
February 2019
Lama Zopa Rinpoche offered lunch to Dagri Rinpoche and his attendant, Ven. Tenzin Gyaltsen, Root Institute, Bodhgaya, India, January 2019. Photo by Ven. Roger Kunsang.
Have this translated into your native language by using our convenient translation facility located on the right-hand side of the page. French and Spanish speakers will find the FPMT International Office News translated each month in the "Bienvenue" and "Bienvenidos" tabs on the FPMT homepage!
---
Lama Zopa Rinpoche News:
Lama Zopa Rinpoche will now be teaching at Ganden Center, Latvia, on June 27 – 29 2019.
Recordings of Rinpoche's recent teachings are always available to you at Rinpoche Available Now.
Lama Zopa Rinpoche Visits Root Institute in Bodhgaya, India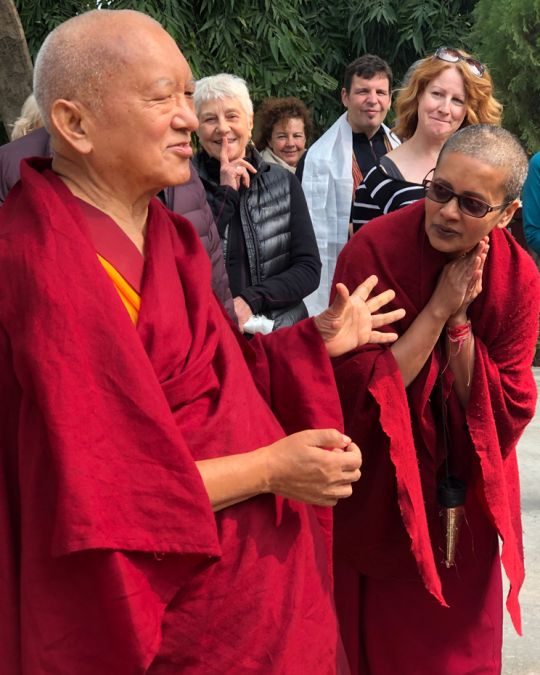 Lama Zopa Rinpoche with Ven. Paldron, Root Institute, India, December 2018. Photo by Ven. Roger Kunsang.
Root Institute director Ven. Paldron shares news of Lama Zopa Rinpoche's recent visit to Bodhgaya, India. Read in full …
Advice
Our Heart Jewel, Our Wish-granting Gem
Lama Zopa Rinpoche offering a khata to a photo of Lama Yeshe at Losang Dragpa Centre, Malaysia, 2016. Photo by Ven. Roger Kunsang.
Six weeks after Lama Yeshe's passing, Lama Zopa Rinpoche offered a personal tribute to his guru, Lama Yeshe. Here's an excerpt from "Our Heart Jewel, Our Wish-granting Gem," first published in Wisdom, #2 1984. Read in full …
Subscribe to our FPMT news blog to get updates as soon as they are announced.
---
International Office News
The Sera Je Food Fund: Rejoicing and Thanks from Lama Zopa Rinpoche
Lama Zopa Rinpoche recorded a personal thank you for those who made it possible to offer food to all the monks at Sera Je Monastery for the last twenty-seven years, and enabled FPMT to offer a significant endowment fund to the monastery whereby the interest covers the annual costs of providing three nutritious meals daily to all the monks. Rinpoche's message covers many aspects of why offering food to Sangha is so beneficial and meritorious. We bring you an edited transcript of this precious teaching.
We also bring you an extensive article, "Sustaining the Pure Unbroken Lineage of Buddha's Teachings in This World: The Legacy of the Sera Je Food Fund," which is an in-depth look at the accomplishments and historical context of the Sera Je Fund since its inception. You can view this article in eZine or PDF format.
Please join us in rejoicing in this incredible offering! Our heartfelt thanks to all who have supported this project over the years, we could not have done this without your kindness.
Education Programs Updated
Two introductory online FPMT education courses—Buddhist Meditation 101 and Buddhism in a Nutshell—have recently been revised and are now available to new students as well as to all current and past online course participants. Find out more …
Lama Zopa Rinpoche gave a talk at Root Institute's Maitreya School and offered new shoes and socks to the school children, January 2019. Photo by Ven. Roger Kunsang.
News from Mandala Magazine
It has been busy in Bodhgaya, India. As you can read above, Lama Zopa Rinpoche attended the teachings of His Holiness the Dalai Lama in late December there, and also spent time at Root Institute. We bring you Cynthia Karena's experience of attending His Holiness the Dalai Lama's teachings.
Mandala magazine and all the communications work of FPMT International Office–including this e-News and the daily FPMT News email—is supported by the Friends of FPMT program. If you'd like to receive the next issue of Mandala and help benefit FPMT students around the globe, see below!
Seeking New Friends of FPMT during the Days of Miracles
Please join us as one of our Friends during our Days of Miracles drive, which extends through March 1. Becoming a contributing Friend of FPMT means supporting all of the activities of FPMT International Office – helping us expand access to Dharma programs and materials, making live online teachings of Lama Zopa Rinpoche available for free year-round, and funding our services to local FPMT communities around the globe. Friends of FPMT play an indispensable role in making our international mandala flourish! Plus, Friends members enjoy free access to what they are helping bring to others, with new benefits being offered this year.
Please help us reach our goal of welcoming 108 new Foundation Friends, 108 Dharma Supporters and 21 Patrons! Read more about the giving levels and member benefits.
---
For Center, Project and Service Directors, SPCs, Board Members, Registered Teachers and Coordinators:
(This advice is specifically for those offering service in these roles.)
2018 Policy Updates, Key Advice and New Resources
This compilation of essential information to note, provided in previous communications during 2018, is available now in the Compilations of Key Advice page in the Resources at a Glance section of the Affiliates Area.
---
FPMT World:
Rejoice: MAITRI's Service on World Leprosy Day
Lama Zopa Rinpoche giving advice to Adriana Ferranti, MAITRI director, and MAITRI staff, Bodhgaya, India, January 2019. Photo by Ven. Roger Kunsang
World Leprosy Day was on January 27 this year. For many years, MAITRI Charitable Trust, an FPMT project based in Bodhgaya, Bihar, India, has been assisting those affected by this disease, via treatment and education about this disease.
Opportunities to Offer Service in the FPMT Organization
Would you like to spend your days in a very meaningful way? Have a look at the regularly updated meritorious opportunities to offer service as a volunteer or as paid staff in FPMT centers, projects, and services around the world. Newly added: Atisha Center, Australia, is looking for a director; Vajrapani Institute, USA, needs a center manager; Land of Joy, UK, is looking for a general manager and a housekeeper.
Impermanence at Work
Contact information for FPMT centers, projects, and services can be found in the FPMT Directory.
Centro Studi Cenresig, Italy
We welcome new director – Maria Grazia
With grateful thanks to outgoing director – Sergio Carrera
Centro Tara Bianca, Italy
We welcome new SPC – Carla Macis
Chenrezig Institute, Australia
We welcome new spiritual program coordinator (SPC) – Keiron Pratt
With grateful thanks to outgoing SPC – Kirsty Sharman
Gyalwa Gyatso (Ocean of Compassion) Buddhist Center, USA
We welcome new director – Kim Winn
With grateful thanks to outgoing director – Margaret Kim
Karuna Hospice Service, Australia
We welcome new spiritual program coordinator (SPC) – Ven. Chodron
With grateful thanks to outgoing SPC – Ven. Trin-la
---
If you received this from someone else, or unformatted, visit our subscribe page to receive this newsletter directly.
Contact Info
1632 SE 11th Avenue
Portland, OR 97214-4702 USA
Tel (503) 808-1588 | Fax (503) 232-0557
About FPMT
FPMT is an organization devoted to the transmission of the Mahayana Buddhist tradition and values worldwide through teaching, meditation and community service.
more...
About Buddhism
If you're new to Buddhism, please read our
Buddhism FAQ
. A place to learn about Buddhism in general, FPMT, and our Discovering Buddhism at Home series.