News/Media

*If a menu item has a submenu clicking once will expand the menu clicking twice will open the page.

Study & Practice

*If a menu item has a submenu clicking once will expand the menu clicking twice will open the page.

Projects

*If a menu item has a submenu clicking once will expand the menu clicking twice will open the page.

FPMT

You must recognize that your real enemy, the thief who steals your happiness, is the inner thief, the one inside your mind – the one you have cherished since beginningless time. Therefore, make the strong determination to throw him out and never to let him back in.

Ego, Attachmnet and Liberation

Lama Thubten Yeshe

*If a menu item has a submenu clicking once will expand the menu clicking twice will open the page.

Shop

The Foundation Store is FPMT's online shop and features a vast selection of Buddhist study and practice materials written or recommended by our lineage gurus. These items include homestudy programs, prayers and practices in PDF or eBook format, materials for children, and other resources to support practitioners.

Items displayed in the shop are made available for Dharma practice and educational purposes, and never for the purpose of profiting from their sale. Please read FPMT Foundation Store Policy Regarding Dharma Items for more information.
International Office News
January 2016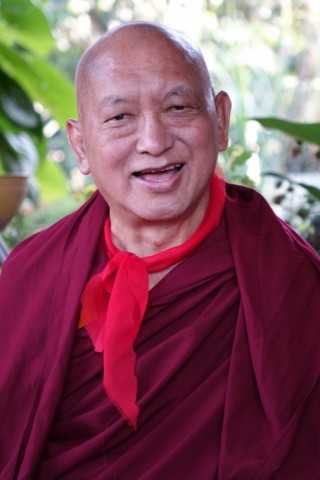 Lama Zopa Rinpoche, South India, January 2016.
Photo by Ven. Roger Kunsang.

Have this translated into your native language by using our convenient translation facility located on the right-hand side of the page. French and Spanish speakers will find the FPMT International Office News translated each month in the "Bienvenue" and "Bienvenidos" tabs on the FPMT homepage!
---
Lama Zopa Rinpoche's News, Activities and Advice:
Official Long Life Puja and Practices for Lama Zopa Rinpoche
From Ven. Roger Kunsang, assistant to Rinpoche and CEO of FPMT, Inc.: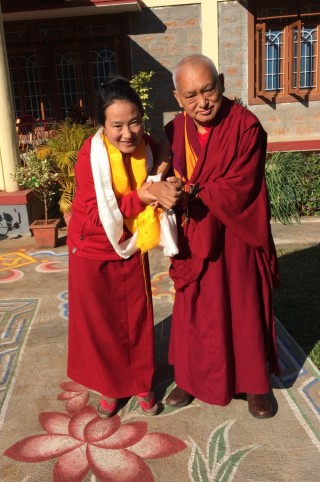 Lama Zopa Rinpoche with Khadro-la (Rangjung Neljorma Khadro Namsel Drönme), South India, January 2016.
Photo by Ven. Roger Kunsang.
"Dear Friends,
This year seems especially important for all of Rinpoche's students to come together in some way to offer practice and prayers for Rinpoche's long and healthy life. When I asked Khadro-la (Rangjung Neljorma Khadro Namsel Drönme) for her observation, Khadro-la answered with a deep concern and wish that all the students in all the centers, projects and services come together in some way and offer a long life puja to Rinpoche, as well as perform 100,000 tsog offerings.
Khadro-la went on to explain how very important it is for Rinpoche to be present in this world for a long time, teaching and benefiting sentient beings in many different ways. Khadro-la talked about Rinpoche's many special qualities, impressing how fortunate we are to have Rinpoche with us, guiding us in so many ways.
Please, everyone join the long life puja – participate in whatever way you can."
The official annual long life puja will be offered to Lama Zopa Rinpoche at Amitabha Buddhist Centre, Singapore, on Sunday March 13, starting at 9 a.m. Singapore time (SGT; UTC +8:00). The puja and any teachings from Rinpoche will be livestreamed so all can participate. Donations are welcome. Please donate by March 10 if you would like your name included on the list of donors.
Contact your local center or study group to participate in offering prayers and practices for the health and long life of Lama Zopa Rinpoche.
Highlights from Our Blogs
Begin Your Day with Bodhichitta
"Begin your day with bodhichitta to make the life most meaningful and beneficial for sentient beings, thus transforming your life from iron into gold, not only with Dharma but with bodhichitta motivation." Read in full …
Meditate on Death and Impermanence to Help Your Practice
Lama Zopa Rinpoche doing korwa around 1,000 buddhas at Kopan Monastery, Nepal, December 2015.
Photo by Ven. Roger Kunsang.
"If the mind has sunk down and it is difficult to practice, then you must meditate on death and impermanence. That is very important. It takes care of so many problems, solves everything. It cuts attachment to people, places, and things. You stop clinging," Lama Zopa Rinpoche advised a student who felt distracted in his practice. Read in full …
Lama Zopa Rinpoche's New Book, How to Enjoy Death
Lama Zopa Rinpoche's much anticipated book How to Enjoy Death: Preparing to Meet Life's Final Challenge without Fear will soon be released by Wisdom Publications. Rinpoche just received an advance copy of the book at Sera Monastery, where he is currently staying. The beautifully printed book is a practical guide for students on how to best help loved ones and themselves during the death process. Read in full …
Keep up to date with Lama Zopa Rinpoche News and other blogs. Find a wide range of advice from Lama Zopa Rinpoche on Rinpoche's Advice page.
Rinpoche's Schedule
Newsflash! Lama Zopa Rinpoche will be teaching in India in February at Tushita Mahayana Meditation Centre, Delhi and Choe Khor Sum Ling, Bangalore. Watch our blog or Rinpoche's Schedule online for details as they are confirmed.
See the 2016 schedule in full.
Please contact the hosts directly with any questions.
February 27 – May 2: South East Asia
August 13: Teaching on the Seven Point Mind Training, Kadampa Center, USA
August 14 – 28: Light of the Path Retreat, Kadampa Center, USA
Subscribe to our FPMT news blog to get updates as soon as they are announced.
Rinpoche Available Now – Enjoy livestreams of many of the teachings above and recordings of Rinpoche's most recent teachings!
---
International Office News:
Merit Box Collections Underway!
It's the season to begin emptying Merit Boxes and donating your offerings! Donations will be used to provide grants this year to initiatives that work for the mission of FPMT – like Gendun Drubpa Center's Stupa for World Peace – a Merit Box grant recipient in 2015.
Not already a Merit Box practitioner? You can get a free Merit Box here or make a virtual Merit Box offering through our website.
News from Mandala Magazine
Geshe Thupten Jinpa, Portland, Oregon, US, May 2015.
Photo by Chris Majors.
Have you already seen Mandala's January-June 2016 online content? If not, we encourage you to check out two interviews now available online!
In "Cultivating Compassion: Geshe Thupten Jinpa Brings Dharma into the Secular World," Geshe Jinpa, a well-known Tibetan Buddhist interpreter, translator and scholar, discusses his new book, A Fearless Heart: How the Courage to Be Compassionate Can Transform Our Lives, and the development of Tibetan Buddhist practice in the West.
And we talk with Swiss-born Ven. René Feusi, a well-respected FPMT registered teacher, in "Distilling Shantideva's Bodhicharyavatara." Ven. René shares how his book The Beautiful Way of Life, a distillation of Shantideva's seminal work published by Wisdom Publications, came into existence and how to use it in one's personal practice.
News from FPMT Education Services
Following Lama Zopa Rinpoche's wishes, we have updated the text, Daily Meditation, which Rinpoche has renamed The Method to Transform a Suffering Life into Happiness (Including Enlightenment). This practice is also available in French.
A new Basic Program Online subject, "Bodhisattva Deeds Part 2" is now available via the Online Learning Center.
Additional support and materials have been added to the Kshitigarbha Practice section of the website, to help students fulfill advice from Lama Zopa Rinpoche that urgent practices need to be completed to help mitigate potential earthquakes in California, USA.
A beautiful Shakyamuni Buddha card is now included in the Refuge and the Three Jewels booklet.
Friends of FPMT
In a recent survey, all respondents shared that they became Friends of FPMT to offer support to the Foundation, but how they use their Friends benefits varied. Some appreciated most the instant access to the prayers and practices, others took FPMT Online Learning Center courses or enjoyed reading Mandala magazine, and some supporters enjoyed them all! Learn more about this unique way to contribute to FPMT activities.
---
For Center, Project and Service Directors, SPCs, Board Members, Registered Teachers and Coordinators:
This advice is specifically for those offering service in the roles listed above.
How to Participate in Practices for Rinpoche's Long Life
We have put together the information you need to help your center, project, service and study group participate as requested in the practices for Rinpoche's health and long life.
Auspicious Symbols for Harmony and Success
Lama Zopa Rinpoche advises that it is important for harmony and success for centers, projects and services to display sets of the eight auspicious symbols. It is very good to have one set in the gompa and one in the office. Of course, if you have room and want to have more, then the more the better! Rinpoche is very happy with the art of the round set pictured here. This and other styles are available to order from Kopan Monastery, Nepal, with a special discount for FPMT centers, projects, and services.
New Arrival in the Foundation Store
Geshe Lhundub Sopa's Steps on the Path to Enlightenment Vol. 4: A Commentary on Tsongkhapa's Lamrim Chenmo on Shamatha is now available through the Foundation Store. In this commentary, learn the principal techniques taught by the Buddha to develop mindfulness and stable and precise concentration. Enjoy a 15% discount for center classes and libraries! Promotion valid until February 15 using your FPMT wholesales account.
---
FPMT World:
Rejoice:
Long Life Puja Offered to His Holiness the Dalai Lama
His Holiness the Dalai Lama with the silver Dharmachakra that was offered by Lama Zopa Rinpoche on behalf of FPMT, South India, January 2016.
Photo courtesy of Jangchup Lamrim.
Ven. Chantal, Ven. Paloma, Ven. Joan, Ven. Holly, Ven. Gyalmo and Dee Shekhar offering the silver ritual objects to His Holiness on behalf of FPMT, South India, January 2016.
Photo courtesy of Jangchup Lamrim.
Maitri Marks World Leprosy Day
Support MAITRI Charitable Trust in its fight against leprosy in India on World Leprosy Day, January 31.
Opportunities to Offer Service in FPMT
Please check out the regularly updated meritorious opportunities to offer service as a volunteer or as paid staff in FPMT centers, projects and services around the world.
In the USA, FPMT International Office is looking for a managing editor; both Milarepa Center and Vajrapani Institute are looking for land managers; and Land of Medicine Buddha has work study volunteer positions. In Australia, Chenrezig Institute needs a Basic Program teaching assistant. In New Zealand, Mahamudra Centre needs a center manager and Chandrakirti Centre has extended the application period for a new spiritual program coordinator.
Impermanence at Work
Longku Centre, Switzerland
We welcome new director – Jutta Mathä
With grateful thanks to outgoing director – Marianne Frischknecht
---
If you received this from someone else, or unformatted,
visit our subscribe page to receive this newsletter directly.
In the lam-rim, there's some advice on how to get up early in the morning without being overwhelmed by sleep. Before getting into bed the night before, wash your feet while thinking of light. Try it; it works.
Lama Zopa Rinpoche