International Office News
June 2015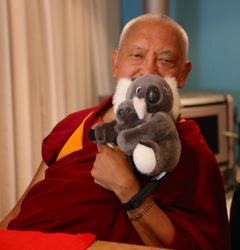 Lama Zopa Rinpoche with koalas, Blue Mountains, NSW, Australia, June 2015.
Photo by Ven. Thubten Kunsang.

Have this translated into your native language by using our convenient translation facility located on the right-hand side of the page. French and Spanish speakers will find the FPMT International Office News translated each month in the "Bienvenue" and "Bienvenidos" tabs on the FPMT homepage!
---
Lama Zopa Rinpoche's News:
News, Activities and Advice
Highlights from our blogs on FPMT.org:
Lama Zopa Rinpoche, India, February 2015.
Photo by Ven. Thubten Kunsang.
The Main Thing Now Is Attainment
"We have achieved a lot in Dharma education and study," Lama Zopa Rinpoche said in March 2015 while visiting Root Institute in India. "Now we have to put effort in attaining the path. I don't mean just doing three-year retreat and counting a certain number of mantras, but attainment of the path through the lam-rim. Realizations don't have to come from being in formal retreat. One can achieve them while working and studying with meditation on the lam-rim. One can be doing business and studying and meditating on the lam-rim. You can have a family and job and be meditating on the lam-rim. The main thing now is attainment." Read more …
How to Think While Getting Chemo
A student wrote that she had cancer and the doctor advised getting chemotherapy. The student requested advice from Rinpoche on what she should do.
"… When you have treatment, every time when you take medicine, think that the purpose is to be able to benefit numberless sentient beings. This is what you should think even during normal times, whenever you do treatment or take medicine. That makes it – all the expenses – worthwhile." Read more …
Lama Zopa Rinpoche at Buddha House, Australia, May 2015.
Photo by Ven. Roger Kunsang.
The Benefits of Medicine Buddha Mantra and Practice
"The seven Medicine Buddhas, attainers of bliss, strongly prayed for the temporal and ultimate happiness of yourself and all sentient beings. They vowed that their prayers would be actualized during these degenerate times when the teachings of Shakyamuni Buddha are in decline. As the buddhas' holy speech is irrevocable, you can wholly trust in their power to quickly grant blessings to help all sentient beings in these degenerate times," Lama Zopa Rinpoche instructs in "The Benefits of Medicine Buddha Mantra and Practice," a free PDF from FPMT Education Services. Read more …
Lama Zopa Rinpoche doing preparation, Buddha House, Australia, May 2015.
Photo by Ven. Thubten Kunsang.
Keep up to date with Lama Zopa Rinpoche News. Find a wide range of advice from Lama Zopa Rinpoche on Rinpoche's Advice page. Go to the Lama Yeshe Wisdom Archive for lots more advice from Lama Zopa Rinpoche.
Lama Zopa Rinpoche with new friend, Adelaide, Australia, June 2015.
Photo by Ven. Thubten Kunsang.
Rinpoche's Schedule
June 30 – July 5: Teachings and initiation, Russia
July 11 – 20: Teaching, Heruka 5 Deities initiation, The Netherlands
July 24 – 25: Great Medicine Buddha initiation, Denmark
September 5 – 12: Lam-rim retreat in Mexico
September 18 – 20: Teaching, lam-rim retreat and initiation, Centro Yamantaka, Colombia
September 25 – 27: Teaching, lam-rim retreat, Centro Shiwa Lha, Brazil
Nov/Dec: Teachings during the one-month lam-rim course, Kopan Monastery, Nepal
September 11 – 26, 2016: Light of the Path retreat, Kadampa Center, USA
Please contact the hosts directly with any questions. Subscribe to our FPMT news blog to get updates as soon as they are announced.
Rinpoche Available Now – Enjoy livestreams of many of the teachings above and recordings of Rinpoche's most recent teachings!
Lama Zopa Rinpoche with Ven. Kunsang, Ven. Lindy Mailhot, Ven. Sangpo, Helen Patrin, Ven. Sherab and Carey Aburn in Australia, June 2015.
Photo by Ven. Roger Kunsang.
---
International Office News:
New from Education Services:
Updated Vairochana Mantra Card
"Just by reciting this mantra one receives success, and one does not get harmed by weapons, fire, water, poisons, substances mixed with poisons, black magic, one cannot be harmed by kings, thieves, robbers, and so forth. Wherever this mantra is written and left, people do not receive sicknesses, harm and contagious diseases and will achieve the concentration called stainless light." – Lama Zopa Rinpoche. This beautiful Vairochana mantra card is printed on pearlescent cardstock. Also available as a PDF download.
The New Mandala Is Published!
We've re-imagined Mandala magazine and we're proud to unveil the new issue, published on June 16. The new Mandala magazine features timeless teachings, interviews and stories to support the development and deepening of our Dharma practice.
Mandala July-December 2015 looks at the importance of death awareness practice and of knowing how to enjoy death as shared in teachings by Lama Yeshe and Lama Zopa Rinpoche. Also in this issue, the biography of the great Buddhist master Khunu Lama Rinpoche; Ven. Robina Courtin writes about the creation of Lama Zopa Rinpoche's book How to Enjoy Death, forthcoming from Wisdom Publications; an interview with Tibetan Buddhist scholar Elijah Ary; we remember Dharma pioneer Ven. Ann McNeil; and much more.
You can order this issue from the FPMT Foundation Store. Or to receive Mandala on an ongoing basis, become a supporter of the Friends of FPMT program.
Students "Worked a Day for Rinpoche" in 50 Countries!
Our very popular annual fundraising campaign Work a Day for Rinpoche attracts students from all over the world who wish to dedicate a day of their work earnings to support a host of FPMT Dharma activities for the auspicious occasion of Saka Dawa. This year 450 students from 50 different countries offered more than US$43,000! Their offerings will work towards fulfilling Lama Zopa Rinpoche's vision and mission; helping provide more FPMT educational resources; assisting our worldwide charitable projects, and supporting FPMT centers, projects and services, and more. Thank you all so much!
Sign up to receive daily posts of all FPMT news blogs via email.
---
For Center, Project and Service Directors, SPCs, Board Members, Registered Teachers and Coordinators:
(This advice is specifically for those offering service in the roles listed above.)
FPMT's Thirteenth International Sangha Day!
Let's celebrate FPMT Sangha on Choe Khor Due Chen: July 20, 2015.
At CPMT 2014, we discussed the future of Sangha in the FPMT and agreed how crucial it is to support the International Mahayana Institute (IMI), because if we want to preserve the Dharma, we need the Sangha, and if we want to preserve the Sangha, we need monastic communities and monastic training.
Ven. Chantal Carrerot, director of the IMI, comments:
"International Sangha Day provides an opportunity for the lay and monastic communities to come together in recognition of our interdependence and to acknowledge the ways in which we rely on each other for our practice of the Dharma."
International Sangha Day is also a perfect day for centers, projects and services to make their annual donation to the Lama Yeshe Sangha Fund (LYSF).
Spanish Translations for Basic Program Now Available
The four Spanish Basic Program (BP) translations published by Ediciones Mahayana are now available as bookmarked PDFs from the BP Materials web page. Our gratitude goes to Ven. Nerea Basurto for her untiring efforts resulting in the successful establishment of the Spanish Translation Services and the completion of so many publications. She is now focusing on translating the Masters Program texts into Spanish.
---
FPMT World:
Rejoice:
Film Project Covering the History of the Dalai Lamas
Pema Dhondup, a Tibetan filmmaker based in Los Angeles, is releasing a short documentary titled The Letter on July 6, 2015. It is a prelude to the motion picture and video series project titled Search that covers the entire history of the Dalai Lama institution beginning from 1391 when Pema Dorje was born to a nomad family and later became the first Dalai Lama, Gedun Drubpa. There's more on the project on the website www.searchdalailama.com. If you wish to watch or screen the film to family and friends on July 6, 2015, please contact Pema Dhondup.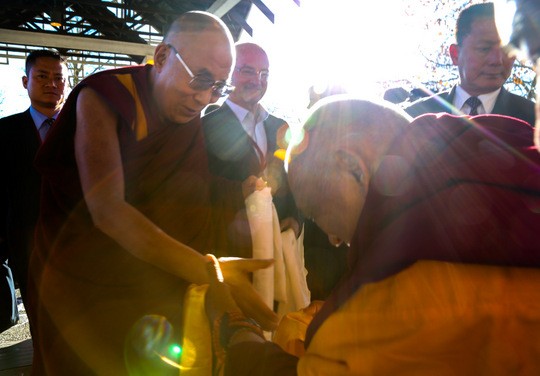 Lama Zopa Rinpoche with His Holiness the Dalai Lama, Blue Mountains, NSW, Australia, June 2015.
The Wesak Festival of Light celebrated the birth of Buddha and also the next stage of building the Great Stupa and the monastery surrounding it in Bendigo, Australia.
Servir autrui, un chemin vers l'éveil
L'équipe du Service de traduction francophone de la FPMT est heureuse de vous annoncer la publication d'un nouveau livret: Servir autrui, un chemin vers l'éveil. Ce livret contient de précieux conseils de Lama Zopa Rinpoché sur comment pratiquer le Dharma et travailler dans un centre.
Opportunities to Offer Service in FPMT
Please check out the regularly updated meritorious opportunities to offer service as a volunteer or as paid staff in FPMT centers, projects and services around the world!
Gendun Drubpa Centre, Canada, is hoping for an FPMT registered teacher to become their new resident teacher. Kushi Ling, Italy is looking for a center director. Mahamudra Centre, New Zealand, is looking for a full-time center manager, volunteer vegetarian cook and groundskeeper. Land of Joy, UK has various volunteer positions open.
Impermanence at Work
Atisha Centre, Australia
We welcome new spiritual program coordinator (SPC) – Jen Kyne
With grateful thanks to previous SPC (now director) – Ruby Karmay
Centro Studi Cenresig, Italy
We welcome new director, Sergio Carrara
We welcome new SPC, Andrea Fuser
Istituto Lama Tzong Khapa, Italy
We welcome new SPC – Elisa Salvadori
With grateful thanks to previous SPC – Ven. Connie Miller
Root Institute, India
We welcome new director – Ven. Tenzin Paldron
With grateful thanks to previous director – Ven. Thubten Labdron
Yeshe Gyaltsen Center, Mexico
Av. 80 #660, entre Hidalgo y 7 Sur
Colonos Cuzamil
77667 Cozumel Q. Roo
Closed FPMT study group: Wishfulfilling Thought Transformation, Australia – we rejoice in their efforts to serve sentient beings.
---
With love,
FPMT International Office
If you received this from someone else, or unformatted,
visit our subscribe page to receive this newsletter directly.