News/Media

*If a menu item has a submenu clicking once will expand the menu clicking twice will open the page.

Study & Practice

*If a menu item has a submenu clicking once will expand the menu clicking twice will open the page.

Projects

*If a menu item has a submenu clicking once will expand the menu clicking twice will open the page.

FPMT

Proper guru devotion – correct devotion to your virtuous friends – allows you to actualize successfully all the steps of the path to enlightenment, from the perfect human rebirth up to buddhahood itself.

Lama Zopa Rinpoche

*If a menu item has a submenu clicking once will expand the menu clicking twice will open the page.

Shop

The Foundation Store is FPMT's online shop and features a vast selection of Buddhist study and practice materials written or recommended by our lineage gurus. These items include homestudy programs, prayers and practices in PDF or eBook format, materials for children, and other resources to support practitioners.

Items displayed in the shop are made available for Dharma practice and educational purposes, and never for the purpose of profiting from their sale. Please read FPMT Foundation Store Policy Regarding Dharma Items for more information.
International Office News
March 2019
Lama Zopa Rinpoche, Nepal, December 2018. Photo by Ven. Lobsang Sherab.
Have this translated into your native language by using our convenient translation facility located on the right-hand side of the page. French and Spanish speakers will find the FPMT International Office News translated each month in the "Bienvenue" and "Bienvenidos" tabs on the FPMT homepage!
---
Lama Zopa Rinpoche News:
Khyongla Rato Rinpoche and Lama Zopa Rinpoche, Tushita Meditation Center, Dharamsala, India, February 2019. Photo by Ven. Nicky Vreeland.
Schedule
We make recordings of Rinpoche's recent teachings always available to you at Rinpoche Available Now.
Advice
The Advantages of Cherishing Others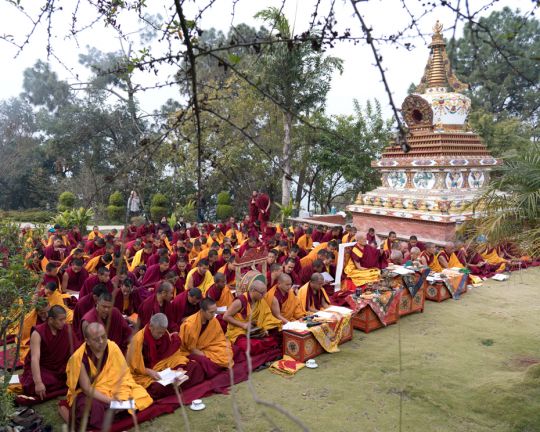 Lama Zopa Rinpoche and monks doing incense puja, Kopan Monastery, February 2019. Photo by Ven. Lobsang Sherab.
Lama Zopa Rinpoche sent this advice about developing a good heart to a student who had been offering healing classes at a center for twenty-five years: " As you know, caring for sentient beings, compassion for sentient beings, cherishing sentient beings, opens the door [to limitless qualities.]" Read in full …
Check Carefully When Meditating on Emptiness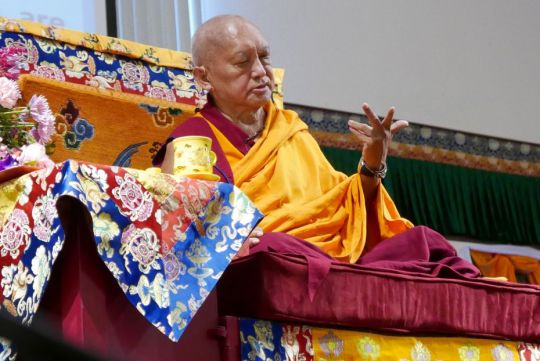 Lama Zopa Rinpoche teaching at the Light of the Path 2016 retreat, Black Mountain, North Carolina, USA, August 2016. Photo by Ven. Roger Kunsang.
In August 2016, during the Light of the Path retreat, Lama Zopa Rinpoche advised students to check carefully when meditating on emptiness:"When many people meditate on emptiness they say that nothing exists. Do you understand? Nothing exists. [When you do that] you are not meditating on emptiness." Read in full or watch the video …
Subscribe to our FPMT news blog to get regular news.
---
International Office News
Annual Review 2018: Live with Compassion
We are happy to announce our FPMT Annual Review 2018: Live with Compassion. Our new annual review is available to read as an eZine and a downloadable PDF.
"From the bottom of my heart, thank you all numberless times for all your service, dedication, practice of holy Dharma with your body, speech, and mind, and for your devotion and good heart," Lama Zopa Rinpoche writes in this year's annual review.
In addition to advice from Rinpoche, the FPMT Annual Review 2018 includes an update from FPMT CEO Ven. Roger Kunsang, an overview of Lama Zopa Rinpoche's tireless Dharma activities, and highlights from International Office's departments.
Please note: The FPMT Annual Review 2018 is available in digital format only, meaning it will not be printed and posted to FPMT centers, projects, and services. 
New Materials from Education Services
Written by Lama Zopa Rinpoche, Recognizing the False I, now in ebook and PDF formats, is a commentary on and set of simple meditation techniques for identifying the object to be refuted— what Rinpoche calls "the false I"—during reflections on emptiness. The text was specifically composed for students engaging in the self-generation portion—often called "the ultimate deity"—of kriya yoga tantric practices, such as nyung nas. The meditations can also be used by students during retreats on the Heart Sutra or any other retreat focused on emptiness. Additionally, Rinpoche offers these techniques to all students in general to help them meditate on emptiness correctly during their daily practices.
Meditations on White Tara, now in ebook format. The practice of White Tara strengthens and restores good health and life-force energy.
A Meditation on Orange Manjushri, now in ebook format, written by the Fifth Dalai Lama.
Supporting Tibetan Elderly in Need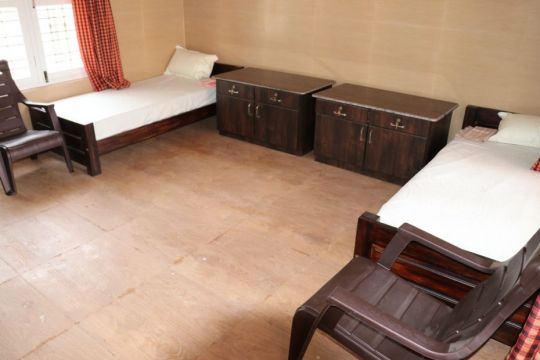 Two residents share these new simple, clean, and safe rooms at Lugsum Samduling Home for the Aged and Disabled.
Thanks to the kindness of those who donate to the fund, the Social Services Fund offered grants to support the extension of Lugsum Samduling Home for the Aged and Disabled, Bylakuppe, India, which cares for approximately forty elderly Tibetan individuals. This enabled accommodation and prayer wheels to be added.
Without homes like this, many elderly first-wave Tibetan refugees have very little prospect of accommodation or support, as many are without families of their own. Further, by supporting the creation of holy objects, FPMT is helping the elders to take ultimate care of themselves by providing the conditions for them to create merit for this and future lives. The Social Services Fund has been supporting elderly Tibetans in this way since 2015, and currently offers grants to six homes.
---
FPMT World:
Rejoice!:
Productive National Meeting in Mexico!
FPMT National Coordinator, Gilda Urbina, organized a very fruitful national meeting for the FPMT centers, projects, services, and study groups in Mexico.
LRZTP 8 will finish in March 2020, followed by a two-month interpreting intensive.
A two-month beginner level Tibetan short course will begin in April 2019.
LRZTP 9, the next two-year course, will open in October 2020: advertising and registration for this course will start in the middle of this year.
Opportunities to Offer Service in the FPMT Organization
Would you like to spend your days in a very meaningful way? Have a look at the regularly updated meritorious opportunities to offer service as a volunteer or as paid staff in FPMT centers, projects, and services around the world. Newly added: Nagarjuna Center, Madrid, Spain is looking for a new director; Mahamudra Center, New Zealand, needs a spiritual program coordinator; Nalanda Monastery, France has many volunteer opportunities.
Impermanence at Work
Contact information for FPMT centers, projects, and services can be found in the FPMT Directory.
Ganden Tendar Ling, Russia
We welcome new director – Andrey Lomonosov
Istituto Lama Tsong Khapa, Italy
Please note this change in email address: segreteria@iltk.it
Root Institute, India
We welcome new spiritual program coordinator (SPC) – Ven. Khadro
With grateful thanks to outgoing SPC – Drolkar Court
Gonpo Ludup Study Group, USA, has closed.
---
If you received this from someone else, or unformatted, visit our subscribe page to receive this newsletter directly.
It's the foggy mind, the mind that's attracted to an object and paints a distorted projection onto it, that makes you suffer. That's all. It's really quite simple.
Lama Thubten Yeshe