News/Media

*If a menu item has a submenu clicking once will expand the menu clicking twice will open the page.

Study & Practice

*If a menu item has a submenu clicking once will expand the menu clicking twice will open the page.

Projects

*If a menu item has a submenu clicking once will expand the menu clicking twice will open the page.

FPMT

Approaching enlightenment is a gradual process, but once you attain it, there's no going back; when you reach the fully awakened state of mind, the moment you experience that, you remain enlightened forever.

Lama Zopa Rinpoche

*If a menu item has a submenu clicking once will expand the menu clicking twice will open the page.

Shop

The Foundation Store is FPMT's online shop and features a vast selection of Buddhist study and practice materials written or recommended by our lineage gurus. These items include homestudy programs, prayers and practices in PDF or eBook format, materials for children, and other resources to support practitioners.

Items displayed in the shop are made available for Dharma practice and educational purposes, and never for the purpose of profiting from their sale. Please read FPMT Foundation Store Policy Regarding Dharma Items for more information.
International Office News
October 2018
Lama Zopa Rinpoche while teaching at Amitabha Buddhist Centre, Singapore, September 2018. Photo by Ven. Lobsang Sherab.
Have this translated into your native language by using our convenient translation facility located on the right-hand side of the page. French and Spanish speakers will find the FPMT International Office News translated each month in the "Bienvenue" and "Bienvenidos" tabs on the FPMT homepage!
---
Lama Zopa Rinpoche News:
Schedule Updates
Lama Zopa Rinpoche is teaching in Madrid, Spain: watch live!
Please note that the Light of the Path Retreat has been postponed from 2019 to August 2020. During May and June 2019, Lama Zopa Rinpoche will lead a Vajrayogini retreat at Institut Vajra Yogini, France – dates to be confirmed.
Find recordings of Rinpoche's recent teachings via Rinpoche Available Now!
Advice
Your Death Can Happen at Any Time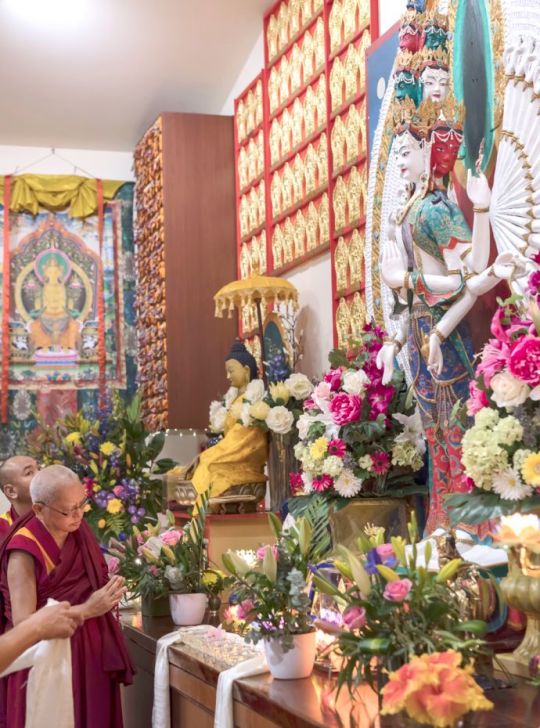 Lama Zopa Rinpoche in Chenrezig Institute gompa, Eudlo, Australia, June 2018. Photo by Ven. Lobsang Sherab.
During a teaching at Chenrezig Institute in June 2018, Lama Zopa Rinpoche discussed how we don't know when our time of death will arrive. Read in full …
Coming to a Kopan Course Is the Most Important Education of Your Life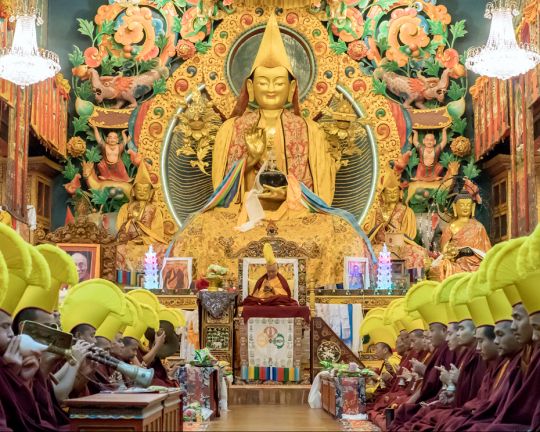 Lama Zopa Rinpoche during Lama Chopa at Kopan Monastery on Lama Tsongkhapa Day, Nepal, December 2017. Photo by Ven. Lobsang Sherab.
Every year the month-long lamrim meditation course at Kopan Monastery in Nepal draws more than two hundred students from around the world. And every year the November Course, as it's called, fills up quickly. Many students start planning to attend the transformative program months, if not years, in advance. Lama Zopa Rinpoche first taught this month-long lamrim course in 1971. Rinpoche continues to offer teachings at the course almost every year, and will teach there this year. Last year Rinpoche spoke to students about the significance of attending the course and how it helps one deal with individual and societal problems. Read in full …
Subscribe to our FPMT news blog to get updates as soon as they are announced.
---
International Office News
Help Us Fund Translations!
Excellent translations are indispensable for the preservation and spreading of the Dharma, and right now, the FPMT Translation Fund needs some support to help actualize two big projects:
Basic Program and Masters Program Translations– There is a major need for translations of key texts and commentaries by Maitreya, Lama Tsongkhapa, Gyaltsab Je, and other great masters.
Sutra of Golden Light, 29-Chapter Version– Lama Zopa Rinpoche has requested that this version of the sutra be translated from the Tibetan, so this a priority for us.
Learn more, or become a Benefactor, Seed Planter, or Monthly Sponsor of these great projects.
Special Cards from the Foundation Store
Enjoy these beautiful cards designed by Lama Zopa Rinpoche. Each has its own layout, purpose, and suggested use.
---
For Center, Project and Service Directors, SPCs, Board Members, Registered Teachers and Coordinators:
(This advice is specifically for those offering service in these roles.)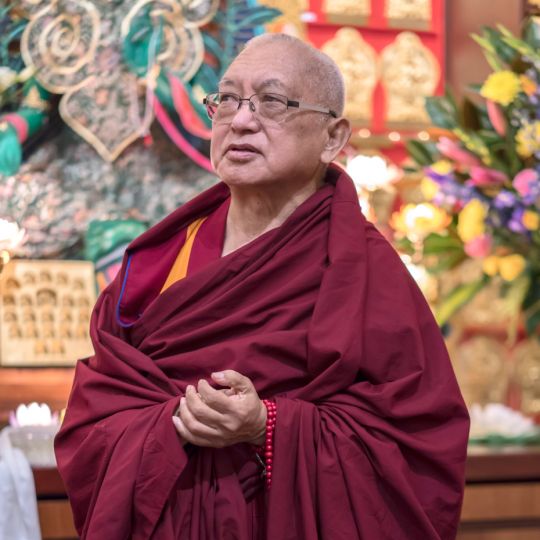 Lama Zopa Rinpoche at Chenerzig Institute, Eudlo, Australia, June 2018. Photo by Ven. Lobsang Sherab.
"Your mind is the creator of everything, all the suffering and all the happiness. That person didn't realize that, thinks all is coming from outside. So that is an unbelievably important education to help the world, to help to bring peace and happiness in the world. So therefore we need Dharma centers giving teachings. Lamrim teachings, yes, but what it is all about is compassion. Teaching compassion, to practice compassion with sentient beings. With whom you practice compassion, with whom you generate compassion is sentient beings…." Read in full …
Find more about the benefits of the FPMT organization and advice on offering service on Lama Zopa Rinpoche's Advice page and in the Affiliates Area under "Rinpoche's Collected Advice."
---
FPMT World:
Rejoice!
New Ebook from Lama Zopa Rinpoche!
Lama Yeshe Wisdom Archive have just published a new ebook, The Path to Ultimate Happines, which is a collection of teachings given by Lama Zopa Rinpoche during the 42nd Kopan lamrim course in 2009.
Fruitful South East Asia Regional Meeting
Lama Zopa Rinpoche with the directors, board members, and spiritual program coordinators from South East Asian FPMT centers, projects, and services, after their recent fruitful regional meeting hosted by Amitabha Buddhist Centre in Singapore. Photo by Ven. Roger Kunsang.
The Inner Job Description (IJD) App, a free app created by FPMT Inc., is now available in the Amazon, Apple, and Google Play stores in Chinese (更新了截图), English, French (Description du travail intérieur), Italian (Descrizione del Lavoro interiore), Russian (Оценка внутренней работы), and Spanish (Descripción del trabajo Interior). Find out more about the Inner Job Description.
The app can send inspiring quotes from Lama Zopa Rinpoche and Lama Yeshe in order to remind users to engage with the Inner Job Description practice.
Inspiring Video of MAITRI Charitable Trust
MAITRI has been supporting the poor and disadvantaged in Gaya, Bihar, India, for twenty-nine years, an incredible example of Dharma in action! Watch this inspiring video of MAITRI's work by Marc-Andre Brunelle. We rejoice that the FPMT Social Services Fund offers ongoing support to this FPMT project.
Opportunities to Offer Service in the FPMT Organization
Would you like to spend your days in a very meaningful way? Have a look at the regularly updated meritorious opportunities to offer service as a volunteer or as paid staff in FPMT centers, projects, and services around the world. Newly added: Tushita Meditation Centre, India, and Jamyang Buddhist Centre London, UK, are each looking for a director; Centre Kalachakra, France, needs a landscape gardener.
Impermanence at Work
Contact information for FPMT centers, projects, and services can be found in the FPMT Directory.
Centro Tara Bianca, Italy
We welcome new spiritual program coordinator (SPC) – Mario Cavagnaro
With grateful thanks to outgoing SPC – Ven. Lorenzo Rossello
Jamyang Buddhist Centre Leeds, UK
New address: 12 York Place, Leeds, LS1 2DS, UK
Land of Calm Abiding, USA
We welcome new director – Ven. Namgyal
With grateful thanks to outgoing director – Ven. Lhundub Chodron
Tara Mandala Center, Germany
We welcome new director – Maria Berger
With grateful thanks to outgoing director – Birgit Paetzold
---
If you received this from someone else, or unformatted, visit our subscribe page to receive this newsletter directly.
Don't forget that the starving person preoccupied by hunger and the person obsessing over what to buy next at the supermarket are basically the same. Mentally, rich and poor are equally disturbed, and, fundamentally, one is as unhappy as the other.
Lama Thubten Yeshe