News/Media

*If a menu item has a submenu clicking once will expand the menu clicking twice will open the page.

Study & Practice

*If a menu item has a submenu clicking once will expand the menu clicking twice will open the page.

Projects

*If a menu item has a submenu clicking once will expand the menu clicking twice will open the page.

FPMT

Without the practice of morality, there's no enlightenment, no liberation from samsara, not even good rebirths in future lives.

Lama Zopa Rinpoche

*If a menu item has a submenu clicking once will expand the menu clicking twice will open the page.

Shop

The Foundation Store is FPMT's online shop and features a vast selection of Buddhist study and practice materials written or recommended by our lineage gurus. These items include homestudy programs, prayers and practices in PDF or eBook format, materials for children, and other resources to support practitioners.

Items displayed in the shop are made available for Dharma practice and educational purposes, and never for the purpose of profiting from their sale. Please read FPMT Foundation Store Policy Regarding Dharma Items for more information.
International Office News
September 2015
Portrait of Lama Zopa Rinpoche, New York, USA, August 2015.
Photo by Edward Sczudlo.

Have this translated into your native language by using our convenient translation facility located on the right-hand side of the page. French and Spanish speakers will find the FPMT International Office News translated each month in the "Bienvenue" and "Bienvenidos" tabs on the FPMT homepage!
---
Lama Zopa Rinpoche's News:
News, Activities and Advice
Rinpoche is currently teaching in Colombia at the invitation of Centro Yamantaka.
Lama Zopa Rinpoche teaching during the retreat in Mexico. Rinpoche said, "Your mind creates happiness and suffering in dependence on the way you think," September 2015.
Photo by Ven. Roger Kunsang.
New Advice: How to Overcome Depression
A student wrote to Lama Zopa Rinpoche saying that he had stopped doing his Buddhist practices and became depressed. Here is an extract from Rinpoche's response:
"… [I]t all depends on what you do with your mind. The mind can be kept totally in great happiness by reading the lam-rim, by meditating, and by thinking about what I said. On the basis of what I'm saying about the nature of mind, meditate on Buddha nature. You can even be free from the hell sufferings. It's just temporary. It's not forever. It's impermanent. Compared to the hell suffering, no matter how heavy the human suffering may appear to be, it's great peace. It's like nirvana. You have to understand that.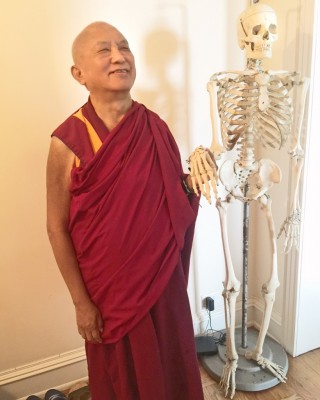 Lama Zopa Rinpoche, New York, USA, August 2015.
Photo by Ven. Roger Kunsang.
Don't worry about what happened in the past, that you couldn't do this and you couldn't do that – these things happen because we are human beings and have strong delusions. But now put in effort and do your best."
Highlights from our blogs on FPMT.org:
On August 24, Ven. Roger Kunsang shared on his Twitter page this brief thought from Lama Zopa Rinpoche:
Lama Zopa: Death is here, remember Dharma!
The Peace Afforded by Inner Development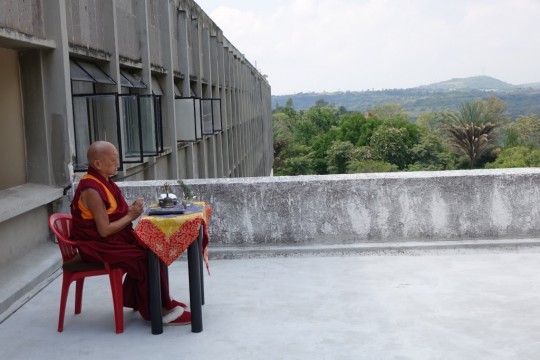 Lama Zopa Rinpoche doing an incense puja for those who are sick on his first day in Mexico, where Rinpoche was leading retreat, September 6, 2015.
Photo by Ven. Roger Kunsang.
"Even if you owned a pile of diamonds the size of this earth, the peace you'd get from that would be minimal and could never compare with that afforded by inner development," Lama Zopa Rinpoche says. Read more …
Keep up to date with Lama Zopa Rinpoche News. Find a wide range of advice from Lama Zopa Rinpoche on Rinpoche's Advice page. Go to the Lama Yeshe Wisdom Archive for lots more advice from Lama Zopa Rinpoche.
Rinpoche's Schedule
Full details
September 18 – 20: Teaching, lam-rim retreat and initiation, Centro Yamantaka, Colombia
September 25 – 27: Teaching, lam-rim retreat, Centro Shiwa Lha, Brazil
November/December: Teachings during the one-month lam-rim course, Kopan Monastery, Nepal
NEW DATES! August 14 – 28, 2016: Light of the Path retreat, Kadampa Center, USA
Please contact the hosts directly with any questions. Subscribe to our FPMT news blog to get updates as soon as they are announced.
Rinpoche Available Now – Enjoy livestreams of many of the teachings above and recordings of Rinpoche's most recent teachings!
---
International Office News:
Newly Available from Education Services
The Inseparability of the Spiritual Master and Avalokiteshvara (Avalokiteshvara Lama Guru Yoga) PDF by His Holiness the 14th Dalai Lama is now available for download from the FPMT Foundation Store.
A growing selection of materials are available as eBooks on the Amazon Kindle Store including the newly added Nyung Nä Ritual Sadhana.
In this essential practice, Daily Meditation, Lama Zopa Rinpoche has carefully and kindly compiled, and in many cases provided translation for, the prayers, practices, and meditations needed to start one's day, or activities, with a perfect Dharma intention and bodhichitta motivation.
Update from the Nepal Earthquake Support Fund
Kopan Helping Hands has been assisting many in the most affected districts of Nepal.
Kopan Monastery and Khachoe Ghakyil Nunnery have been actively involved since the very beginning with relief efforts for those devastated by the Nepal earthquake and subsequent aftershocks through Kopan Helping Hands. You can read a recent update about how Kopan Helping Hands has assisted 9,135 families and many individuals in the 11 most affected districts of Nepal.
New from the Foundation Store:
Collection of MP3 Downloads
We now have available beautiful songs and prayers performed in the traditional chanting style typical of Tibetan Buddhist pujas thanks to Kopan Monastery, Khachoe Ghakyil Nunnery and Rachen Nunnery. Get them today with free electronic delivery!
Rinpoche blessing an injured humming bird in Mexico. It flew away after a little while. September 2015.
Photo by Ven. Roger Kunsang.
Friends of FPMT – Repaying the Kindness
The Friends program is an essential source of funding for the Foundation's success, and we're happy to be able to repay the kindness of our Friends of FPMT supporters with free and easy access to hundreds of FPMT education materials, online Dharma courses, and Mandala magazine. Learn more and join here …
Welcome Eva, Best Wishes to Carl
Eva Sippl has taken over from Carl Jensen as administrative assistant. Eva has volunteered for many years at Maitripa College. Carl has now commenced his new position as a Buddhist chaplain in Portland.
Sign up to receive daily posts of all FPMT news blogs via email.
---
For Center, Project and Service Directors, SPCs, Board Members, Registered
Teachers and Coordinators:
This advice is specifically for those offering service in the roles listed above.
Prayer to Create the Causes of Success
During his recent teachings in Europe, Lama Zopa Rinpoche recommended a particular prayer to create the causes for success and overcome obstacles. We promised to get you the prayer – and here it is! With thanks to Lotsawa House.
Lama Zopa Rinpoche said:
"For the success of the center and your own success, the success of FPMT and the holy wishes of His Holiness the Dalai Lama, every morning you must recite a short auspicious prayer written by Je Miphampa, a great, great Kagyü lama. Recite it first thing, then if you can think, as I try to think [that by reciting the prayer may] all the people who do good things for others have success; and may all the people who do bad things change their mind, not harm; then for the success of FPMT, then your success, so the success of the center, then yourself. That is one thing that is very important for success."
The video and full edited transcript of this teaching are up in the FPMT Affiliates Area.
---
FPMT World:
Rejoice:
Lama Yeshe Wisdom Archive (LYWA) Launches New Website
From the LYWA team:
"Thanks to your support, we have just launched a brand new responsive website that we think is very beautiful and exceptionally functional. We hope you agree! Lama Zopa Rinpoche's Online Advice Book has been completely redesigned to make it simple to find Rinpoche's advice and share it with others. Did you realize the Lama Yeshe Wisdom Archive contains more than 24,000 pages of teachings from Lama Yeshe and Lama Zopa Rinpoche? The Teachings search page is your online doorway into the full teachings archive and offers powerful new tools to assist your search. You can download beautiful images of the Lamas from the Image Gallery. Visit the Getting Started page to learn more. The Archive would love to hear your feedback about the new LYWA website."
New Cookbook from Vajrapani Institute
After 40 years of prompting from guests, Vajrapani Institute, California, USA has finally come out with a cookbook! "With contributions from staff and community members, our new cookbook brings you recipes and reflections from the heart of our center."
Opportunities to Offer Service in FPMT
Please check out the regularly updated meritorious opportunities to offer service as a volunteer or as paid staff in FPMT centers, projects and services around the world.
Golden Light Sutra Center, Darkhan, Mongolia needs a new resident FPMT registered teacher; Land of Joy, UK is looking for a new director; FPMT Europe is looking for a new regional coordinator; Root Institute, Bodhgaya, India have many volunteer opportunities, including for a receptionist, kitchen manager and health program helpers.
Impermanence at Work
Chenrezig Institute, Australia
We welcome new SPC – Nicole Kranz
With grateful thanks to previous SPC – Eva Muller
Jamyang Buddhist Centre Leeds, UK
We welcome new director – Ven. Kerry Prest
With grateful thanks to previous director – Wendy Ridley
Kushi Ling Retreat Centre, Italy
We welcome new director – Laura Angeli
Tong-nyi Nying-je Ling, Denmark
We welcome new co-SPCs – Martina Krajacik and Jette Falster
With grateful thanks to previous SPC – Per Christensen
---
With love,
FPMT International Office
If you received this from someone else, or unformatted,
visit our subscribe page to receive this newsletter directly.
No desire means no emotional pain of attachment, anger and jealousy. There is peace, openness and space for genuine love and compassion to arise.
Lama Zopa Rinpoche