RINPOCHE'S CURRENT ACTIVITIES AND SCHEDULE

NEWSFLASH – Lama Zopa Rinpoche has kindly agreed to step in to teach at Lama Yeshe Ling and Vajrapani Institute after Kirti Tsenshab Rinpoche's health problems resulted in cancellation of his teaching schedule…

THE REAL PROFESSIONAL



"It's not sufficient in our life only to know how to do things externally. If you really want happiness, if you're really looking for peace and happiness, inner happiness, that's not sufficient. You need to be professional inside."

Wonderful new teaching by Rinpoche, relevant to everyone…


Rinpoche meditating with children in the Tara Institute Kids Sunday School (Australia, June 06)
RINPOCHE INTERESTED IN ENVIRONMENTAL ISSUES



Rinpoche went to the cinema to see "An Inconvenient Truth" [the Al Gore film about global warming]…


Rinpoche Offering Food at Gelato Mania (USA, July 2006. Photographer Bob Cayton)

USING SICKNESS FOR THE PATH



Helpful advice from Rinpoche…


Rinpoche visited Bea Ribush, Nick and Alison Ribush's mother who is 92. Bea has been a student of Lama Yeshe since 1973. (Australia, Jun 2006)
LOGOS



"The logo is like feng shui. The logo has an effect to the organization…"
RINPOCHE'S CURRENT ACTIVITIES AND SCHEDULE
For the latest schedule and details of how to book for these events, please contact the center directly or go to https://fpmt.org/teachers/zopa/schedule/
Aug 4-16 – Lama Yeshe Ling, Canada
Aug 4 – Public Talk – Radical Action in Troubled Times: Compassion in Action
Aug 5-7 – Teachings on Good Heart, Awakened Mind: Bodhicitta teachings
Aug 11-13 – Yamantaka Solitary Hero Initation
Aug 16 – White Tara Initiation
August 20 – Sept 17 – Vajrapani Institute, Boulder Creek, California, USA
Three Principles of the Path – August 20, 22, 23
Guhyasamaja Initiation and Commentary

Initiation – August 25 – 27
Commentary – August 30 – September 5

Vajrayogini Initiation – September 17
November/December, Kopan Monastery, Nepal – Teachings during the November Course
THE REAL PROFESSIONAL
| | | |
| --- | --- | --- |
| This is a wonderfully relevant teaching given by Rinpoche in Portland, USA in May, and which Ven Roger immediately asked to be made available for us all. It is available in a concise form titled The Real Professional, which I highly recommend to centers to use to bring the Dharma to new students. The full teaching (which of course is even better!) is also available – How to Be a Real Professional. Both can be read and downloaded here. |   | Rinpoche meditating with children in the Tara Institute Kids Sunday School (Australia, June 06) |
Excerpt: "It's not sufficient in our life only to know how to do things externally. Whatever our profession is – business or engineering or whatever, being a physician, a doctor, a professional having studied at university, a professional having studied at college how to do things in life, studied how to be a secretary, or how to be a director and run a company or how to be an accountant, all these things, how to clean, how to cook, all these things learnt at school or college or whatever. So what you learn, this profession is only external, how to do things externally. That's not enough. That's not sufficient. If you really want happiness, if you're really looking for peace and happiness, inner happiness, that's not sufficient. You need to be professional inside. You need to be professional mentally, you need inner professionalism. So a person may have all this education from college, university, how to do this, how to do that, how to be a business person and so forth, but if they are missing the inner profession then what is missing is mentally how to live life, how to do everything. The real profession is missing. That is the positive attitude, living life with this peaceful, happy, healthy mind, non-ignorance, non-anger, non-attachment, and especially with the thought of cherishing others, the ultimate good heart, the thought of cherishing others, unstained by the self-cherishing thought, the selfish mind. Without this inner professionalism, this inner qualification, without this, then what happens? Even if you succeed in the external world, in business or whatever, even though you may be externally successful your mind is not becoming happier and happier, it doesn't become more and more peaceful, more and more satisfied, more and more fulfilled – that doesn't happen. There's more and more problems, more and more unhappiness.
…So you can see that there are two things in how to live life: external professionalism and the other very important, the most important way to live life – Dharma. Living life with Dharma, the mind becoming Dharma."
RINPOCHE INTERESTED IN ENVIRONMENTAL ISSUES
From Ven Holly Ansett:

"Rinpoche, Ven Roger plus all the Sangha in the Santa Cruz area (about 19), plus about 15-20 others all went to the movies recently to see "An Inconvenient Truth" [the Al Gore film about global warming]… quite an amazing event. We took over the whole theater, a sea of red and malas clicking, afterwards we walked up to have gelato, the Santa Cruzians thought we were doing some demonstration…

I think this is the third film Rinpoche has ever seen in a theater…"

 

Rinpoche Offering Food at Gelato Mania (USA, July 2006. Photographer Bob Cayton)
The previous films were Seven Years in Tibet, and one (title forgotten!) about people masquerading as priests and escaping… Rinpoche also watched Pretty Woman – backwards! Rinpoche at the time had not met Richard Gere (who stars in the film), and students had been talking about Richard Gere, saying he was a Dharma student and wanted to show Rinpoche the movie, but when they put in the video it was at end of the movie so Rinpoche said let's watch it backwards – so they did!
WHAT YOU CAN DO
I asked Elaine Brook of Shenphen Thubten Choling, FPMT's centre for socially and ecologically-engaged Buddhism, for another helpful tip on this issue:
"The problem is so vast and the urgency so great that the advice which suggests you turn off the tap while brushing your teeth or switch off lights and standbys when they are not needed, or go vegetarian for one day a week seems, well, ridiculous. Global warming is probably the greatest threat our species has ever faced. The sheer scale of the processes under way in the atmosphere and the oceans make it hard not to view anything an individual does to reduce emissions as being too little too late.

Not true.

The astonishing fact is that each of us can have an immediate impact on the production of greenhouse gases, and if enough of us act together in these minor ways, the cumulative effect will be dramatic. That's because so much of the way we live our lives is wasteful and, to put it bluntly, thoughtless. It takes nothing to switch off a lamp, unplug the phone charger, take a shorter shower, cook without preheating the oven, skip the pre-wash part of the dishwasher cycle, or, often, walk or bike instead of drive. And they all save money, which is one of the rather striking things about reducing your ecological footprint – the standard way of measuring the CO2 emissions each person is responsible for.

And, it's a wonderful way to engage in the Practice of Compassion;
first rejoice that you have so many different ways to choose from, as well as the opportunity to maybe one day do them all.
then, the practice, followed by dedication to all the sentient beings whose suffering has been reduced by the action.

lots of love, Elaine Brook"
USING SICKNESS FOR THE PATH
Excerpt from this brief and very helpful advice, available to read or download in full from here.

Train the mind in the following ways:

I am experiencing this problem, this sickness, on behalf of others.
(To think in this way is very important.)
I am experiencing this problem because I have created the cause. I am finishing the karma that I have created so I will not experience suffering in the future.
This experience is helping me to practice Dharma.
These are the blessings of the Guru helping me to purify.
I am purifying. This is like doing Vajrasattva retreat or hundreds of thousands of prostrations. Besides that, this is helping me to meditate on bodhicitta and emptiness. It is like doing the preliminary practices.
This practice is done for others, so I accumulate numberless merits because others are numberless.
With emptiness and bodhicitta the practice is very powerful. I accumulate even more merits than doing the preliminary practices because the practice is done for others.

 

Rinpoche visited Bea Ribush, Nick and Alison Ribush's mother who is 92. Bea has been a student of Lama Yeshe since 1973. (Australia, Jun 2006)


Rinpoche with Bea at the 4th Kopan course in 1973
Also think: This problem is the best medicine. This problem, which is used to develop bodhicitta (by thinking that it is being experienced for others) and emptiness, is the best medicine. This is because you finish with the sickness and also with its causes, which are karma and delusions.
Also: This problem is making me develop compassion; thus I can achieve enlightenment very quickly because I am accumulating infinite merits.
Today many people are dying, even people without cancer, without AIDS, many very healthy people. So even without cancer the time of death can come at any moment. So it is necessary to purify and accumulate merits.
RINPOCHE CARRYING MOTHERS AND FATHERS
From Ven Holly Ansett:

During a recent animal liberation (the Sangha in Rinpoche's house in California offer an animal liberation three times each month on behalf of any of Rinpoche's students who are sick), after the Sangha and students finished the animal liberation at 5pm we left the 400 worms in the buckets, as Rinpoche often wants to do further circumambulations and prayers for the little worms himself.

 

Rinpoche carrying mothers and fathers (USA, July 2006)
So at 9pm Rinpoche came down and spent a few hours circumambulating the stupa at his house. Rinpoche had found a broom to be able to carry both buckets with all the worms inside at the same time.
Ven Roger came out to take a picture and Rinpoche said:
"In India when ones parents are too old to walk then their children carry them on their back in this way, father on one side in a basket and mother on the other side in a basket. So here I am carrying 400 of my fathers and mothers on my back"
LOGOS
Recent advice from Rinpoche, commenting on a center's design for its logo:
"Dragons are very very important to make the center strong. Sikkim was taken over by India, of course it was based on karma, but interestingly Bhutan which is also a small country, was not taken over, although India wants to very much. Bhutan has a dragon as a symbol on their money, airline and so on, and this is maybe one reason why the country is so strong."
Previously (in July 2004), Rinpoche has said:
"When I make letterheads for centers, monasteries and so forth, it all has great significance – based on the two truths, wisdom and method, rupakaya and dharmakaya.

The reason why I make jewels in the logos is for wealth, prosperity for the centers. Without money, one cannot do anything. Money along with compassion and wisdom can benefit sentient beings.

The logo is like feng shui. The logo has an effect to the organization. It is like feng shui, logos have an effect. Logos should be very meaningful. A logo is not just for identification. It is more than that. You can have a toilet (as a logo). You can have a piece of bone as a logo. Actually, melting ice cream running off the fingers would be a good logo."
NB: centers or study groups thinking about their logos can have a look at Logo Guidelines and logos designed by Rinpoche in the FPMT Affiliates Area.
---
RINPOCHE BLESSING MALAS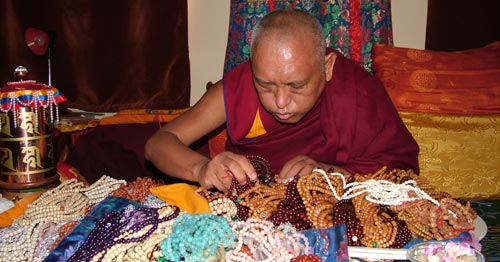 Rinpoche preparing for a teaching tour – some of the malas which Ven Roger travels with for Rinpoche to give as gifts! (USA, 2006)
CENTER PROMOTION, RINPOCHE-STYLE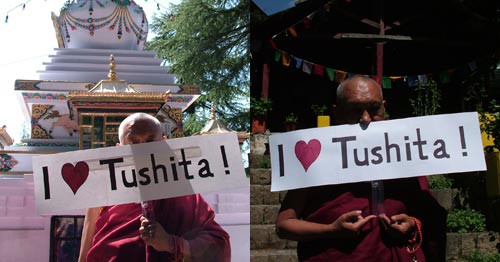 While Rinpoche was at Tushita Meditation Centre in Dharamsala earlier this year, Rinpoche was asked to help promote the centre…! (India, Mar 2006)


with love,
Claire
FPMT International Office