Support at the Time of Death
Requesting His Holiness the Dalai Lama to Pray for the Deceased
Following Lama Zopa Rinpoche's advice, International Office is very happy to offer support to Lama Zopa Rinpoche's students at the most crucial, dangerous time of death, by giving the names of students who die to His Holiness the Dalai Lama with the request for his prayers.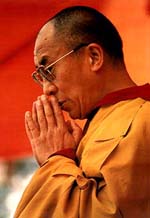 If you would like to request prayers for one of Lama Zopa Rinpoche's students who has died within the last 49 days, simply click on the 'Continue' button at the bottom of this page. We will then forward the name to His Holiness, together with a khata and a donation. (Thanks to Tushita Meditation Centre for this service.)
If you would like to request prayers for someone who is not a direct student of Lama Zopa Rinpoche but is a family member of Rinpoche's student, then kindly accompany your request with a donation for His Holiness the Dalai Lama. (While everyone is welcome to make offerings, International Office will make the donation on behalf of those who are Rinpoche's direct students.)
In order to create merit for the person who has died it is very good for the person who is requesting prayers to make an offering to the lama, so you will find an offering opportunity on the prayer request form in order to accompany your request with a donation for His Holiness the Dalai Lama. A small administrative fee will be deducted from the donation amount to cover the costs of money transfers.
Names of the deceased will also be sent to Lama Zopa Rinpoche, and to the monks of Nalanda Monastery, Kopan Monastery, Thubten Shedrup Ling Monastery and the nuns of Chenrezig Nuns' Community for their prayers, as well as to Land of Medicine Buddha who dedicate a Medicine Buddha puja to each person who has passed away.  Additionally, Sangha at Lama Zopa Rinpoche's house will make specific prayers and stupa tsa tsas (filled immediately with the four powerful mantras), dedicated to the dead person. Every year International Office makes a donation to these Sangha communities from the annual donations given to Prayers for the Dead.
If you would like to make a donation to Lama Zopa Rinpoche, please contribute to the Stupa Fund (as all money offered when someone dies goes into this account to be used to buy the materials for making all the tsa tsas).
We will add the name and cause of death to the FPMT Prayers for the Dead e-group, so that you and others have the opportunity to make prayers for all the recently deceased, and so that you can see that your request has been acted upon. Click here to receive the FPMT Prayers for the Dead e-group mailings.
If you would like a compilation of prayers and practices recommended by Lama Zopa Rinpoche to benefit the dead it can be downloaded from fpmt.org/death/ or by writing to FPMT Education Services.
For the extensive advice from Lama Zopa Rinpoche, as well as all the practices to do for the dying and dead, the booklet Advice and Practices for Death and Dying can be ordered from The Foundation Store.
This service is offered only for those who have died in the last 49 days.
To keep it manageable, the service is unavailable for beloved animals and pets which have died.

However, daily dedications are made for all sentient beings who have passed away.
Like molding dough in your hand, you can definitely turn your mind whichever way you want.
Lama Zopa Rinpoche
Contact Info
1632 SE 11th Avenue
Portland, OR 97214-4702 USA
Tel (503) 808-1588 | Fax (503) 232-0557
About FPMT
FPMT is an organization devoted to the transmission of the Mahayana Buddhist tradition and values worldwide through teaching, meditation and community service.
more...
About Buddhism
If you're new to Buddhism, please read our
Buddhism FAQ
. A place to learn about Buddhism in general, FPMT, and our Discovering Buddhism at Home series.